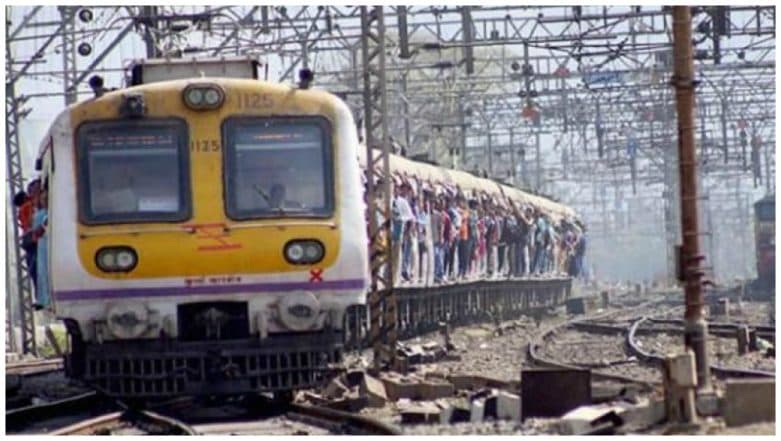 Mumbai, March 14: In a bid to reduce the number of fatal accidents caused by falling off local trains in Mumbai, the Central Railway (CR) has decided to punish commuters travelling on the footboards of trains and blocking entry and exit of other passengers. The CR said first it will take steps to encourage commuters not to travel on the footboards and later identify serial violators who may be punished with imprisonment up to three months or a fine of Rs 500.
The Central Railway will deploy teams of Railway Protection Force (RPF) personnel who will identify those standing on footboards and blocking entry and exit of other passengers in local trains, reports Hindustan Times. RPF teams will then book those travelling on footboards under section 156 of the Railway Act which prohibits travelling on the roof, step or engine of a train. 711 people had died in 2018 after falling from Mumbai suburban trains. Blue Light Indicators Installed on Doors of Mumbai Local Trains to Alert Passengers About Departure.
"Attempts to reduce deaths from falling off local trains are being taken. We will create awareness among the commuters and educate them about the final result of travelling on the footboard. In the next stage, we will start prosecuting people who travel on the footboard daily," KK Ashraf, senior divisional security commissioner of CR, was quoted as saying. The CR is also building a 41-kilometre boundary wall to prevent trespassing on tracks. Mumbai Locals: Vidyavihar 'Killer Spot' to be Fixed by Central Railway in 2019.
Commuters who are found trespassing on suburban railway tracks are also being penalised. According to the CR, every day one hundred and fifty people are being penalised for trespassing on tracks. "There has been a reduction in the deaths that were taking place due to trespassing. After people are being penalised every day, the number has reduced," an official was quoted as saying.