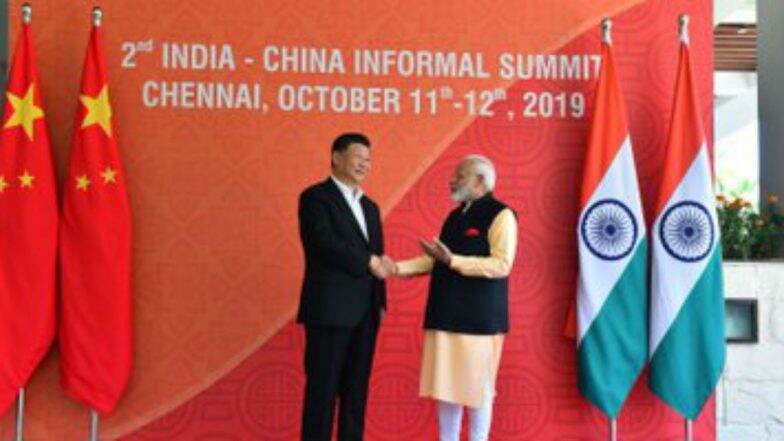 Chennai, October 12: On conclusion of two-day informal talks between Prime Minister Narendra Modi and Chinese President Xi Jinping, India on Saturday said that a new mechanism will be established to discuss trade and investment with China. PM Narendra Modi and Xi Jinping held a one-on-meeting followed by a delegation-level talk before the Chinese President left for Nepal. PM Modi also hosted lunch for President Jinping.
"A new mechanism will be established to discuss trade, investment and services, at an elevated level. From China, it will be the Vice Premier, Hu Chunhua and from India, it will be Finance Minister Nirmala Sitharaman," India's Foreign Secretary Vijay Gokhle said. "The two leaders today had a conversation for almost 90 minutes, followed by delegation-level talks and then lunch was hosted by PM Modi," he mentioned. PM Modi, Xi Jinping Spent 5-Hour Quality Time, Discussed Trade and Terrorism: MEA After Day 1 of Malappuram Summit.
Gokhle said that PM Modi and President Jinping spent six hours together during the second Informal India-China Summit. Asked about whether the Kashmir issue was raised, the Foreign Secretary responded: "This (Kashmir) issue was not raised and not discussed. Our position is anyways very clear that this is an internal matter of India." He added that talks were focused on increasing people to people engagements.
Gokhle further said that Xi Jinping invited Narendra Modi to China and the Prime Minister has accepted the invitation. "Both leaders agreed that it was important to deal with challenges of terrorism and radicalisation in an increasingly complex world. Both are leaders of countries which are not only large in terms of areas and population but also in terms of diversity," the Foreign Secretary added.
Prior to the delegation-level talks, PM Modi and President Jinping spent some leisure time at the Taj Fisherman's Cove Resort & Spa beach resort. Modi received the Chinese President at the entrance of the resort. The two leaders shook hands and then boarded a battery-operated vehicle to reach their informal meeting room facing the Bay of Bengal.
The two leaders had detailed discussions on varied issues, including terrorism, increasing radicalisation, enhancing bilateral trade between the two nations and investments, among others on Friday.