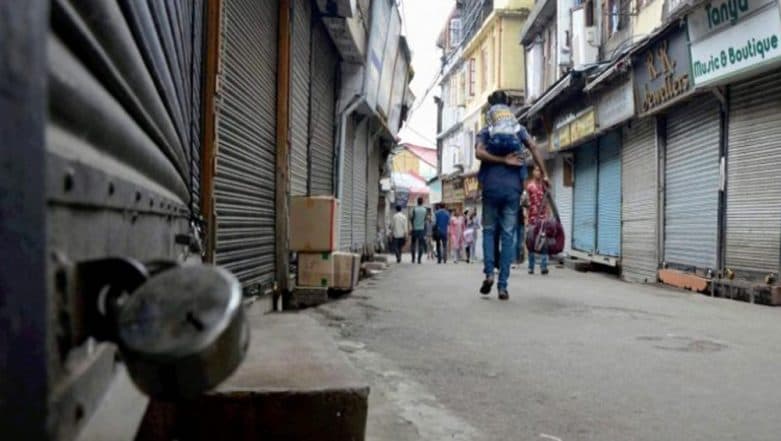 Chandigarh, August 13: Members of the Ravidas community in Punjab have called for a day-long bandh to protest against the demolition of 15th century Guru Ravidas temple in Tughlakabad, Delhi. In the wake of the shutdown across the state, security has been beefed up to avoid any untoward situation. Schools and colleges, shops in Jalandhar, Gurdaspur, Hoshiarpur, and Kapurthala were completely shut on Tuesday as a mark of protest. Bandh in Punjab: Several Dalit Organisations Call For Bandh Against SC/ST Act.
Members of the community held protests and staged dharnas at various places across the state. According to reports, the traffic movement on the Jalandhar-Delhi National Highway in Jalandhar was also hit after hundreds of protestors laid siege to the highway. A strict bandh was observed in Jalandhar, Patiala, Barnala, Fazilka, Samana, Ferozepur and Moga where commercial outlets remained closed. District administrations in Kapurthala, Hoshiarpur and Jalandhar had ordered closing of schools and colleges.
Reports inform that Deputy Commissioner Vipul Ujwal has ordered all the government and private schools, colleges, which falls under the municipal limits, to remain closed on Tuesday. The community has stated that they will observe a peaceful bandh and ambulances and essential commodities will be available. According to reports, the community members have also stated that the road will be blocked if people do not support the bandh.
There have been state-wide protests by members of the agitated Ravidas community, under the banner of the Guru Ravidas Jayanti Samaroh Samiti, which had called for nation-wide bandh on August 13. The Ravidass community in Punjab account for 32 per cent of the voters in the state. The community mainly comprises of Dalits, who worship Guru Ravidass.
On Sunday, Punjab Chief Minister Amarinder Singh requested Prime Minister Narendra Modi to personally intervene to resolve the tension triggered by the demolition of Ravidas temple in Delhi on the orders of the supreme Court.