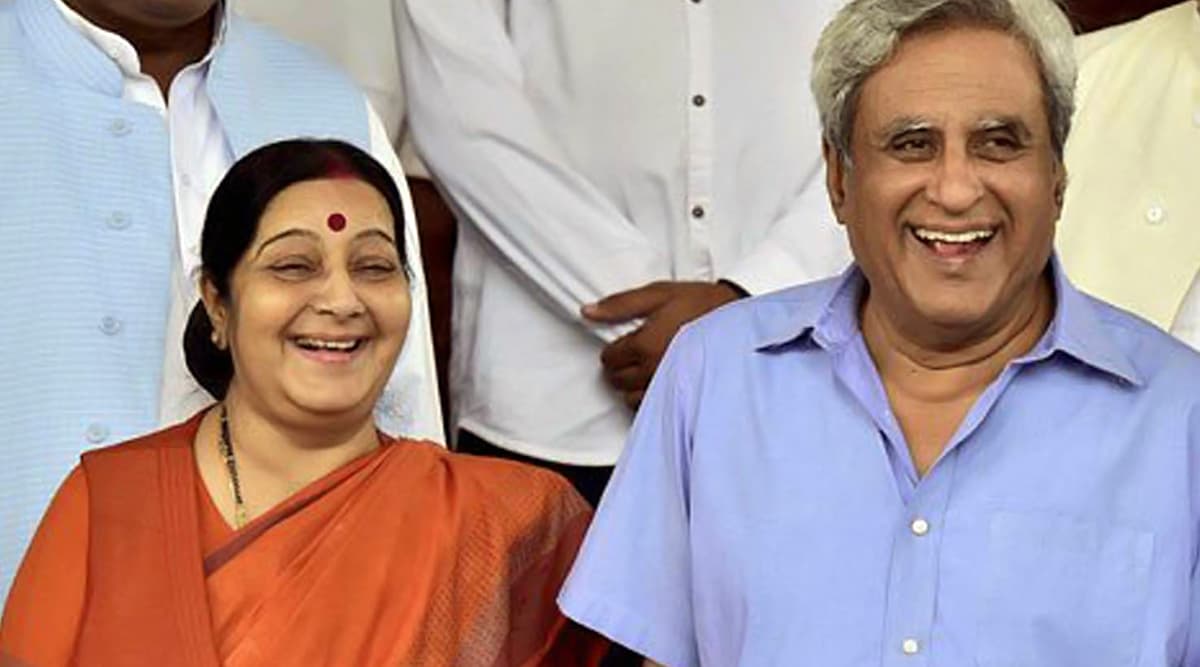 New Delhi, October 30: Husband of late External Affairs Minister and senior BJP leader Sushma Swaraj shared an adorable conversation involving the couple, that made Twitter users go nostalgic and appreciate the bond shared by the couple. Swaraj Kaushal, husband of late Sushma Swaraj, who goes by the username @GovernorSwaraj on Twitter, received requests from social media platform users to write a book recounting the various episodes from the couple's life. The incident narrated by Kaushal Swaraj reminded the netizens of the famous wit and the presence of mind of Sushma Swaraj. Sushma Swaraj Dies: In Her Last Tweet, Former Minister Said 'Was Waiting to See This Day In My Lifetime'.
Sushma Swaraj was hugely popular on social media and especially Twitter, a platform she used not just to share information with her followers but also help Indians in distress abroad or other places. The vivid conversation shared by Sushma Swaraj's husband not only gives one a peak into the relationship shared by the couple, but also the mutual love and respect shared by them for each other. Sushma Swaraj Dies at AIIMS, Former External Affairs Minister Suffers Heart Attack.
Read the Tweet Below
One day I had to catch early morning flight. It was pitch dark around 4 am. Sushma was fast asleep. I was ready to leave for airport. I announced from the

door :

"Devi ! Main Satya ki khoj mein ja raha hun."

There came her reply :

"Satya yahin hai Priye !"

I had no answer.

— Governor Swaraj (@governorswaraj) October 30, 2019
Twitter Users Were Quick to Express Their Love For Sushma Swaraj
❤️❤️❤️ 😂😂😂😂

Sushma ji - a witty orator as she always had been.

— TangoRedDevil (@TangoRedDevil) October 30, 2019
Users Requesting Swaraj Kaushal to Write a Book
Sir, you should write a book about all the memories of you two that u may like to publish.A wider interested audience who loved Sushma ma'am would love to read. Just in case you wish to ..

— Aditee Mitra (@mitra_aditee29) October 30, 2019
Users Thanking Him For Sharing This Gem
सर, बहुत अच्छा लगा आपको फिर से ट्वीट करते देखकर। मैडम की याद आपने ताजा करा दी। मैं उनका बड़ा फैन रहा हूं। ऐसे ही यादों को हम लोगों से साझा जरूर करते रहिएगा।

— Bishwajit Bhattacharya (@bbjournalist) October 30, 2019
Users Missing Sushma Swaraj
Whole India is missing her...

— Kunal Phatak.....🇮🇳 🚩🕊️🕊️ (@kunal1607) October 30, 2019
Former Union Minister Sushma Swaraj breathed her last on August 6, 2019 at New Delhi's All India Institute of Medical Sciences (AIIMS). The senior Bharatiya Janata Party (BJP) leader was admitted to AIIMS at New Delhi after suffering a heart attack. She served as External Affairs Minister in the Narendra Modi government from May 26, 2014, to May 30, 2019. Swaraj's death brought curtains down on one of the most illustrious political careers in modern India enjoyed by any woman politician.