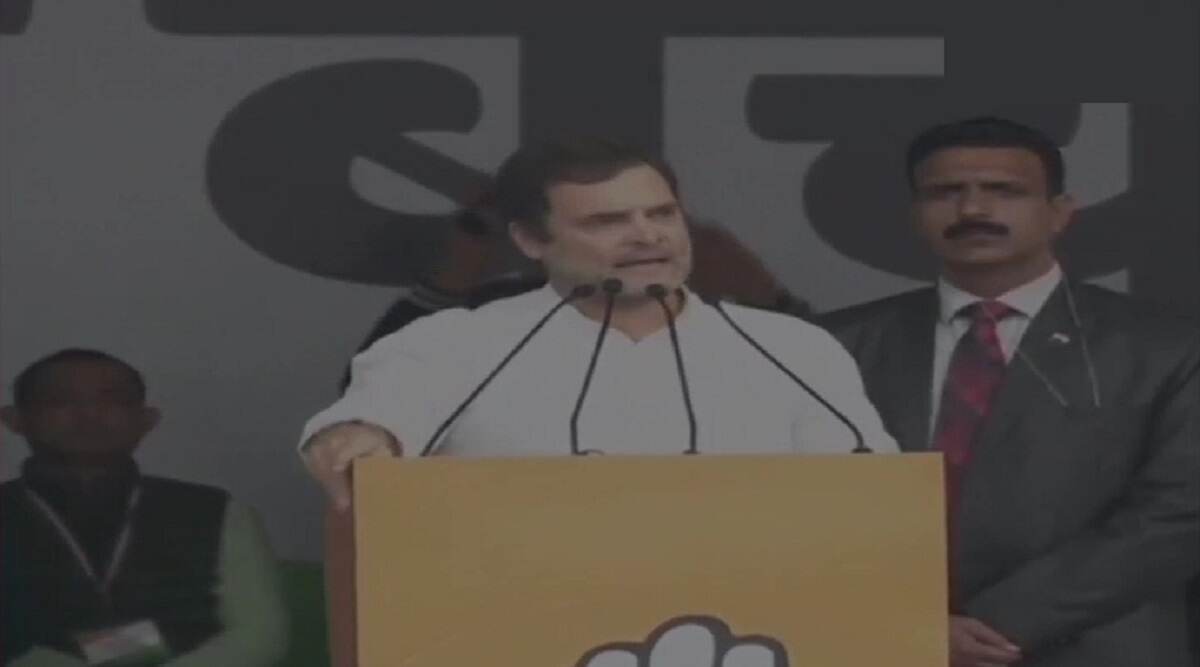 New Delhi, December 14: Hitting back at the Bharatiya Janata Party (BJP) which has sought his apology for attacking the Centre with the "rape in India" remark at a poll rally in Jharkhand, former Congress president Rahul Gandhi said he would never apologise. His remarks, said the Gandhi scion, reflects the truth and the BJP is "maliciously twisting" it. In his tirade, Gandhi also took an apparent jibe at Vinayak Damodar Savarkar, one of the ideologues of the ruling dispensation. 'Bharat Bachao' Rally: Indian Economy Wrecked, Modi's Ministers Are 'Clueless', Says P Chidambaram.
"I was told in Parliament by BJP yesterday that 'Rahul ji, you gave a speech. Apologise for that.' I was told to apologise for something which is right. My name is not Rahul Savarkar. My name is Rahul Gandhi. I will never apologise for truth," Gandhi said while addressing the 'Bharat Bachao' rally in the national capital on Saturday.
The controversy was sparked when Gandhi, while addressing a rally in Jharkhand on Thursday, said Modi promised of "Make in India" but under his rule the agenda has been replaced with "Rape in India".
"Narendra Modi had said 'Make in India' but nowadays wherever you look, it is 'Rape in India'. In Uttar Pradesh Narendra Modi's MLA raped a woman, then she met with an accident but Narendra Modi did not utter a word," Gandhi had said at the rally in Jharkhand's Godda.
On Friday, the BJP lawmakers in Lok Sabha led by Union Minister Smriti Irani lashed out at the senior Congress leader, accusing him of promoting crime against women. "Rahul Gandhi must apologise. His remarks have offended women across the nation," Irani said.
Ahead of the Bharat Bachao rally, Gandhi had tweeted in his defence by sharing a clip of 2013, in which then prime ministerial candidate Narendra Modi could be heard attacking the erstwhile Congress government for the growing instances of rape in Delhi. In his rhetoric, Modi could be heard as saying that the Congress rule has turned Delhi into the "rape capital of India".
At the Bharat Bachao rally, Gandhi also mounted a strong offensive against the Centre, accusing it of perpetrating a "divisive agenda" across the nation. The policies of the ruling regime has isolated Kashmir, created unrest in Northeast and fueled anxiety among minorities, the senior Congress leader alleged.
"The country knows the situation today. They work to create divides - between religions - in J&K, in northeast. Go to Assam, Mizoram, Manipur, Nagaland, Arunachal Pradesh. Go and see what Narendra Modi did there, he has set ablaze those regions," he said.
Update by ANI
Rahul Gandhi, Congress: TV par koi ek 30 second ka advertisemnet aata hai, vo lakhon ka aata hai. Narendra Modi TV par din bhar dikhte hain roz. Iska paisa kaun de raha hai? Iska paisa vo log de rahe hain jinko Narendra Modi apka paisa cheen kar de rahe hain. pic.twitter.com/nL3X85Ncrj

— ANI (@ANI) December 14, 2019
The ultimate beneficiary of the Modi government's policies, claimed Gandhi, are the business houses which are backing the BJP. The common people have suffered as the economy has been wrecked at the spending power of the working class has severely diminished, he added.
On the economic front, the country is headed towards a free fall, alleged Gandhi. "Today, GDP (Gross Domestic Product) growth is at 4 percent, that too even after they (BJP) changed the way to measure GDP. If GDP is measured following the previous method, it will be just 2.5 percent," he added.