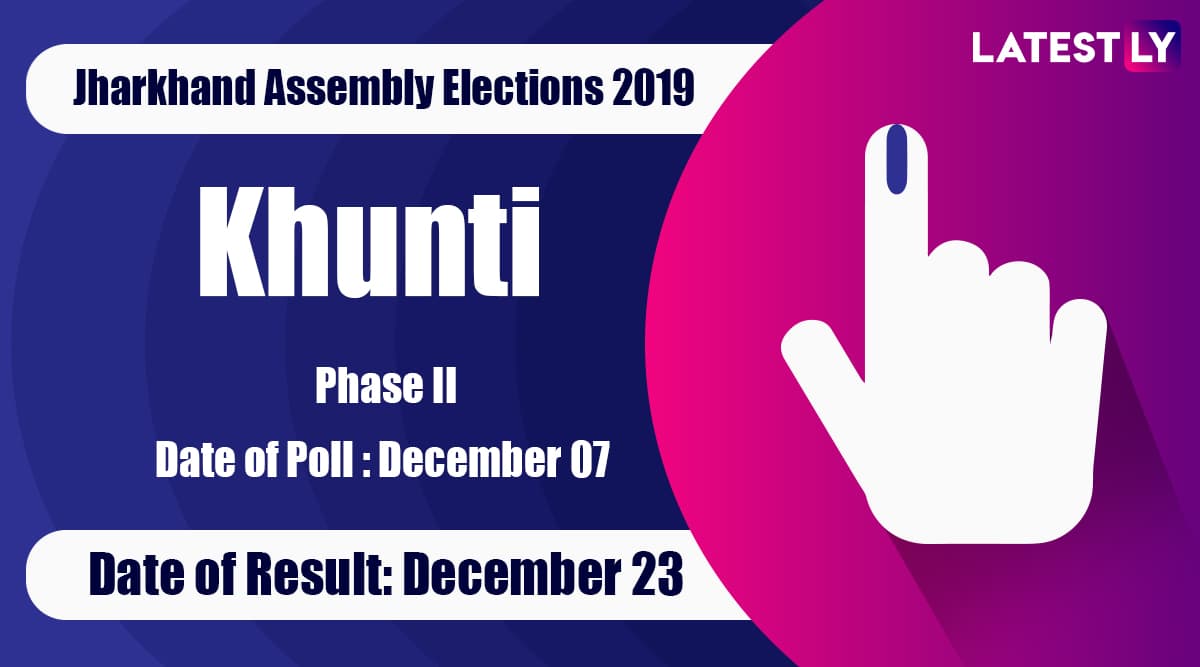 Ranchi, December 7: Khunti, the assembly seat located in Kunti district of Jharkhand, will vote on December 7 in Jharkhand Assembly Elections 2019. The Khunti seat goes to polls in the second phase of elections, scheduled on December 7 and is a (ST) reserved seat. Khunti is constituency number 60 and was earlier a part of the Ranchi district. Khunti has been a BJP bastion for the past 20 years. Phase-Wise List of Seats Going to Polls in Jharkhand.
Khunti is among the 20 seats which will be contested in round two of the elections. The other constituencies are: Baharagora, Ghatsila, Potka, Jugsalai, Jamshedpur East, Jamshedpur West, Kharsawan, Chaibasa, Majhgaon, Jaganathpur, Manoharpur, Chakradharpur, Tamar, Mandar, Torpa, Khunti, Sisai, Simdega and Kolebira.
In 2014, the Khunti seat was won by Neelkanth Singh Munda. He is also the sitting MLA and Cabinet minister in the state government. Neelkanth Singh Munda has won all the previous elections he has fought from the seat and Khunti is considered his stronghold. This time too, the BJP has shown faith in Neelkanth Singh Munda. Meanwhile, the JMM has fielded Sushil Kumar Laung from the seat.
The five-phase Jharkhand elections are scheduled to be contested between November 30 to December 20. Results of the polls will be declared by the Election Commission on December 23.
The poll outcome are also likely to used as litmus test by analysts to gauge the people's sentiment towards the ongoing economic slowdown. Jharkhand is among the states which have faced the worst brunt of the economic crisis, with unemployment and job losses being projected as top poll issues.
| MLA Candidates | Party | Votes |
| --- | --- | --- |
| MASIH CHARAN MUNDA | IND | 6964 |
| NILKANTH SINGH MUNDA (Current MLA) | BJP | 59198 |
| SUSHIL PAHAN | JMM | 32871 |
| DAYAMANI BARLA | JVM | 20726 |
| PASTAR SANJAY KUMAR TIRKEY | IND | 1653 |
| SOMA KAITHA | BSP | 1579 |
| KALYAN NAG | Ambedkarite Party of India | NA |
| MEENAKSHI MUNDA | Bhartiya Tribal Party | NA |
| RAM SURYA MUNDA | Jharkhand Party | NA |
| WILSON PURTY | Akhil Bhartiya Jharkhand Party | NA |
| SHYAM SUNDAR KACHHAP | JD(U) | NA |