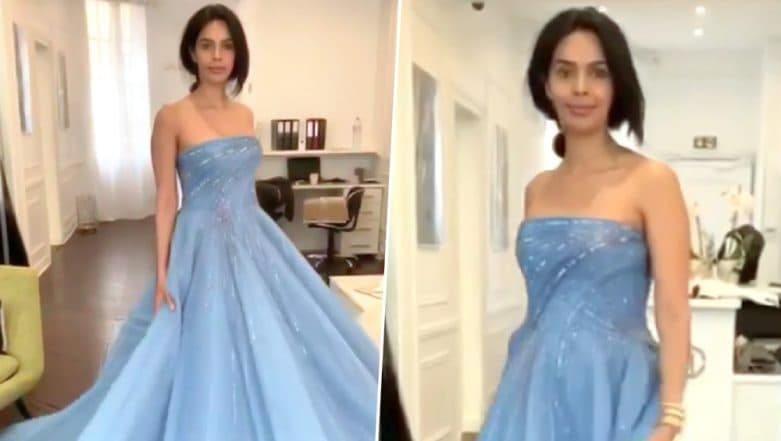 Cannes Film Festival 2019 is about to start in the next couple of hours and it's time we start cheering for our Bollywood gang. Mallika Sherawat is one among the many beauties who continues to walk the red carpet every year and that's the only prominent place where she likes to make an appearance. The Murder actress who's missing from the Bollywood scenario for the longest of time is currently prepping for her special walk and hey, we know what she plans on wearing on her day 1. Cannes 2019: Blake Lively, Deepika Padukone, Jennifer Aniston, Irina Shayk -  A Look Back At The Best Looks The Red Carpet Has Seen So Far!
Mallika took to her Instagram account to share a video about her prepping session. The actress dazzled in her blue off-shoulder Tony Ward couture gown that looked straight out of Princess Diaries. Will she pick the same attire for her red carpet walk or it was simply one of the many options selected by her? We don't know but she won't keep us waiting for too long. It would be interesting to see her range of attires and we wonder if she'll play too safe like every year. Cannes 2019 Schedule for Indian Celebs: On Which Dates Will Aishwarya Rai Bachchan, Hina Khan, Sonam Kapoor, Deepika Padukone, Kangana Ranaut Walk the Red Carpet?
Mallika Sherawat prepping for her Cannes red carpet walk
Mallika will be joined by other prominent B-town names like Deepika Padukone, Aishwarya Rai Bachchan, Sonam Kapoor, Kangana Ranaut and Huma Qureshi. The glam fest is about to start and you better be ready to ogle at their stunning pictures.