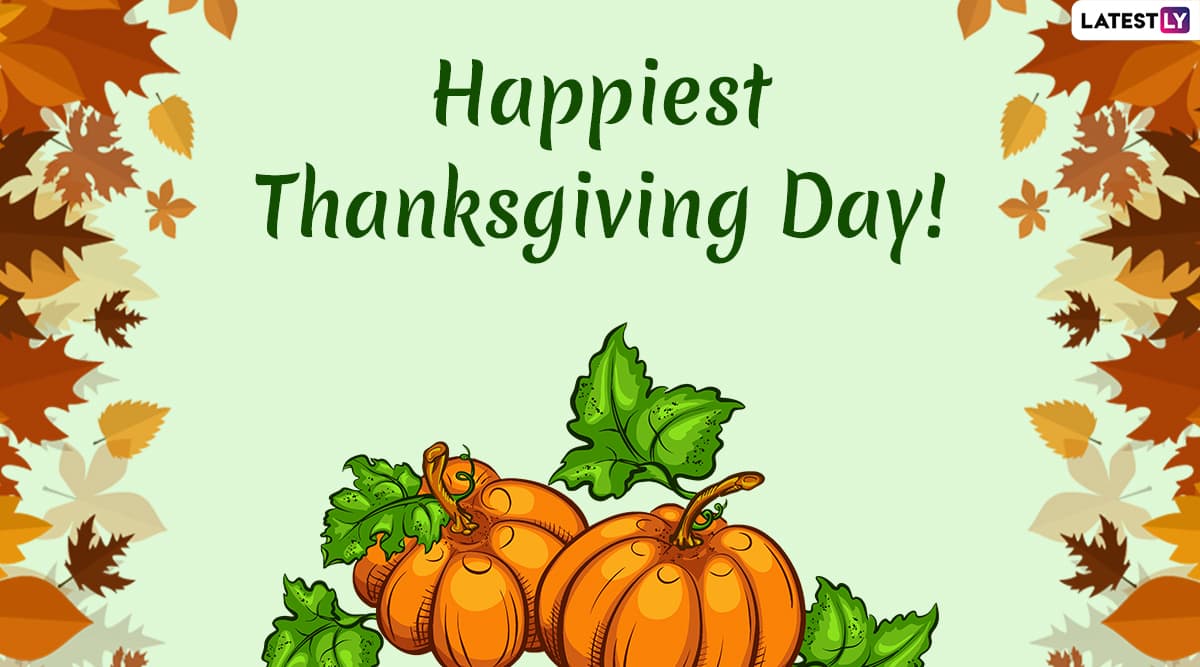 Are you searching for absolute best Thanksgiving Day 2019 greetings as you near the national holiday celebration day? Well, you need not worry. We are here to sort that out for you. You will find a collection of Thanksgiving 2019 greetings, wishes, messages, quotes, SMS, GIFs and more to share with your family and friends. Thanksgiving, the annual post-harvest festival of Americans, is celebrated on the fourth Thursday of November across the US. Thanksgiving 2019 will be commemorated on November 28. This festival is a day for Americans to gather with their family, enjoy delicious Thanksgiving meals, watch some football or the Thanksgiving Parade, and of course, give thanks for the abundant yield that the harvest season has blessed them with. People across the US enjoy sending Happy Thanksgiving wishes and messages, Thanksgiving 2019 WhatsApp Stickers and Facebook Status Pictures to celebrate this native holiday. Thanksgiving Day 2019 Wishes & Messages: WhatsApp Stickers, Hike GIF Images, SMS, Quotes, Photos and Captions to Send Happy Thanksgiving Greetings.
Thanksgiving has been a traditional holiday for the native Americans to celebrate their plentiful harvest, however, it is also associated with the colonial Pilgrims' 1621 harvest meal. Since this feast also led to war among the Pilgrims and the Revolutionary War in America, people often associate it with some negative annotations. Thanksgiving, like the name suggests, is a day to offer thanks for the annual harvests that have been reaped in the year. People offer sacrifices (traditionally of turkey), recite Thanksgiving prayer and celebrate this day with their friends, family and close ones. Thanksgiving in US vs Thanksgiving in Canada: From Date to Significance to Celebrations, What Is the Difference?
Thanksgiving was declared to be celebrated on the fourth Thursday of November by former American President Abraham Lincoln. It essentially celebrates the blessings of the harvest and there are special parades, programs, social gatherings as well as sporting events that are planned around this important day. As we prepare to celebrate Thanksgiving 2019, here are some Happy Thanksgiving wishes and messages, WhatsApp Stickers, Facebook Status Pictures. Thanksgiving 2019 Parades in USA: From NYC to Chicago, Watch Out For Best Thanksgiving Day Parades This Holiday Weekend.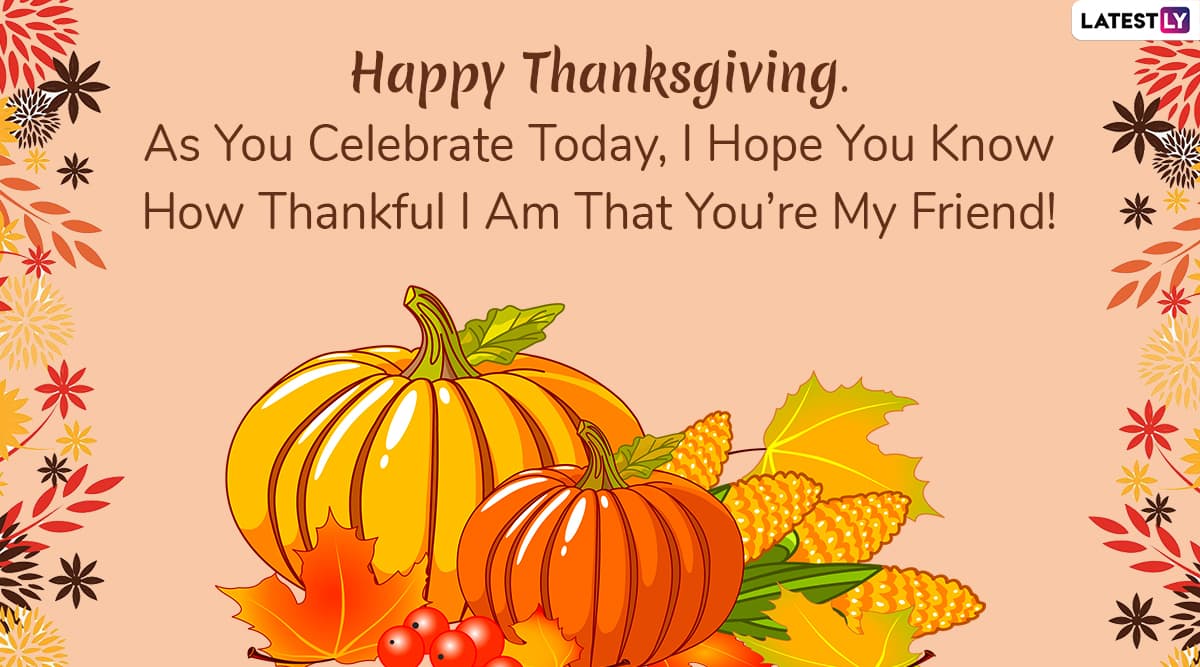 WhatsApp Message Reads: Happy Thanksgiving. As You Celebrate Today, I Hope You Know How Thankful I Am That You're My Friend!
WhatsApp Message Reads: May You Enjoy the Feast and Have Lots of Fun on This Wonderful Occasion. May You Have a Home Filled With Joy, Laughter, Freedom, and Love. Happy Thanksgiving.
WhatsApp Message Reads: Enjoy Each and Every Moment of This Wonderful Day and Be Grateful to God for All the Blessings. Happy Thanksgiving to You and Your Family, Have Fun.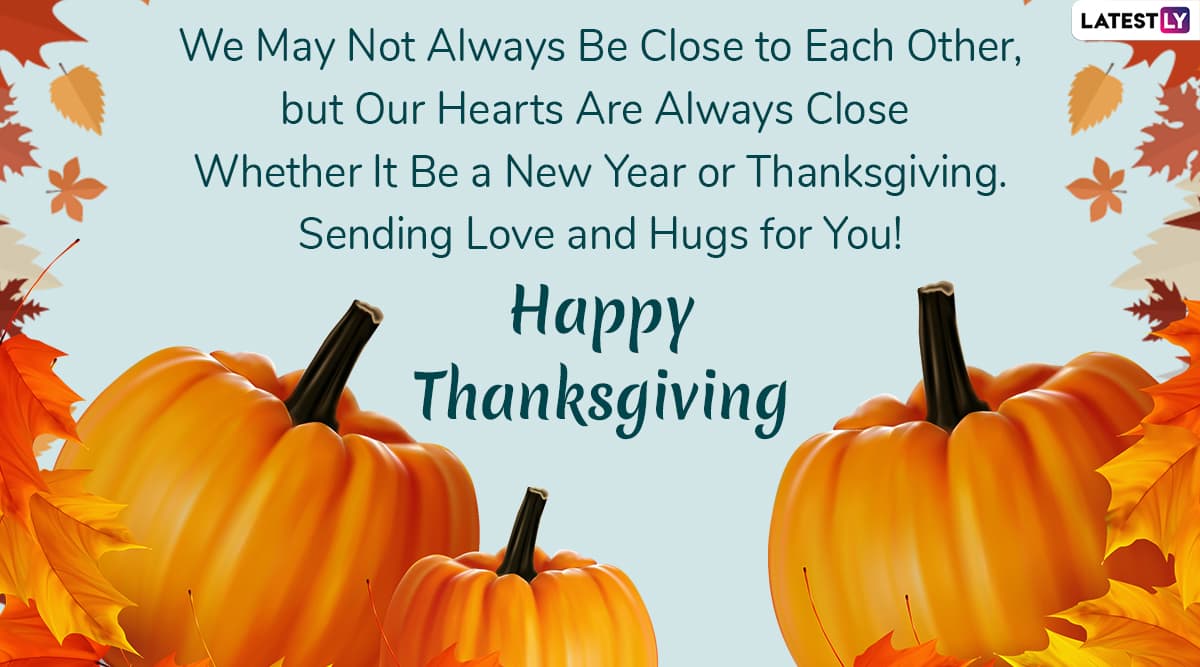 WhatsApp Message Reads: We May Not Always Be Close to Each Other, but Our Hearts Are Always Close Whether It Be a New Year or Thanksgiving. Sending Love and Hugs for You!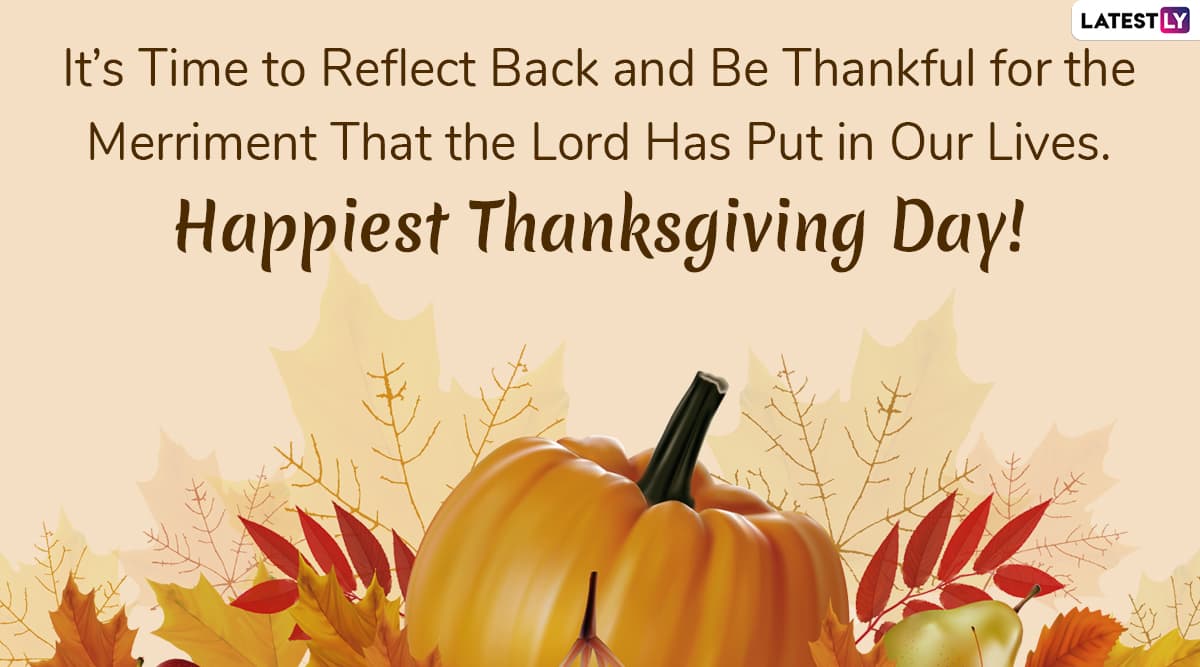 WhatsApp Message Reads: It's Time to Reflect Back and Be Thankful for the Merriment That the Lord Has Put in Our Lives. Happiest Thanksgiving Day!
How to Download Thanksgiving 2019 WhatsApp Stickers?
You can download Thanksgiving 2019 WhatsApp Stickers from the Play Store app. Yes, it's that simple. And we will make it a step simpler, just for you. Here's the link to download best Thanksgiving 2019 stickers.
It is celebrated in the US with a five-day holiday which begins on Thanksgiving Day and extends up to the Cyber Monday. The day after Thanksgiving also marks the official beginning of Christmas preparations. Massive discounts and sales like the Black Friday Sale, Cyber Mondays, etc make sure that we all get just the right gifts for our friends and family this Christmas! It is interesting to note that Thanksgiving is also celebrated internationally in Canada, some of the Caribbean islands, and Liberia. However, the dates of celebrations in these regions differ from place to place.