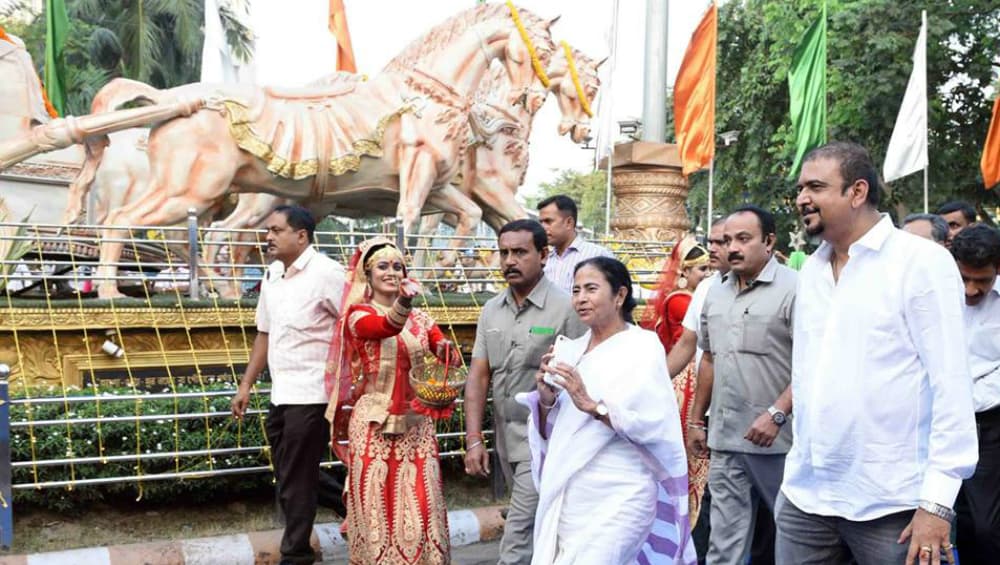 Kolkata, September 27: A series of Bengali songs written and composed by West Bengal Chief Minister Mamata Banerjee titled "Mati", will be the major attraction of Durga Puja 2019. This is the first time that a CD containing songs by Trinamool Congress president will be released. Priced at Rs 50, the song album has been made by Octave Records. Durga Puja 2019 Date And Information: Know All About Durgotsav And Celebrations Related to Five-Day Festival.
The song album contains seven songs which have been sung by popular singers like Monomoy Bhattacharya, Indranil Sen, Jojo, Rupankar Bagchi, Lopamudra Mitra and Shantanu Roy Chowdhury. Sen, TMC leader and state minister, has sung two songs- Mati amar moner foshol and Pahar kande sabuj kande. Durga Puja 2019: If You Do Not Find These 5 Types of Pandal Hoppers During Pujo, Are You Even in Bengal?
Bhattacharya has sung Mago tomar bhalobasae, while Rupankar did the playback for Akash tumi bristi dile. Jojo has sung Iki uki buki hamba hamba ho, while Shantanu Roy Chowdhury and Lopamudra Mitra lent their voice to De dol dol and Chilo ekta chotto meye, respectively.
Meanwhile, Durga Puja 2019, also known as Durgautsav, will be celebrated from October 4 to October 8. The festival marks the triumph of good over evil. For Bengalis across the world, Durga Puja is one of the most prestigious festivals. While each day has its own significance, Maha Ashtami or the eighth day is considered the most significant.