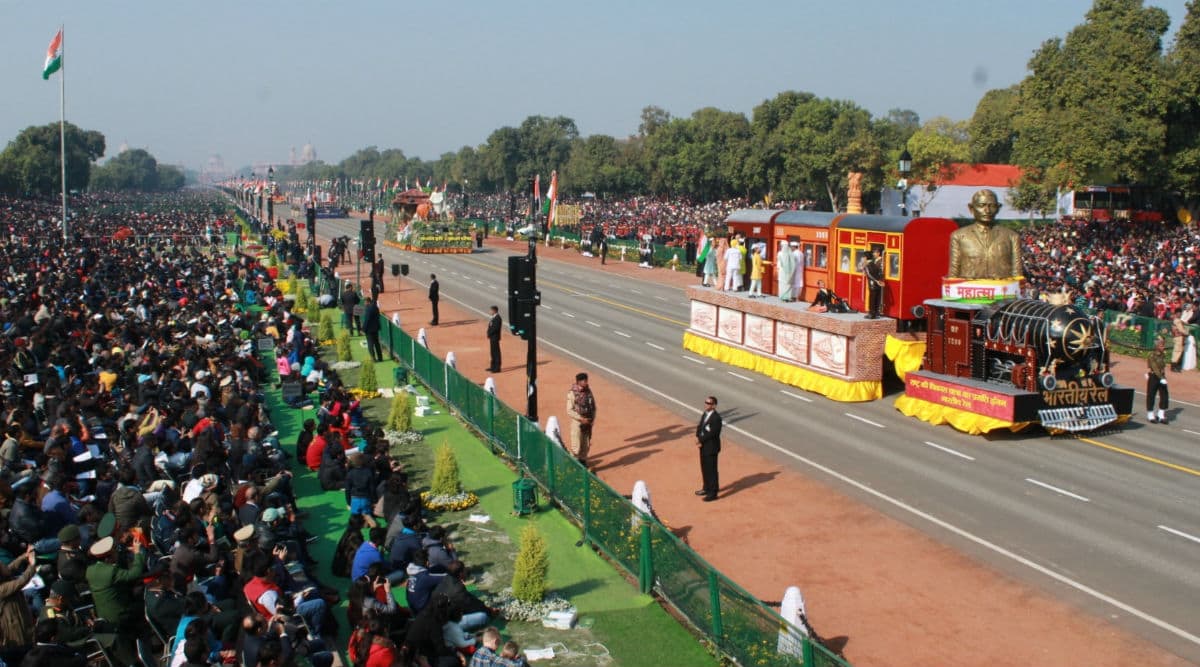 New Delhi, January 25: Republic Day, observed annually on January 26, is aimed at celebrating the adoption of Indian Constitution on this day in the year 1950. The same Constitution ensures that India's multilingual, multiethnic and diverse identity is not trampled upon through a unitarian approach. To reflect India's unity in diversity, several Ministries and states present their tableaux in the Republic Day parade which is taken out at Rajpath. Brazil President Jair Bolsonaro, Chief Guest of Republic Day 2020, Accorded Ceremonial Welcome at Rashtrapati Bhawan.
The R-Day parade is observed by the entire Indian establishment, including leaders from the ruling as well as the Opposition camp. Prime Minister Narendra Modi and President Ram Nath Kovind would be accompanying Brazil President Jair Bolsonaro at the event. The  Brazilian head of state has been invited as the chief guest this year. Check below the list of tableaux which will feature in the Republic Day parade.
The Chhattisgarh tableau will depict the artistic side of the state, with jewellery, ornaments and other art of the central Indian province would be featured. The tableau of Goa would highlight the seaside biodiversity of the state, including the livelihood of the people.
The artists from Gujarat would display Gujarat's 'Rani Ki Vav' or Queen's Stepwell built by Rani Udaymati in Patan. The tableau of neighbouring Rajasthan would also pull a page from the state's rich history, by presenting the Walled City of Jaipur that received the UNESCO World Heritage tag in 2019.
Respecting faith and religion is also integral to the characteristics of all Indian states. This aspect would be reflected in the tableaux of Punjab and Odisha. While the latter would be depicting the renowned Rukuna Rath Yatra of Lord Lingaraja, Punjab's tableau would be themed in accordance to the 550th birth anniversary of Guru Nanak Dev, the founder of Sikhism.
The state of Assam would be highlighting the Xattriya tradition in the form of 'Bhortal Nritya' through its tableau. Neighbouring Meghalaya would showcase the Double Decker Living Root Bridge -- one of the prime tourist attraction of the Northeastern state.
This would be the first Republic Day parade which would feature the participation of Jammu & Kashmir as a Union Territory. The tableau would highlight the erstwhile state's ruch environs, including the vast variety of flora and fauna. Artists depicting the centuries old Kashmiri and Dogra folk culture would also be part of the tableau.
Apart from the 15 states and one UT, a total of six central ministries and departments - Department for Promotion of Industry & Internal Trade (DPIIT), NDRF, Ministry of Home Affairs, Ministry of Shipping, Department of Financial Services, Department of Drinking Water & Sanitation and Ministry of Housing & Urban Affairs - would also be presenting their tableaux.