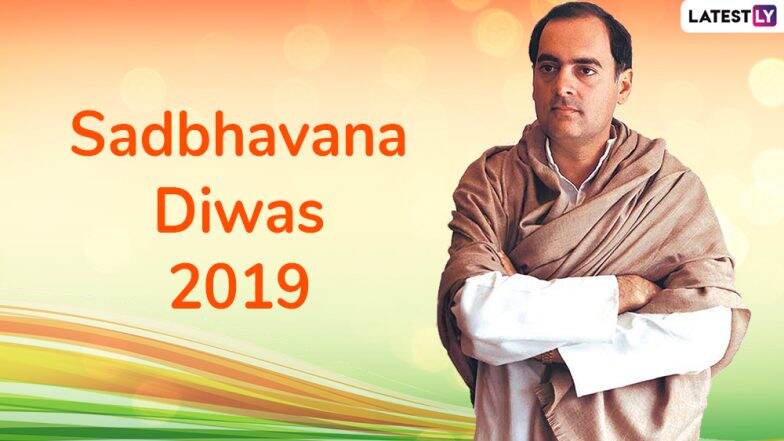 Sadbhavana Diwas 2019 will be celebrated on August 20, which also marks the 75th birth anniversary of late erstwhile Prime Minister Rajiv Gandhi. Sadbhavana Diwas, popularly known as Harmony Day stands for sharing good feelings and positive vibes with each other. Rajiv Gandhi as the youngest Prime Minister tried to propagate communal harmony, peace and national integrity within India. He was also known as the goodwill ambassador to the world. Rajiv Gandhi 75th Birth Anniversary: Rahul Gandhi Recalls His Father's Achievements in IT, Telecom Sector Ahead of Sadbhavna Diwas.
Date of Sadbhavna Diwas:
Sadbhavna Diwas is celebrated to commemorate the birth anniversary of Rajiv Gandhi. Rajiv Gandhi was a visionary, who dreamt of a developed India at that time and believed that young India should be strong, free and ready to serve mankind. Rajiv Gandhi was born on August 20, 1944, and was assassinated on May 21, 1991. Gandhi became the youngest Prime Minister at the age of 40 years.
Significance And Importance of Sadbhavna Diwas:
The intention behind celebrating Sadbhavna Diwas is to promote national integration and communal harmony. This year, Congress party plans to celebrate the day on a huge scale. Apart from prayer meetings, floral tributes, programmes such as planting of saplings, seminars, blood donation camps will be held.
The day usually starts with a cake cutting ceremony by the Congress party to encourage national integration, peace, national integrity, love, affection and communal harmony among the Indian people of all religions.  Some people take the Sadbhavna pledge to do good to the society and people living around.
To quote the Sadbhavna pledge, "I take this solemn pledge that I will work for the emotional oneness and harmony of all the people of India regardless of caste, creed, region, religion or language. I further pledge that. I shall resolve all, differences among us through .dialogue and .constitutional means without resorting to violence."
The Rajiv Gandhi National Awards is distributed on this day by the Rajiv Gandhi Foundation to acknowledge the contribution made by people across fields. Some of the notable recipients of the Rajiv Gandhi National Awards are- Lata Mangeskar, Dilip Kumar, Mother Teresa, Sunil Dutt, N Radhakrishnan and others.