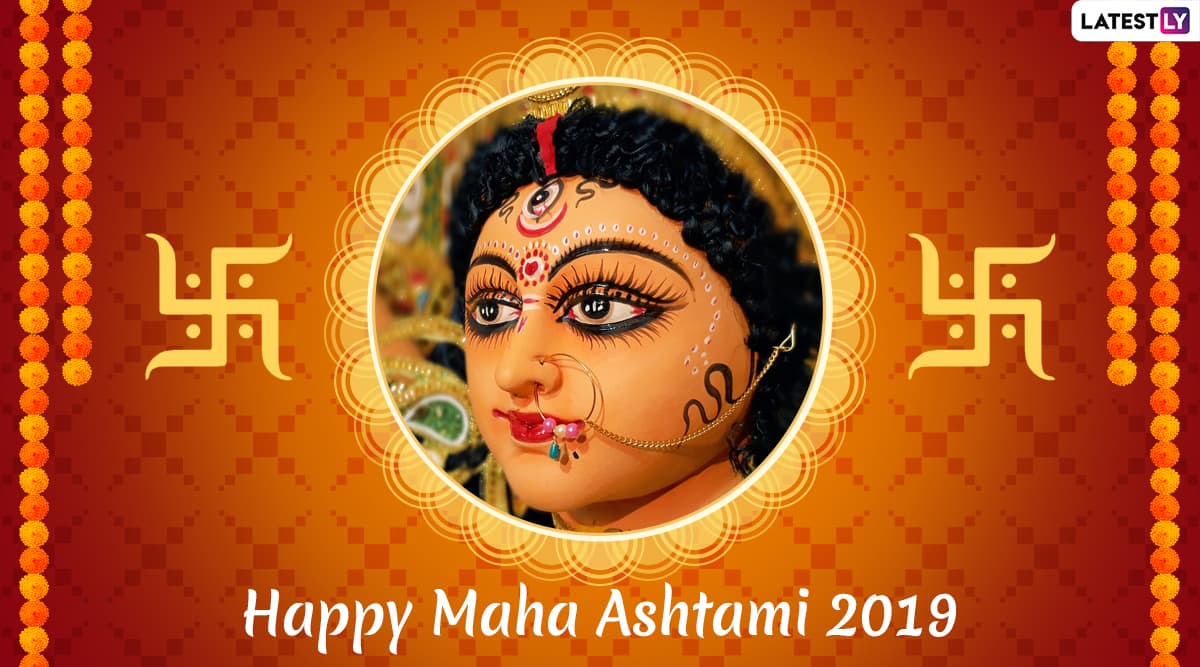 Durga Puja 2019 is one of the most important festivals marked by people of the Bengali community in the country. Marked in the festival of nine-day celebrations of Navratri, it is one of the most awaited times of the year. Maha Ashtami, the third day of Durga Puja is among the most important days of this festival. Today marks the celebration of Maha Ashtami 2019. Goddess Maha Gauri is respected and prayed to on this auspicious day of Durga Puja.  A lot of traditional rituals like pushpanjali, Kumari Puja, balidan and sandhi puja are performed on this day. It is a time that every Bengali awaits for the vast celebrations. For this special day, we give you some Durga Ashtami messages, images and greetings to wish everyone Subho Maha Ashtami. We have got a wonderful collection of Durga Puja messages, Maa Durga photos, greetings, GIFs and WhatsApp Stickers which you can send to your friends and family. Durga Ashtami 2019 Wishes in Bengali: WhatsApp Stickers, GIF Image Greetings, Messages, Status, SMS and Facebook Cover Photos to Wish Your Friends Subho Maha Ashtami!
The day of Maha Ashtami is celebrated in much pomp and fervour in the state of West Bengal. Nine forms of Goddess Durga Maa are worshipped and special traditional prayers are also held. People gather together with their friends and family and go Durga Puja pandal hopping. Those who cannot make it, resort to sending Subho Maha Ashtami greetings and messages with everyone. If you are also looking to send out Durga Puja greetings, wishes, images, GIFs, and WhatsApp Stickers we have made a lovely collection of the same for you. Durga Puja 2018 Greetings in Bengali: Subho Navami, Ashtami, Saptami Photos, GIF Images & WhatsApp Messages to Wish on Durgotsav Festival.
Subho Maha Ashtami 2019 Messages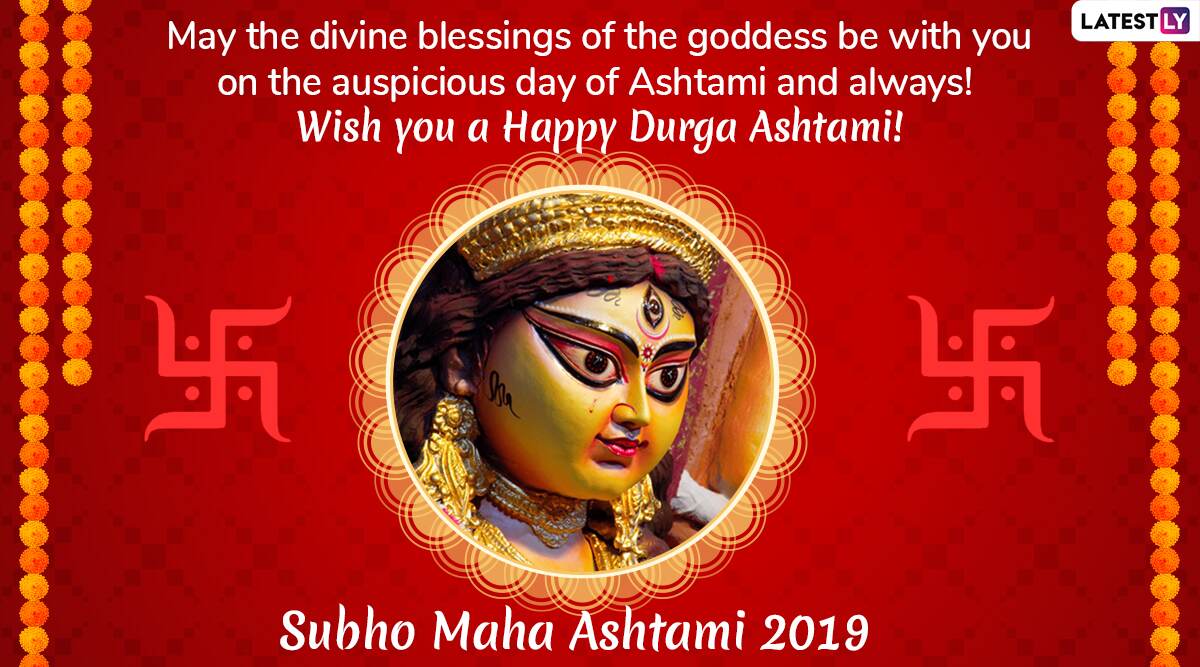 Message reads: May the divine blessings of the goddess be with you on the auspicious day of Ashtami and always! Wish you a Happy Durga Ashtami! Subho Maha Ashtami 2019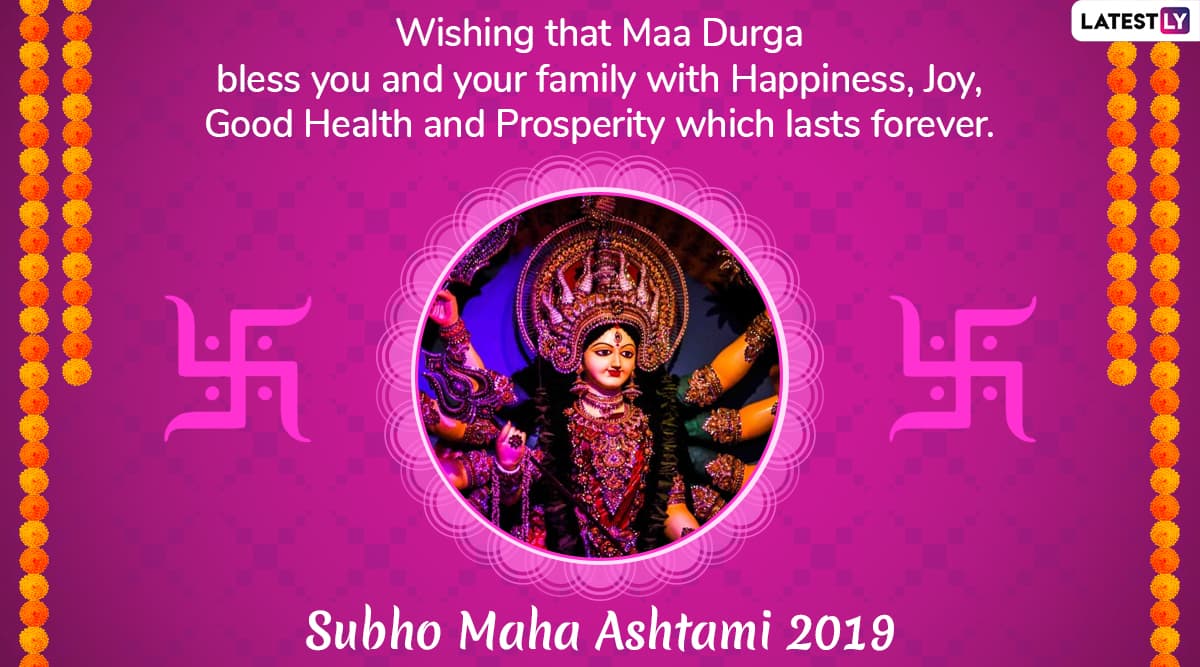 Message reads: Wishing that Maa Durga bless you and your family with
Happiness, Joy, Good Health and Prosperity which lasts forever. Subho Maha Ashtami 2019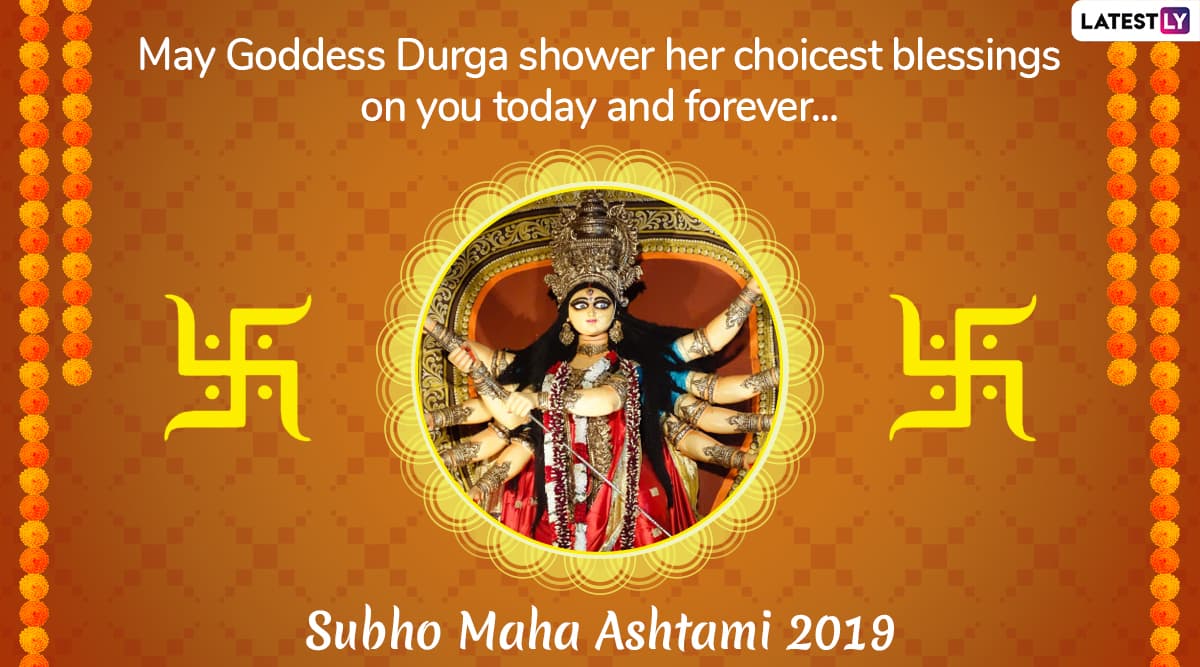 Message reads: May Goddess Durga shower her choicest blessings on you today and forever... Happy Maha Ashtami 2019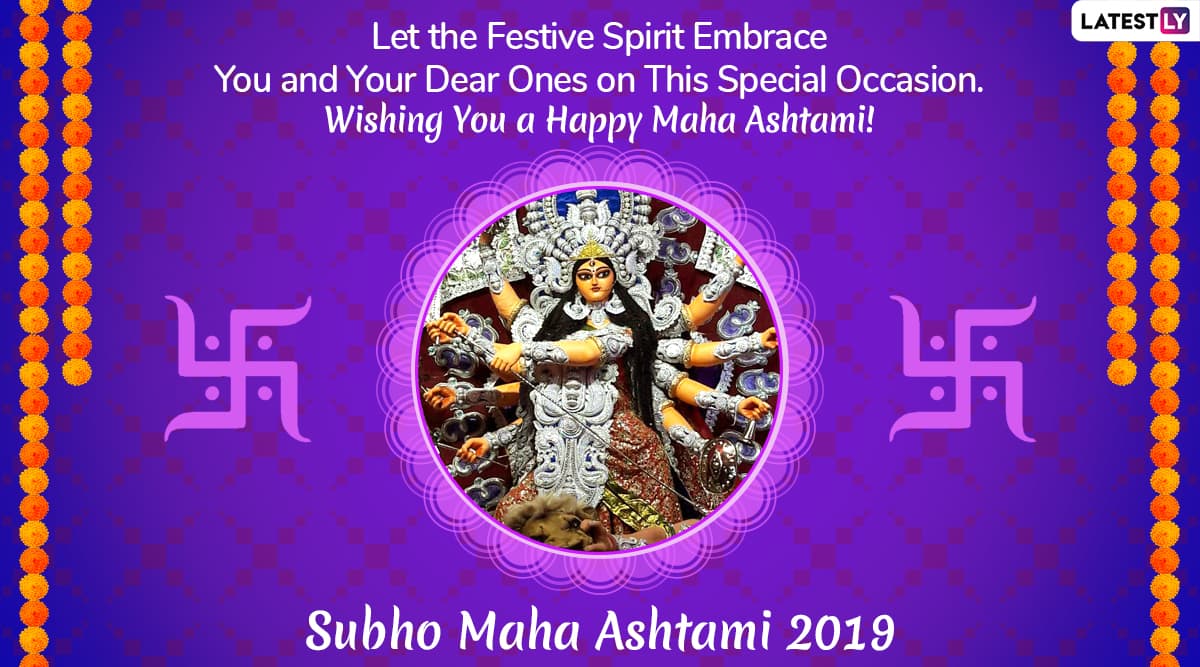 Message reads: Let the Festive Spirit Embrace You and Your Dear Ones on This Special Occasion. Wishing You a Happy Maha Ashtami! Happy Maha Ashtami 2019
Message reads: May Maa Bless You With All the Happiness in the World... May You Have the Best Durga Puja ever.. Subho Maha Ashtami.
Durga Puja WhatsApp Stickers
It is very easy to download special festive pack WhatsApp Stickers for Navratri. Go to Play Store and search with Happy Durga Puja or Durga Puja Stickers and more. There are many other apps from which you can download the stickers and send them via the app.
Durga Puja GIFs
Here's a Video of Durga Puja Messages:
We hope our lovely collection of Durga puja greetings and messages help to convey the beautiful wishes of the occasion this Navratri. We too wish you have a very Subho Maha Ashtami 2019!