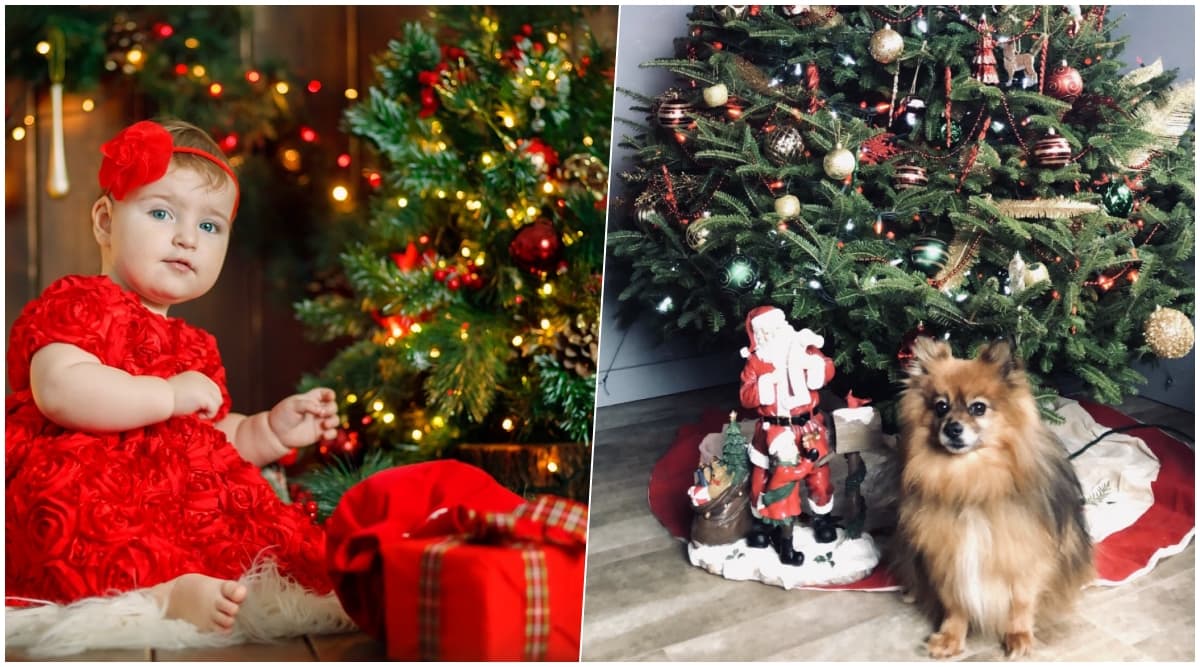 Are you all feeling the Christmas vibes? The festival and holiday season is just two weeks away and we get it if you cannot keep calm! There is just so much to do and everyone wants their Christmas tree to look the best. So every year, people get in new ornaments and decorative items to deck up their tree. But if there are babies and pets in your house then there is bound to be a little tension on your heads. Because, of course, a huge decorative item in the house, sparkling and tinkling with gifts all around is welcoming to dash into. So keeping a Christmas tree safe from either babies or pets is a task, more so if you have both in your house. So ahead of Christmas 2019, we give you a few ways and tricks to baby-proof your Christmas tree and also keep them safe from the pets. Christmas 2019 Decoration Ideas: 5 Alternatives for Xmas Tree That Will Dazzle up Your Home This Holiday Season.
Pictures of cats and dogs, cats especially hiding in the Christmas tree make their way on social media year after year. Cats are generally more naughty and love to play with the baubles. They also climb their way up and love hiding in. But as cute as it seems, there is always a fear of the decorations breaking down and spoiling the Christmas spirit. It can be really stressful for some to have a Christmas tree at all. But this festive season, let us help you out with some ways and tricks to ensure that your Christmas cheer goes just as planned. Christmas Explosion TikTok Videos Are Dreamy and Serve Best Festive Decor Ideas For The Holiday Season.
Ways to Keep Your Christmas Tree Safe
Keep your tree somewhere behind a sofa or a table, where it is not completely covered but there is some obstacle in the way for a baby to reach.

Don't hang the lights by the edges. Hang those fairy lights in the middle or at the top of the tree.

Don't use fragile ornaments for decoration. Use simple baubles and ribbons. Hang in your precious ornaments at the top, but also in a place where they are not too difficult for you to remove later.

In the lower branches put up the bells, which make for good toys for the children and they can easily play if they wish to.

Don't put all the presents under the tree until its time for Christmas. Gift-wrapped boxes are attractive for children, irrespective of their age. Sometimes even you'd be tempted to open the boxes. So let them be the last items in your Christmas tree decor.

Don't use table-top trees. While they may seem hassle-free to put up, they can be easily pushed by the pets, if not kids.

If you have pets in your house, do not use foodstuffs in decorations. Stay away from using candy canes, cookies and chocolates on or around your tree. The smell of these is enough to attract unwanted attention from your pets.

Keep your tree on a solid base. The best way to cover it is to make a fence around it.

Do not keep any candles around your tree. As aesthetic as it may look, it is not a good idea if you have pets and kids around.
Follow the above tricks to keep your Christmas tree safe from being damaged by the kids and your pets too. When you start decorating, go step-by-step and you can explain to your kids too. When you completely try to keep them away they will be tempted more to go near it. So with these ways and tips, you can ensure a Merry Christmas!