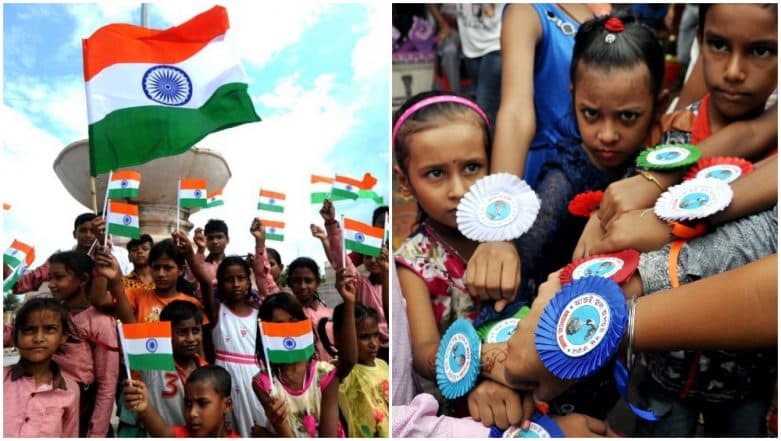 People of India are in a celebratory mood today. Citizens across the country are drenched in festivities are two of the most important festivals are being celebrated on the same day this year. While August 15 marks the Indian Independence Day, the Hindu festival of Raksha Bandhan is also observed on the same day this year. As celebrations are in progress, people have taken to social media platforms wishing each other. Twitterati is sending wishes and messages on the social media platforms with the hashtags #IndependenceDay2019 and #HappyRakshabandhan. Indian Independence Day 2019 Patriotic Quotes: Popular Sayings by National Heroes to Celebrate 73rd Independence Day of India.
India received independence from the British rule on August 15, 1947. The toil and efforts thousands of India paved the way for a free India. An array of freedom fighters fought in driving the British empire out of the country. Today, the country 73 years of independence from tyranny and autocracy that oppressed the people of India. People hoist the Indian National flag and stand in attention as the National Anthem is sung. Various events and programmes are held across the country reminiscing the works of freedom fighters and others who paved freedom for their future generations. As we celebrate the day, everyone from politicians, celebrities and commoners have taken to Twitter sending Independence Day wishes. Raksha Bandhan 2019 Greetings: Happy Rakhi Quotes, WhatsApp Stickers, GIF Images, Facebook Status Messages to Share Today.
Check Out the Tweets Below:
Picture of the day 😊😊#HappyIndependenceDay#HappyRakshabandhan pic.twitter.com/2IxDYhMyfr

— Tulika (@Imtulika2) August 15, 2019
Such a Thoughtful Picture!
Proud to be Indian! 🇮🇳

Happy 73rd #IndependenceDayIndia!#IndependenceDay2019 #स्वतंत्रतादिवस pic.twitter.com/B6p8Zb2ebk

— Charu Pragya🇮🇳 (@CharuPragya) August 14, 2019
Happy Independence Day 2019!
HAPPY INDEPENDENCE DAY 🇮🇳#IndependenceDayIndia 🇮🇳

JAI HINH🇮🇳 pic.twitter.com/7oyaiJJ6pT

— Ripa Saikia (@RipaSaikia) August 15, 2019
Thought-Provoking!
Today I asked these children whom we recently freed from slavery,"What is freedom?"One replied, "I can see my mother after one year & hug. "Another said,"Now I can dream to become a teacher." And the third told, "Now I can speak freely. Someone will listen." #IndependenceDayIndia pic.twitter.com/lsQSrViBm0

— Kailash Satyarthi (@k_satyarthi) August 15, 2019
Shashi Tharoor Wishes Indians a Happy Independence Day!
Proud to be Indian every day of the year, but especially proud today! pic.twitter.com/IgxTqPDrhc

— Shashi Tharoor (@ShashiTharoor) August 15, 2019
Rajnath Singh Sends Independence Day Wishes
सभी देशवासियों को स्वतंत्रता दिवस की हार्दिक बधाई एवं शुभकामनायें। इस शुभ अवसर पर सशस्त्र सेनाओं में सेवारत सभी सैनिकों को भी मैं हार्दिक शुभकामनाएं देता हूँ।

भारत आज पूरी तरह सुरक्षित है, इसका बड़ा श्रेय हमारे सैनिकों को जाता है।

Happy Independence Day to the people of India!

— Rajnath Singh (@rajnathsingh) August 15, 2019
Twitter is also flooded with Rakshan Bandhan messages and wishes. Raksha Bandhan celebrates the beautiful bond between brothers and sisters. On this day, sisters tie sacred threads on the wrist of their brothers, and get gifts in return. The thread or Rakhi is a sign of their bond, wherein the brother promises to protect the sister from all evils. The day shows the neverending bond between siblings.
Check Out the Tweets Below:
May this Rakshabandhan the bond between you and your sibling become stronger !!#HappyRakshabandhan pic.twitter.com/DOsky6VyCp

— Sarim Mansoori (@ms_mansoori) August 14, 2019
Happy Rakhi Everyone!
Wishing everyone a happy #IndependenceDay and #Rakshabandhan .My SandArt art puri beach . #JaiHind pic.twitter.com/4SZHemMyFl

— Sudarsan Pattnaik (@sudarsansand) August 15, 2019
Rahul Gandhi Tweets Raksha Bandhan Wishes!
रक्षाबंधन के पावन अवसर पर सभी देशवासियों को हार्दिक शुभकामनाएँ 🌈#HappyRakshabandhan

— Rahul Gandhi (@RahulGandhi) August 15, 2019
When Two Important Festivals Come Together!
To All my Brothers And Sisters #HappyIndependenceDay #HappyRakshabandhan pic.twitter.com/l2euj88tit

— Venkataprasad Rangu (@i_venkataprasad) August 15, 2019
Watch the Video Below:
We wish everyone Happy Independence Day and a Great Raksha Bandhan. We hope your freedom finds new heights and paves way for great things. For those celebrating Raksha Bandhan, we hope your bond with your sibling becomes stronger and the relationship stays true forever.