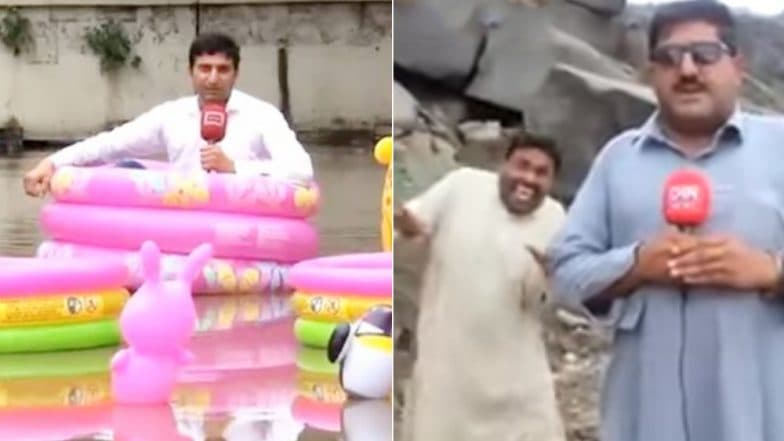 We have seen the video of Chand Nawab's 'hilarious' reporting from Karachi railway station umpteen number of times. His reporting even inspired a character in Kabir Khan directed movie Bajrangi Bhaijaan. Since then, multiple videos of funny reportings by Pakistani reporters have gone viral on social media. The latest one in of a Pakistani journalist saying 'Tauba Tauba' while reporting on India banning the export of tomatoes to Pakistan in the backdrop of Pulwama attack.
The video went viral with #TaubaTauba becoming a meme in India, thanks to Twitter. And as the video continues to be shared widely on social media, we take a look at some of the most hilarious moments from Pakistani journalists' reporting. From reporting while sitting on a donkey to inside an inflatable pool on a flooded road, or with a monkey on the head, some of the funniest reporting videos from Pakistan have emerged on social media.
Bird Lands on News Anchor's Head During Live Broadcast, Reminds us of These Videos Where News Presentators Remained Calm.
Here are some of the hilarious reporting videos from Pakistan
1. Interviewee can't stop laughing:
We are not sure what exactly triggered a laughing bout in the man, but he simply couldn't resist himself. After making faces in the background, he laughingly refuses to the reporter saying he can't speak, as he is not able to control his laughter.
2. When rain makes you forget your worries:
This reporter got swayed along with the group so much so that he couldn't break into a jig in the way. It was as if he was waiting to finish reporting so he could dance along.
3. This journalist finds a way out in floods:
In 2018, when rains flooded cities of Pakistan, this reporter out on duty managed to set up a pool for himself. Video of his reporting sitting inside a pink inflatable pool went viral on social media.
4. Donkey pushes a reporter to the ground:
Amin Hafeez who is known for his strange reporting skills sat on a donkey while delivering a piece-to-camera (PTC). However, the donkey he was sitting on at a 'Donkey Hospital' in Lahore district pushed him to the ground. The video had gone viral with people sharing it widely on social media.
5. This got should be awarded for his 'patience':
The bullies looked harmless but clearly not in the mood to let the reporter do his job. Eventually, the reporter gives up tired by their constant nagging which is actually funny if you listen carefully.
6. And the legendary Chand Nawab:
This video from 2008 needs no explanation and is considered the inventor of all failed reporting videos. Every time any reporter in the world misses a line, forgets or fumbles, they are instantly compared to Chand Nawab.
7. When Chand Nawab went paan reporting:
This video of Chand Nawab eating his words along with paan had amused many. Employees at the store can be seen impatiently waiting for Nawab to complete, but he sticks to his 'famous' style.
These videos continue to go viral on social media leaving people in splits. While these are some of the popular videos from Pakistan, there have also been incidents of reporters being interrupted by animals and birds on the field and even in the studio during live reporting. We hope these light-hearted videos managed to make you laugh