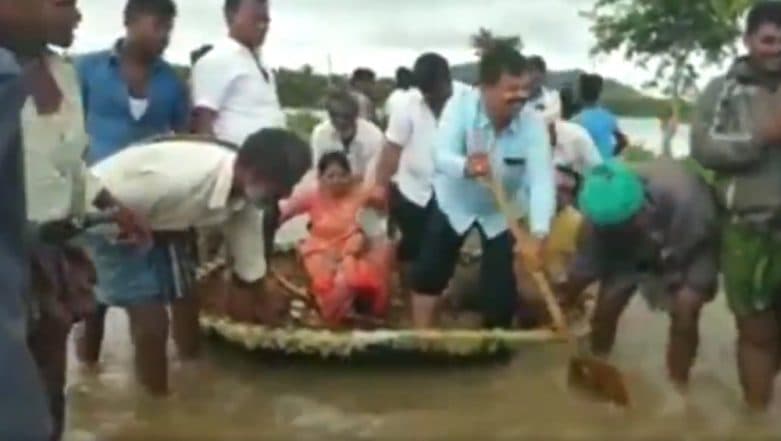 Incessant rains have caused terrible flooding in different parts of Karnataka. While the National Disaster Relief Force (NDRF) has deployed several teams trying to rescue people from flood-affected regions, people continue to be stuck in various parts. While locals and government are trying their best to save lives, video of BJP MLA, MP Renukacharya rowing a boat through floodwaters to 'rescue people' in Belimallur village of Honnali town in Karnataka has gone viral on social media. The politician could be seen trying to paddle in an Agarala boat in calf-length water, with the help of locals. Karnataka Flood: Former Union Minister Janardhana Poojary Rescued From His House in Bantwal, Watch Video.
Agarala is a traditional fishing boat of Karnataka and one needs to be an expert at it to row it. The MLA can be seen losing balance multiple times, only to be helped by locals walking in the floodwater alongside his boat. Four other people in the boat can be seen holding on the boat for balance. As the video was shared online, social media users questioned Renukacharya's efforts in rowing an Agarala boat where it was not necessary. Soon, social media users began trolling the MLA for his 'photo-ops' session at a time when people were suffering. Karnataka Rains: 24 Dead, Flood Situation Remains Grim, 1024 Villages Severely Affected Due to Heavy Rainfall.
Here is the Video of BJP MLA, MP Renukacharya Rowing Agarala Boat:
#WATCH BJP MLA, MP Renukacharya rows an Agarala boat (coracle) through flood-waters in Belimallur village in Honnali in #Karnataka. pic.twitter.com/uoezovRcoA

— ANI (@ANI) August 10, 2019
Here is How Twitterati Responded:
What a completely incompetent boatman. I won't pay him 5 rupees for this...

— Keshav Das (@keshavuvacha) August 10, 2019
The Reaction of Everyone Who Watched the Video:
— José Covaco (@HoeZaay) August 10, 2019
People commented that the MLA's actions only caused more trouble than help.
Nice photo and video op 👌👌👌

— RiA (@RiaRevealed) August 10, 2019
People Questioned His Incompetency
3 people in the boat.. 10 people pushing it

— Naman Datta (@yourownnaman) August 10, 2019
HAHAHA
I hope there's no sharks in those little more than ankle-deep waters. Very dangerous.

— Amit Schandillia (@AmitSchandillia) August 10, 2019
This Needs to be Answered Right Away!
I am not getting this ...who is rescuing whom?

— The Patriot (@indicheguevara) August 10, 2019
Renukacharya was the former Minister for Excise in the Government of Karnataka. He is a Member of Legislative Assembly from Honnali Taluk in Davangere District. Karnataka Chief Minister BS Yediyurappa on Saturday announced Rs 5 lakh compensation to next of kin of people who lost their lives in the floods. CM said that over two lakh people have been evacuated from flood-affected areas and 1.61 lakh people are in 664 relief camps set up across the state. He added that the floodwater is likely to recede in two to three days. Meanwhile, both government and private schools and colleges in affected flood-hit districts will remain closed till August 15.