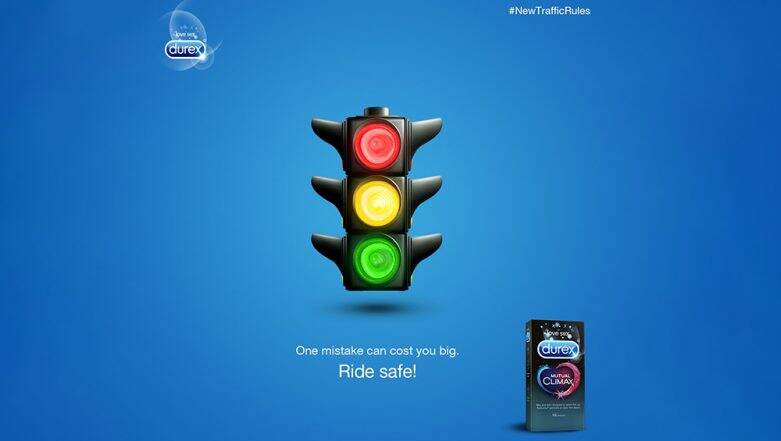 The citizens in India have been introduced to new traffic rules with the enforcement of the Motor Vehicles (Amendment) Act, 2019 from September 1. The government brought new changes and increasing penalties with an aim to improve road safety. The traffic rules implementation has been lauded by many. Durex India too came in support with the move and made a creative ad on new traffic rules. And our inner pervs cannot help sniggering. The condom company, with its quirky ad, asked people to "ride safe" and stop making "rookie mistakes." The picture of the advertisement has received many likes and comments, with people giving thumbs up to the creativity. It surely, couldn't be explained any better! New Traffic Rules Have Got Netizens Making Funny Memes and Jokes on Increased Fines. 
The print created by Durex shows the traffic control signal lights with an important message on the bottom that reads, "One mistake can cost you big. Ride Safe!" Praising the government's new traffic rules, the brand made this brilliant piece, while promoting the importance to use protection during sex. In both ways, people are asked to be responsible and safe, while enjoying the ride.
Here's the Ad:
Stop making rookie mistakes. To buy Durex Mutual Climax, click on https://t.co/JPcPWRUp8M. #NewTrafficRules #TrafficFine #MotorVehiclesAct2019 pic.twitter.com/uUIZjTUOQ9

— Durex India (@DurexIndia) September 4, 2019
Durex has always come up with quirky ads, and their creativity continues to impress the people online. The condom brand has been around for decades now. And we love the way it continues to reinvent itself through its ads. It is undoubtedly one of those brands which have been successful in talking about safe sex. Their witty tweet and online advertisements are smart and accurately explains their aim.