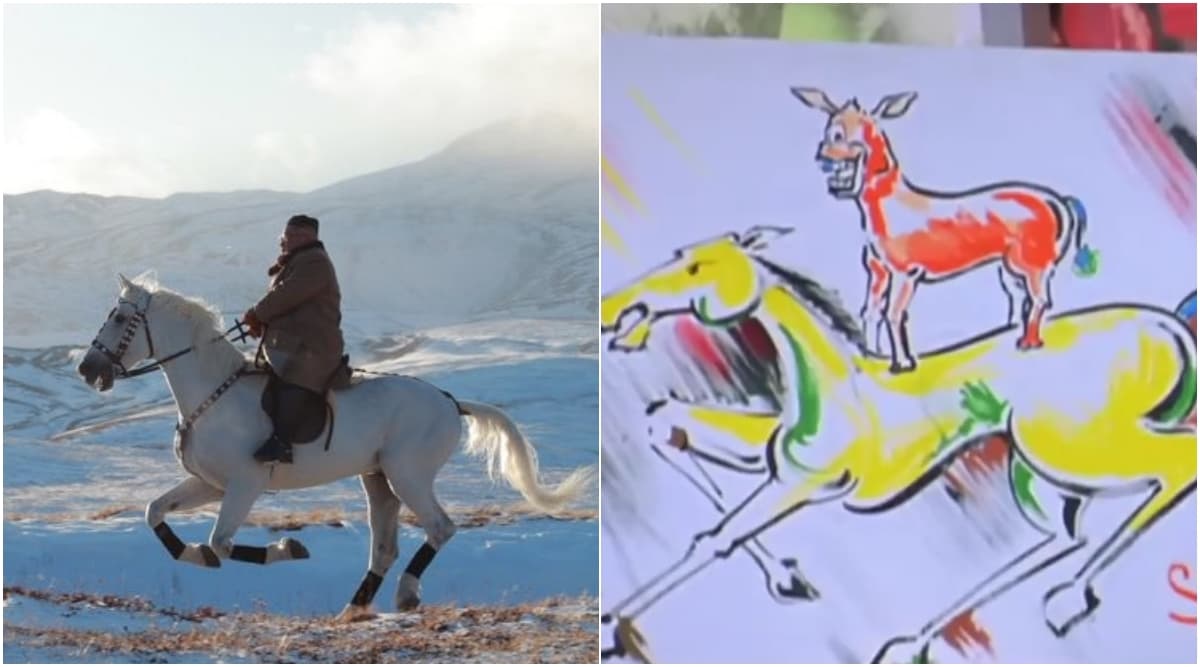 North Korean leader Kim Jong-un has become a meme content for some people on the internet after pictures of him horse riding were released online. A series of photos released by the state media show Kim Jong-un riding and galloping on a snow-covered Mount Paektu. The reports along with the pictures described his march as "a great event of weighty importance in the history of the Korean revolution," But people on the internet are amused with this photoshoot. His ride through the snow-capped landscape has reminded people of the Game of Thrones series. Netizens have given some funny reactions equating him to the King of the North and even famous painting by Anil Kapoor in the film Welcome. Kim Jong Un's Running Bodyguards Catch Internet's Fancy Yet Again! Who are These North Korean Security Guards.
Mount Paektu has a special place in the North Korean leader's life because it is the birthplace of his father. The KCNA report said, "Sitting on the horseback atop Mt Paektu, [he] recollected with deep emotion the road of arduous struggle he covered for the great cause of building the most powerful country, with faith and will as firm as Mt Paektu." It is not clear whether this visit will also see some diplomatic announcements or some policy decisions. That, however, is not the concern of people on the internet. These pictures of him galloping among the snow-capped mountains have given rise to memes and funny jokes on Kim Jong-un. Kim Jong Un Carries His Own Portable Toilet To Singapore! Know Why North Korean Leader Takes it Everywhere he Goes!
Check Kim Jong-Un's Horse Riding Pictures:
Well these pics of Kim Jong Un scaling Paektusan on a white horse are... quite something pic.twitter.com/oyo1Vqt5mk

— Oliver Hotham (@OliverHotham) October 15, 2019
Gets even better pic.twitter.com/NSdLWUfmSW

— Oliver Hotham (@OliverHotham) October 15, 2019
Check The Funny Reactions People Have on His Pictures:
Winter is Coming...
Winter Is Coming. And there is a King In The North pic.twitter.com/gYjgBZMO8H

— Josh Smith (@joshjonsmith) October 15, 2019
Where's His Helmet?
Why isn't he wearing a helmet???

— Merlin Fulcher (@merlinfulcher) October 15, 2019
Uh Oh!
Early signs the new Game of Thrones spinoff might not be that great. https://t.co/Gxvbojjw8u

— Jon C (@Castaa) October 16, 2019
Is This Narnia?
Not sure why but this one has much more of a "Narnia" vibe. I think I can see a lamppost behind him pic.twitter.com/BKyQokKUcX

— Josh Smith (@joshjonsmith) October 15, 2019
The Secret to His Energy
Those coat pockets are packed with Mars bars. https://t.co/yEI8TzfSBm

— Julia Hartley-Brewer (@JuliaHB1) October 16, 2019
Hahahaha
Just can not think of anything else but, this artwork of Majnu bhai pic.twitter.com/N4jQc6kU6A

— Pyaar Se Mario (@SquareGas) October 16, 2019
Just Can't...
Wow ... @AnilKapoor saw this coming already ...!! pic.twitter.com/lXAuPW8eUM

— Yo Yo Funny Singh (@moronhumor) October 16, 2019
Several people also commented on how they pitied the horse! While others said it looks a little photoshopped. The question remains if Kim is going to make an important announcement. Back in 2017, he visited the same mountain before his new year's address. Let us see if Kim Jong-un has another major announcement lined up. But netizens have found their way of entertainment from his recent pictures.