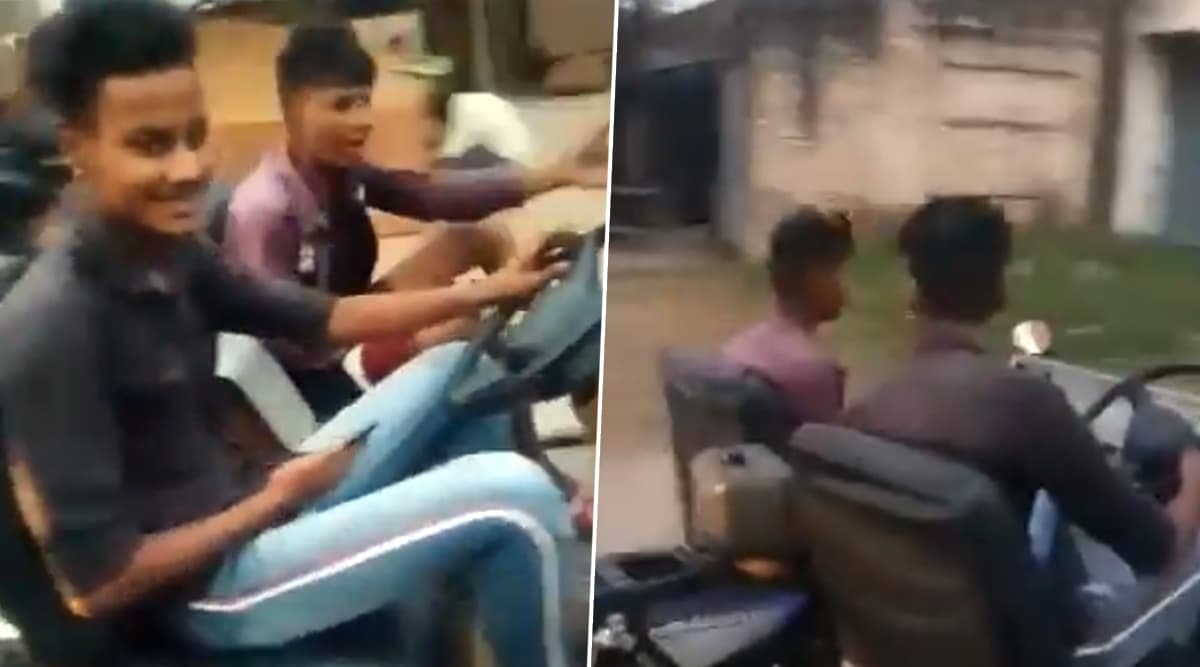 There are so many instances when you come across things or stories and instantly utter, "This happens only in India?" We have so much of creativity with a dash of fun especially in the rural parts of this nation. The Indian Jugaad a slang referred to an alternate way of doing things is quite well-known. To add to that list of crazy innovations is a car that has been made from a bike. Yes, you read that right! A man from Ludhiana, Punjab has managed to modify his bike into a car. Although it is a two-seater, from the front it looks like a car and from behind, it has wheels of the bike retained. A video of this crazy Jugaad has been shared on social media and needless to say it is winning all praises. These Funny Pictures Prove Indians are Best at Creativity with Jugaad.
Twitter user @desimojito uploaded a video clip of this Jugaad innovation from Ludhiana. In the video, when the camera person asks him details about this car, the man responds that he has transformed the Hero Honda's Splendor bike into a car with gears! There is an attachment of an extra seat by the side and a steering wheel which operates it. The person even asks if he can make such a modification for him too! The man further mentioned that he needs to make more additions to it, but for now he is waiting for the festive season to get over. What's surprising is, he mentions he made the modification in barely Rs 13,000, excluding the cost of the bike, of course! Viral Video Shows Man Carrying Family of 7 People, 2 Dogs and 2 Hens on His Bike! Twitter is Cheering This Jugaad.
Watch The Viral Video Here:
India has got talent. Made in Ludhiana pic.twitter.com/wsYOI7VhHs

— Le desi mojito 😍 (@desimojito) October 31, 2019
The video has got over 65,000 views, 2000 tweets and more than 6,000 likes. People are amused with this innovation too. Check how some of them reacted.
Safety First!
Inko helmet pehana chahiye ya seat Bea 😂🙏

— Abhishek Gupta (@abhigupta_ak) October 31, 2019
So Amazing
Amazing. 👍🏻

— Bar Stool Pandit 🇮🇳 (@BarStoolPandit) October 31, 2019
Make This Go Viral
Innovative Indian. No dearth of talent but needs exposure.

— pintu (@pintu47490205) November 1, 2019
So creative
It's actually really creative. 👍

— Wonder woman (@_guptaneha) October 31, 2019
Showcase of Incredible India
Incredible India.

— Chetna Kamble. 🇮🇳 (@ChetnaKmble) October 31, 2019
Looks great functionally right? No wonder, the maker of the video also wanted a similar modification made for himself. This video reminds us of the old bikes which had a sidecar to it. But in this case, its reversed, this car has a bike at its side! As the man mentioned, there are few more additions left, so it remains to be seen how the final car/bike would look like.