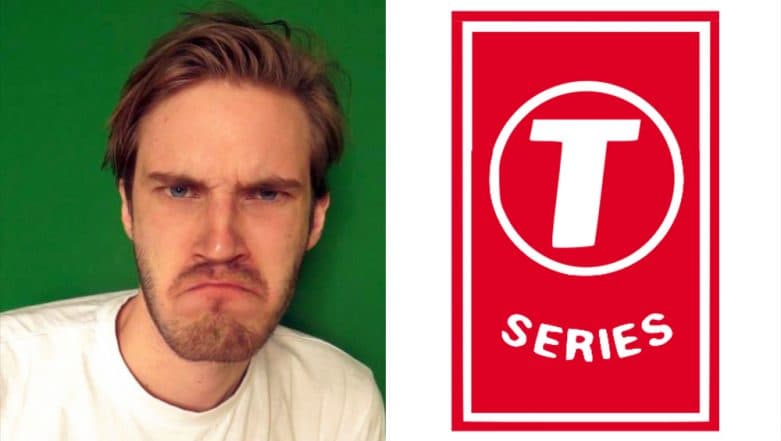 While watching videos on YouTube is a very popular past-time for most of us today, the views on a YouTube video is fuelling a bigger battle among two popular channels on the internet. PewDiePie, a gaming commentary channel which holds the tag of having most subscribers is facing a tough competition from Indian label T-Series. The showdown has been going on for more than a month now, so much so that live counters are being held to keep a tab on the record-breaking moment. And to help PewDiePie sustain his position, another YouTuber has joined in for support. Called MrBeast, the American YouTuber is promoting PewDiePie's channel. T-Series Will Beat PewDiePie To Become Channel With Highest Subscribers, Watch Live Counter.
Gulshan Kumar founded the T-Series label and the YouTube channel started in the year 2011. It has released individual songs in the past year, amassing followers crossing 70 billion mark. In comparison to the video views, T-Series is already leading to PewDiePie. But as the competition gets tougher day after day, Felix Kjellberg, founder of PewDiePie is having campaigns to add more subscribers to his channels. As per some reports, he is urging people to unfollow T-Series and subscribe his channel, giving users special award titles.
Supporting Felix Kjellberg is American vlogger MrBeast who has even bought ad spaces on billboards and even radio slots to promote PewDiePie. The dedicated followers are termed 'soldiers'. He is tweeting the everyday progress of the follower count of PewDiePie. His next level dedication to sustain the top spot, saw him saying "PewDiePie" 100,000 times for 11 hours on his personal channel. Grandpa Kitchen, Indian YouTube Star Whose Dedication Towards Orphans is Winning the Internet. 
Check YouTuber MrBeast's tweet on his campaign for PewDiePie
The sub gap between Pewdiepie and T-Series went from 80k to 180k subscribers. THATS NOT GOOD ENOUGH, I WANT MORE SOLDIERS!

— MrBeast (@MrBeastYT) November 26, 2018
This is what I like to see pic.twitter.com/fQQcWOeXgV

— MrBeast (@MrBeastYT) November 26, 2018
T-Series has been leading music label even offline since the 80s which helps them to get more backing on digital front as well. With videos of top artists being featured on the channel, the viewers are only more. It is a see-saw battle between the two channels and analytical channels are running live counters, registering the user count every minute.