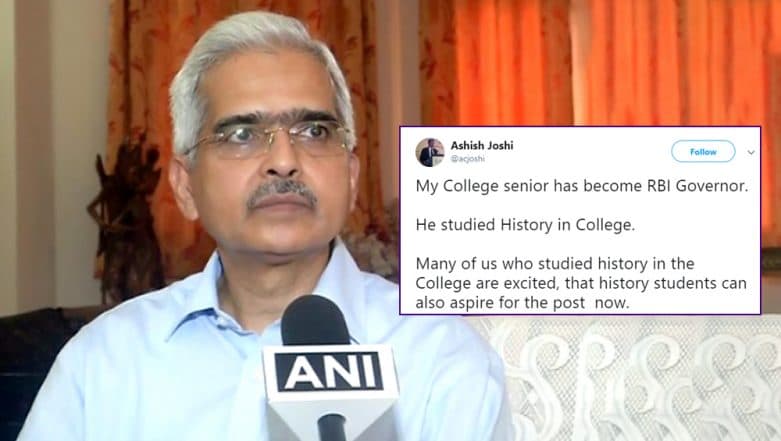 Former Economic Affairs Secretary Shaktikanta Das assumed charge as Reserve Bank of India (RBI) Governor on Wednesday replacing Urjit Patel. The decision to appoint the former secretary and current member of the finance commission as Governor came almost 24 hours after Patel resigned from the post. Meanwhile, Das' appointment has come as a shocker to many, especially Twitterati who couldn't believe that someone with MA in History could become the RBI Governor.
While there is no fixed eligibility for a person to be appointed as the RBI Governor, Twitterati couldn't digest the fact that History could land you a job as the chief executive of India's central bank. According to the RBI Act, PMO on the recommendation of the finance minister approves the appointment of RBI Governor. Shaktikanta Das Appointed as New RBI Governor After Urjit Patel's Resignation.
Shaktikanta Das' Degrees and Career:
Shaktikanta Das is a BA and MA in History from Delhi University. He later pursued a financial management course from IIM Bangalore (as per a new Wikipedia edit made on December 11). During his career as an IAS officer, he has worked with various Indian state governments including Tamil Nadu. Manmohan Singh Says Urjit Patel's Resignation as RBI Governor a 'Severe Blow to the Nation's Economy'.
Here is how Twitterati reacted:
Raghuram Rajan

IIT, Delhi Gold Medal

MBA, IIM Ahmedabad Gold medal

Ph. D, Massachusetts Insti of Tech

Hy Doc by the LBS & Hong Kong Uni

Urjit Patel

BSc Eco from LSE,

Masters in Eco from Oxford

Doc in Eco from Yale University

Shaktikanta Das

BA History

MA History

👍choice

— Veer Mirdha (@veermirdha) December 12, 2018
He was a member of the Fifteenth Finance Commission of India and India's Sherpa to the G20.
Some history majors are Auditor Generals as well today. Never saw outrage. Shaktikanta Das is not just history major but also IIM and NIBM alumni. He has been in Finance Commission and Economic Affairs and Revenue Secretary. Lastly G20 Sherpa. What other qualification required? https://t.co/QDvgYMErK7

— Aditya Raj Kaul (@AdityaRajKaul) December 12, 2018
Historical RBI Governor!
#RBIGovernor Appointment of Shaktikanta Das is definitely a 'Historical decision'...

Albeit nothing to do with his education in history but his 'historical background' with BJP 😜

— Arun Pandey (@ArunInperson) December 12, 2018
Das has been the Economic Affairs Secretary of India, Revenue Secretary of India, Fertilizers Secretary of India.
Our new RBI Governor Shaktikanta Das is an MA (History). Surely the most qualified person to be RBI Governor. #Modinomics

— Libertarian Desi (@libertariandesi) December 11, 2018
Will History be used for the future?
New RBI Governor Shaktikanta Das has BA and MA in History.

Modi can now come up with some new historical facts to blame Nehru for the current economic problems of the country.

— Jet Lee(Vasooli Bhai) (@Vishj05) December 11, 2018
New career option for History students!
My College senior has become RBI Governor.

He studied History in College.

Many of us who studied history in the College are excited, that history students can also aspire for the post now.

— Ashish Joshi (@acjoshi) December 11, 2018
As Das' educational degrees surprises netizens, we take a look at the qualifications of the past RBI Governors:
Urjit Patel (September 4, 2016 - December 10, 2018)
Bachelor of Science in Economics from London School of Economics

Master of Philosophy in Economics from Linacre College, Oxford in 1986

Has Doctorate in Philosophy in Economics from Yale University in 1990
Raghuram Rajan (September 4, 2013 - September 4, 2016)
Bachelor's degree in electrical engineering from the Indian Institute of Technology in Delhi

Post Graduate Diploma in Business Administration from the Indian Institute of Management Ahmedabad In 1987

Received an Honorary Doctorate degree from the London Business School in 2012 and a degree by the Hong Kong University of Science and Technology in 2015.
Duvvuri Subbarao (September 5, 2008 - September 4, 2013)
Graduation in Physics B.Sc Hons. from Indian Institute of Technology Kharagpur

M.Sc degree also in Physics from Indian Institute of Technology Kanpur.

Master's degree in economics from Ohio State University, United States.

Became a Humphrey Fellow at MIT in 1982 and is a received a PhD in Economics from Andhra University.
Y Venugopal Reddy (September 6, 2003 - September 5, 2008)
M.A. in economics from Madras University,

PhD from Osmania University, Hyderabad.

Diploma in Economic Planning from the Institute of Social Studies, Netherlands

Was conferred with a Doctor of Letters (Honoris Causa) by Sri Venkateswara University, India; Doctor of Civil Law (Honoris Causa) by the University of Mauritius. In 2008, he was made an Honorary Fellow of the London School of Economics.
Bimal Jalan (November 22, 1997 - September 6, 2003)
Graduated from Presidency College in Calcutta

Has attended Cambridge and Oxford Universities for further studies.
Former Prime Minister Manmohan Singh was also the RBI Governor (September 16, 1982 - January 14, 1985) with a long list of educational degrees. He has an Economics Tripos from the University of Cambridge, Bachelor's and Master's degrees in Economics and D.Phil from the University of Oxford other than honorary Doctorates conferred by different Universities.
Das, who becomes the 25th governor of the RBI, is a former IAS officer of Tamil Nadu cadre. On Monday Finance Minister Arun Jaitley said Das' appointment was necessitated by the resignation of Urjit Patel as Governor of the RBI. While Patel cited personal reasons, he resigned following issues with the Finance Ministry. After 1990s Patel is the first Governor to resign from the Governor's post before the expiry of his. His term ends in September 2019.
Finance Minister Arun Jaitley said, "I think, he (Das) has the right credentials. He has been extremely professional, has worked under various governments and has excelled himself. I am sure, in meeting the challenges before India's economy as Governor of Reserve Bank, he will certainly act."