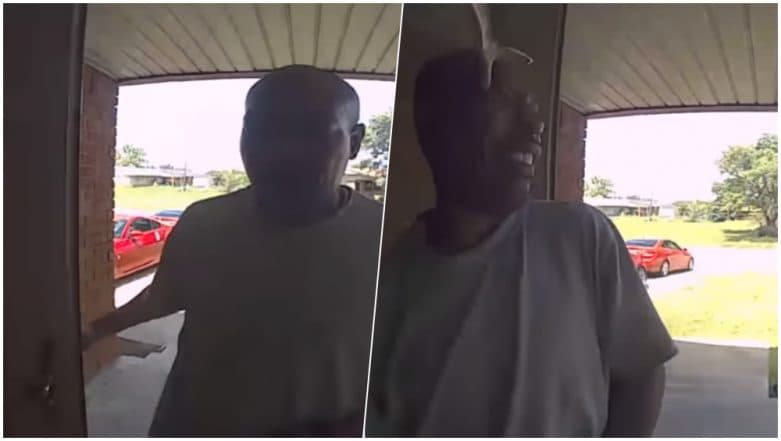 A doorbell camera installed to keep a watch on the visitors or in case of any robbery has captured shocking footage of a snake bite. An Oklahoma man was visiting his friend. While his friend was about to open the door he was attacked by a snake. He bit on his face and footage of the incident was captured on the doorbell camera. The snake was wrapped around a porch light and attacked the man at the door. While he was immediately rushed to the hospital, the snake was killed with a hammer. Snake Bit an Australian Woman's Butt in the Toilet, Here's What Happened Next!
Jerel Heywood was visiting his friend Rodney Copeland in Lawton, Oklahoma. When he opened the screen door, a snake popped from the corner and bit into Heywood's face and retreated. Copeland watched in horror as his friend stumbled at his door with his face clutched. He rushed Heywood to the hospital with the help of his wife. Since the snake wasn't venomous, Heywood was fine with the immediate treatment. But the family was indeed left shocked. "I was in shock. That could've been anyone of us," Copeland told to CNN. Selfie With Cobra Turns Fatal: Man Tries to Put Snake Around his Neck, Dies After Snake-bite in Andhra Pradesh, Watch Video.
Watch Video of Snake Attacking a Man at the Door in Oklahoma:
The video is so scary, right? While Heywood was quick to receive treatment, the snake was killed. Copeland's wife alerted the neighbours about the situation and they came in with a hammer. The snake was knocked off and it died. This was the first time Copeland even encountered a snake around their house. It was a 5-foot 5-inch reptile, probably saving itself from the heavy showers recently.