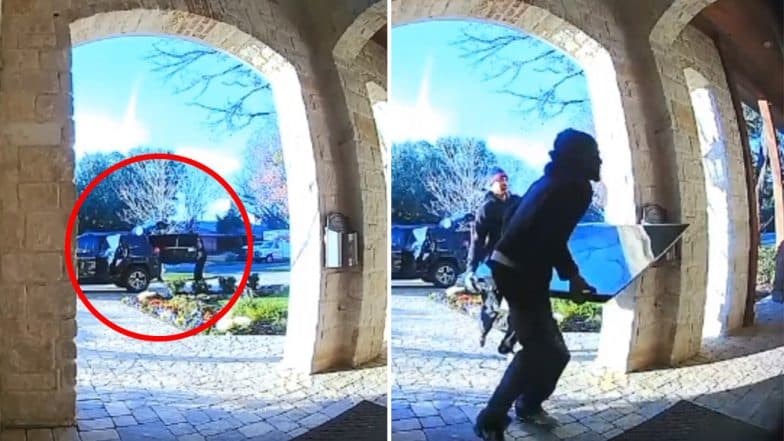 Two North Texas burglars had to return a big TV they stole from a Dallas house, because it wouldn't fit in their stolen car. CCTV footage of the suspects trying to put the flat screen TV in the car has gone viral after the Dallas Police Department shared the footage on social media. The video shows two men bringing a TV outside a home and trying their best to drive away with it, but giving up. Eventually, they bring it back to the house and leave empty-handed.
The incident happened at around 7:45 am on January 17, 2019, at 6500 block of Orchid Lane. They came in a stolen black 2015 Jeep Cherokee which was later recovered in Dallas' Melody Lane. The cameras caught their faces clearly and now the police in search of the men. DPD in their blog also sought the public's help in identifying the suspects. Canadian Jewellery Store Employees Ward Off Robbers With Swords, Video Goes Viral.
Here is the video shared by the Dallas Police Department:
Similar videos of thieves hilariously failing at their job have gone viral in the past too. In September last year, a man tried to rob a Colorado store by aiming a gun at the receptionist. But his toy gun fell off his hand and in the process to fetch it, his pants dropped and slipped down his waist. Video of him running away from the shop trying to pull back his pants had gone viral on social media. There are many such incidents, only making police's work easy in identifying them.