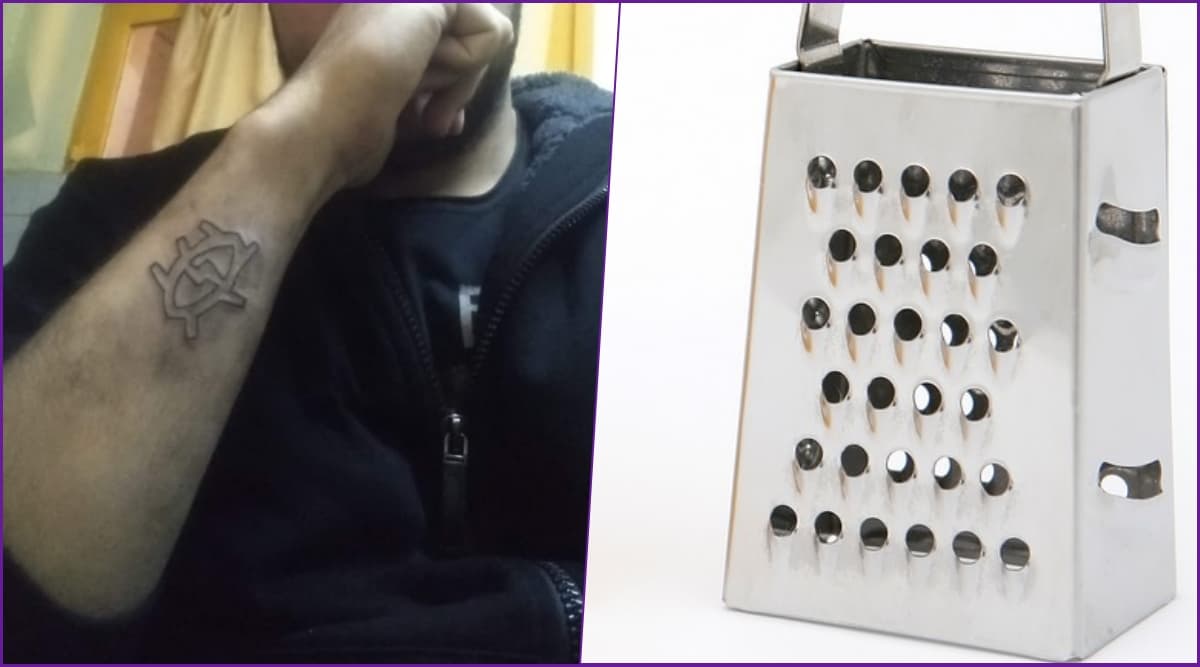 Getting a tattoo done has become a common thing among youngsters today. And as easy as it is to get inked, there are also alternatives to get it removed, although they may cost more. But a man from Matias, Argentina thought of an utterly ridiculous way to remove his week-old tattoo when he could not get a job. The man used a cheese grater to scrape off his skin where he had got the tattoo done. A friend of his shared the horrifying images on his Twitter account and netizens are definitely unimpressed with the trick. Funniest Tattoo Fails That Will Make You Go 'Why God Why!'
Twitter user @_Matycosta posted the pictures of his friend who got his tattoo scraped off with a cheese grater. In the caption he wrote, "A friend got a tattoo and because he didn't like the tattoo, I took it out with a cheese scratcher." The fellow got a tattoo done but had to apply for a job in airport security police. When his tattoo became a shortcoming in getting that job, he decided to take it off. He was quoted to the local media, "Although among the requirements on the website it is not mentioned, I was told that I could not work there with visible tattoos". He also added he did not really find his tattoo aesthetically pleasing, which is why he decided to take it off. Tattoo Removal: Is There a Home Remedy to Remove Tattoos? 7 FAQs About Erasing Your Ink Answered.
Check Pics of Man Scraping Tattoo With Cheese Grater (Warning: Graphic Content)
Un amigo se tatuó y como no le gusto el tatuaje se lo saco con un rayador de queso. Si un rayador de queso pic.twitter.com/1tHObPVvaq

— Matías (@_Matycosta) October 1, 2019
The tweet has got over 17,000 retweets and 86,000 plus likes but netizens are not really impressed with the idea. And if you are wondering if this trick got him the desired job, then no, it didn't. "My family disagreed with my decision, but it was already done. I suffered other personal problems and I decided to stay in Mendoza and not join the airport police," he was quoted in a report. Many people slammed his idea to hurt himself so badly in the process. While others commented that it was a poorly made tattoo, which is why he had to remove it. He clearly could've used a better way of getting rid of it, then scraping of his skin altogether.