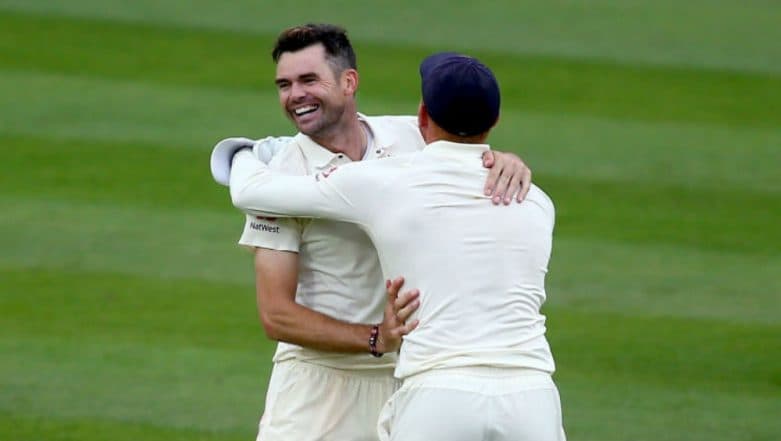 James Anderson surpassed Glenn McGrath to move to number four on the all-time hugest wicket-takers list in Test cricket. Anderson needed three wickets at the start of the fourth innings of the fifth and final Test against India at the Oval. The pacer removed Shikhar Dhawan and Cheteshwar Pujara on day four to equal with McGrath. However, Anderson had to wait for his third wicket, which came towards the end of day five. The pacer fittingly picked Mohammed Shami, India's last wicket to fell, to help England win the Test by 118 runs. With it, England clinched the five-match Test series 4-1. England Win Alastair Cook's Farewell Test by 118 Runs, Clinch Series 4-1
Meanwhile, Anderson with 564 not only climbed to the fourth position but is now the fast-bowler with most wickets in the Test cricket. The overall list is dominated by three spinners- Sri Lanka's Muttiah Muralitharan with 800 wickets at number one, Australia's Shane Warne with 708 wickets at the second spot and India's Anil Kumble at third with 619 wickets.
Anderson, apparently, is England's leading wicket-taker in Test cricket. Stuart Broad with 433 wickets from 123 matches is on the second spot. Anderson, who made his Test debut against Zimbabwe at Lord's in 2003, is the only England bowler to have scalped 500 Test wickets. In 2005 against West Indies, Anderson went past Ian Botham as England's leading wicket-taker. Botham had held the England record since 1985.  Rishabh Pant Scores Maiden Test Century, Here's a Quick Look at Some Stats
Most Wickets in Test Cricket
| | | | | |
| --- | --- | --- | --- | --- |
| Rank | Player | Matches | Wickets | Best Figures |
| 1 | Muttiah Muralitharan | 133 | 800 | 9/51 |
| 2 | Shane Warne | 145 | 708 | 8/71 |
| 3 | Anil Kumble | 132 | 619 | 10/74 |
| 4 | James Anderson | 143 | 564 | 7/42 |
| 5 | Glenn McGrath | 124 | 563 | 8/24 |
After the win, Anderson was emotional and said that he was happy as Alastair Cook was on the field to witness his historic wicket. "Happy to see that Cookie was on the field to see that wicket. I am happy to win the game. When they were building a partnership, I think it looked that they will get close. My job was to hold an end. I was going through good rhythm and thankfully Joe let me take the new ball. And eventually, it gave me half-a-chance to get that wicket. On Cook, yes, he is my best mate and I am going to miss him. He has been brilliant and has been there for me all the time," said Anderson.