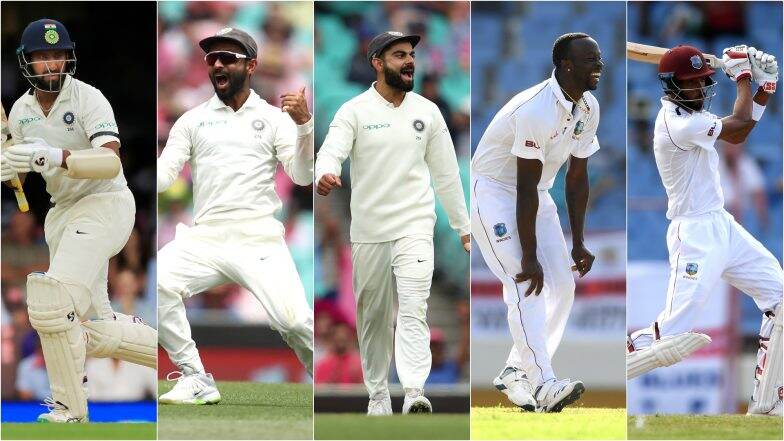 India vs West Indies 1st Test 2019: India begin their World Test Championship campaign against an underperforming West India team that suffered losses in limited-overs cricket held prior to this series. It has been a while since Indian played a test match and Virat Kohli and co will want to do well in their championship opener. The pitch in Antigua offers pace and bounce, which will keep the home side interested in knowing it has been India's weakness in the past. The conditions may prompt Virat Kohli to play a fifth bowler in the expense of Rohit Sharma that will raise a few eyebrows. A look at the players to watch out in the game. West Indies vs India Cricket Score 1st Test Match - India in West Indies, 2 Test Series, 2019.
1. Cheteshwar Pujara – A century in the warmup game for India's premium batsman in red-ball cricket meant he hit the ground running. All eyes will be Pujara as he tackles his way past the fast bowling brigade of West Indies that can be difficult to play at times. He was one of the reasons behind India's success in Australia and their dominance in tests at home.
2. Ajinkya Rahane – India's vice-captain has gone without a century in the last two years, and pressure will be on him to score big against West Indies. He struggled in the warmup game, and his stint in county cricket was poor too. He is one player that needs runs to bolster his confidence, which is at a record low at the moment. India vs West Indies, 1st Test 2019: Virat Kohli vs Jason Holder and Other Exciting Mini Battles to Watch Out For in Antigua.
3. Virat Kohli – With back to back centuries in ODI series, Virat Kohli is full of confidence going into the test series. The Indian skipper has scored 1000+ runs in the last three calendar years, and it will not be a surprise if he adds to the list. If West Indies do not get him early, they will be buried under piles of runs.
4. Kemar Roach – The West Indies speedster has been around for quite some time now in test cricket and is a go-to bowler for skipper Jason Holder. With 25 wickets in seven innings, his record in Antigua looks good. If he gets Chetsehwar Pujara and Virat Kohli for cheap, the pressure will shift on the visitors.
5. Roston Chase – A wonderful series against England where he did well with both bat and ball, Roston Chase now has the chance to emulate the same against Indians. He has a century against India which came in a drawn test back in 2016. His off-spinners in the latter stages of the test match could be extremely crucial.
India start as the overwhelming favourites to win the first Test, but West Indies are an unpredictable team that have the firepower to do some damage in the home conditions.