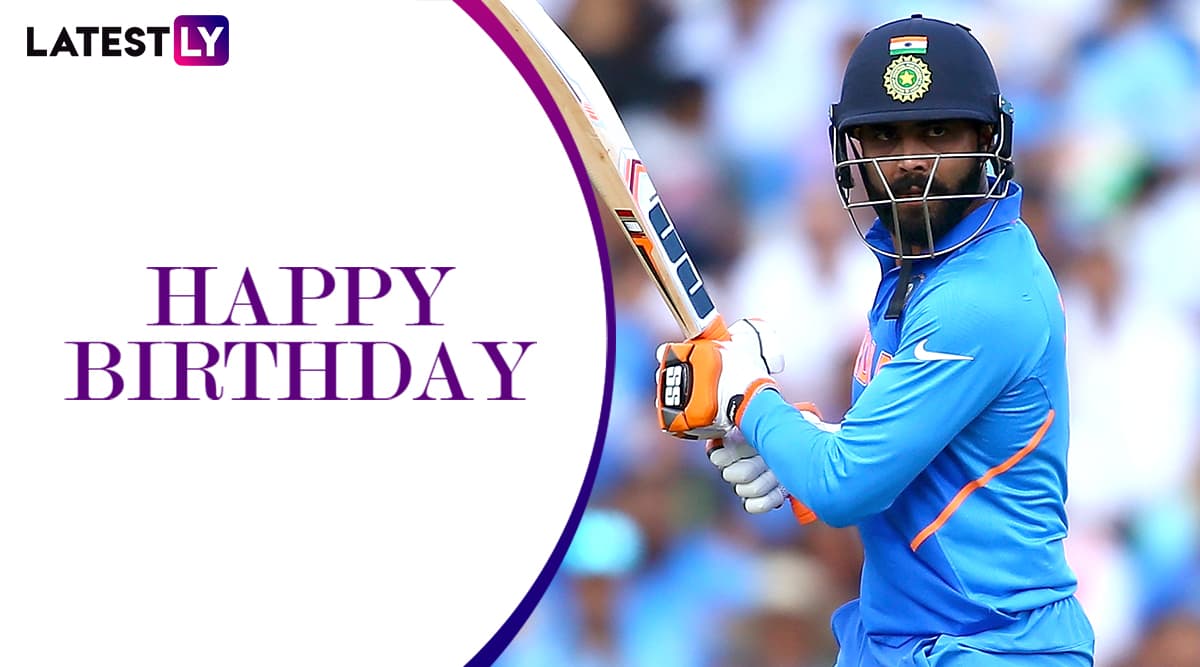 Indian cricketer Ravindra Jadeja celebrates his birthday on Friday (December 6). The Indian all-rounder turns 31 years old on Decmeber 6, 2019. Ravindra Jadeja has been one of the best all-rounders to ever play cricket for India. Along with his fabulous fielding on the cricket field, Ravindra Jadeja is also gifted with astonishing batting and bowling skills. His performance in India vs New Zealand, Semi-Final match in ICC Cricket World Cup 2019 was commendable. At one point, India were reeling at 91-6 while chasing 240-run-target. However, Ravindra Jadeja accounted for an amazing partnership with Indian wicket-keeper Mahendra Singh Dhoni. Both of them took India near the victory. however, India lost by 18 runs in the end. On the occasion of Ravindra Jadeja's 31st birthday, we will look at some of the best batting and bowling performances of the Gujarat-born cricketer. Happy Birthday Ravindra Jadeja: Lesser-Known Facts About 'Sir Jadeja' As He Turns 31. 
Ravindra Jadeja has so far played 48 Tests, 156 ODIs and 44 T20Is. He has scored 1844 runs in 69 Test innings along with 211 wickets. In ODIs, he has scored 2128 runs in 103 innings along with 178 wickets. In his T20I career, Ravindra Jadeja has so far smashed 154 runs in 21 innings, along with 33 wickets. As the Indian cricketer adds one more year to his life, here we will look at some astonishing performances of Ravindra Jadeja.
43 Runs and 7 Wiickets Against Australia
During India vs Australia Test match in March 2013, Ravindra Jadeja took 7 wickets in total and also scored 43 runs as India won the match by 6 wickets in the end. Ravindra Jadeja took 2 wickets in first ininngs and 5 wickets in the 2nd innings. India needed just 158 runs to win that match with Jadeja's stint. He also hit 43 crucial runs in the first innings which helped India to surpass Aussie's first innings score.
42*, 50* Run-Knocks and 6 Wickets Against New Zealand
During India vs New Zealand Test match in September 2016, Ravindra Jadeja scored unbeaten 42* and 50* run knocks and also took a total of 6 wickets in the match. India scored 318/7 (dec) in the first innings. New Zealand were bowled out for 268. Later India scored 377/8 in the second innings and Jadeja took 5 wickets.
1 Wicket, 3 Dismissals and 77-Run-Knock Against New Zealand
This is the same match we discussed above. Ravindra Jadeja was the star of India vs New Zealand, semi-final match in ICC Cricket World Cup 2019. Jadeja took 1 wicket, caught two catches and also got an important run-out during  Kiwi's batting. While chasing the 240-run-target, the top and middle-order failed against the Kiwi's attack. However, Ravindra Jadeja again bagged the limelight with a 77-run-knock. India lost the match by 18 runs but Jadeja managed to win the hearts of cricket fans from both the countries.
3 Wickets and 25 Runs Against Afghanistan
During India vs Afghanistan, Asia Cup 2018 game in UAE, cricket fans observed a nail-biting tie against both the Asian nations. The match ended in a tie after India were bowled out for 252 runs in the 2nd innings, while chasing the same score in a 50-over match. Afghanistan were great with their batting and bowling, Ravindra Jadeja took 3 wickets while bowling. While batting, he scored 25 runs but lost his wicket at crucial moment.
10* Runs, and 1 Wicket Against West Indies
In a low-scoring T20I match between India and West Indies in 2019, India needed to reach 99 runs in the 2nd innings to win the match. After a good opening start, India lost quick wickets and reeled at 88-6. Ravindra Jadeja managed the pitch well and did not lose his wicket untill India won by 4 wickets.
Well, we can say that these were just a few of the best performances of Ravindra Jadeja. The left-handed batsman has starred in many more matches and stunned the fans with his batting, bowling and fielding. We wish Ravindra Jadeja a happy and prosperous life ahead on his birthday.