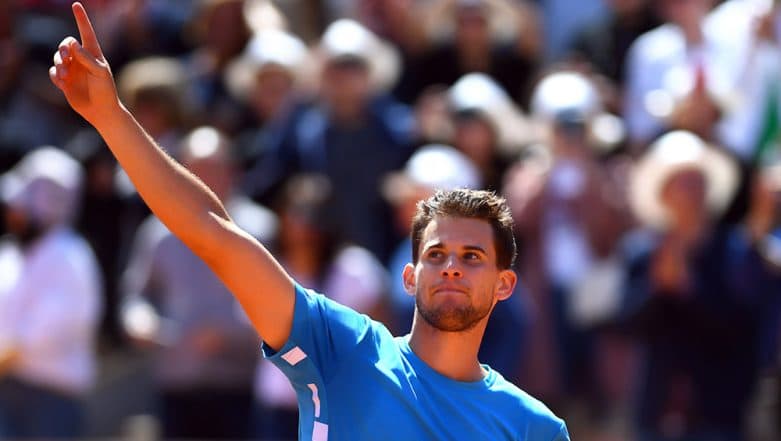 Dominic Thiem beat World No 1 Novak Djokovic 6-2, 3-6, 7-5, 5-6, 7-5 in the semi-finals of the French Open 2019 on Saturday. Considered as one among "GenNext", Thiem's talent and style of play has never been doubted. However, some felt that the World No 4 Thiem needed to beat the 'Big Three' Roger Federer, Rafael Nadal and Novak Djokovic more often to be declared a serious contender. The Austrian has done just that. Thiem defeated Djokovic in a five-set rain interrupted thriller, to set up his second Roland Garros final against Rafael Nadal, also known as the King of Clay. Rafael Nadal Beats Roger Federer, Enters French Open 2019 Finals.
The semi-final match against Djokovic was played on the Phillipe-Chatrier Court and the full match lasted for four hours and 13 minutes. Djokovic and Thiem's match was played on Friday, but halfway into the third set, the match had to be suspended due to rain and strong winds. The World No 1 Novak Djokovic was outplayed and overpowered by Thiem in the first set on Friday, as Thiem forced Djokovic to drop his first set in the French Open. Novak Djokovic's 'Bad Behaviour' During French Open 2019 Semi-Final Defeat Against Dominic Thiem Comes Under Criticism by Fans, Read Tweets.
Thiem was ahead in the third set when the match had to be halted due to rain on Friday. After play resumed on Saturday, Thiem dominated and won the third set as well. Thiem was ahead in fourth set too, but Djokovic came from behind and claimed the fourth set to push the match in fifth round. Djokovic once again showed great grit as he fought back from 4-1 in final set. However, Thiem held his nerve and won the set 7-5, thanks to his fiery forehands and aggressive volley game.
Born in Wiener Neustadt, Austria, on September 3, 1993, the 25-year-old Dominic Thiem turned Pro in the year 2011. Thiem has a career win-loss record of 243-137 so far, and has won 13 Singles titles. The Austrian has won Prize Money of $2,536,974. Thiem won the Barcelona ATP tournament and ATP Masters 1000 Indian Wells in 2019.
The right handed and one hand backhand hitting Thiem reached the first final of a Grand Slam of his career in 2018. He faced Rafael Nadal, who beat him in the final of Roland Garros 2018.
However, Dominic Thiem recovered from the loss soon and won his first ATP Masters 1000 title at Indian Wells. Thiem will once again face Rafael Nadal in the finals of Roland Garros 2019 on Sunday. While Nadal will look to lift the French Open 2019 title for a record 12th time, Thiem will look to spoil the party as he chases his first Grand Slam title.