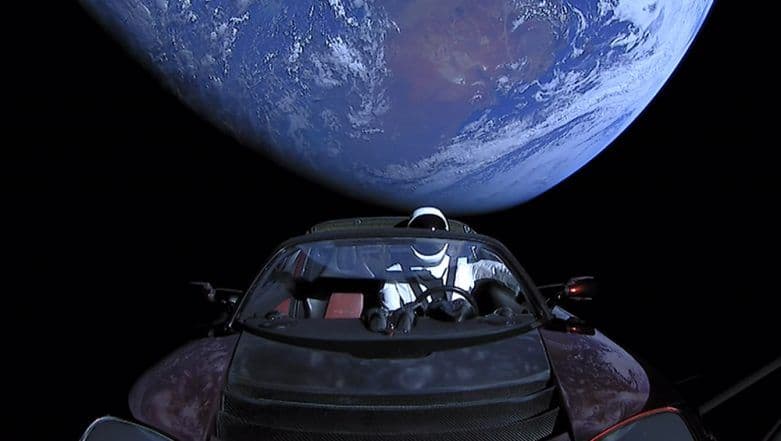 Elon Musk's SpaceX launched his famous Red Tesla Roadster into space with the help of the Falcon Heavy Rocket. The powerful businessman surely created history by this mission and everyone had their eyes glued in disbelief about what they just heard and saw. While everyone was admiring this innovation, a report a few days back stated that the car was moving in a different direction. But now one can track the car with the help of the website Whereisroadster.com. The car was supposed to move in the orbit between the Earth and the Mars in the solar system. However, the extra momentum from the rocket's push swayed its way. And there was a fear that it may just crash into the earth. Engineer Ben Pearson has created this website.
This site is said to be more accurate than Musk's for flight modeling and tracking the position. More than that, the site also gives you an idea of the relative speed, and information like such as the number of times the car has voided its 36,000-mile warranty. It also gives the equivalent fuel economy if it had traveled under its own power. From the time the Roadster was launched, people were curious about its whereabouts so Ben thought of creating a website which will give the details. You can see the Roadster on the orbit along with those of the planets Earth, Mercury, and Venus. Check the video of Tesla Roadster's launch in Space. 
Currently, the Roadster is 3,363,499 km from Earth, moving away from Earth at a speed of 10,870 km/hour. The website uses data from NASA's Jet Propulsion Laboratory. While working on the site, Pearson found out that his calculations about where the car could be, did not match with those released by Musk. NASA then gave accurate information about the Roadster's position and he found a way to store the data on a site in real-time.
With this website, you can track Tesla's orbit around the Sun as well as the other planets in the solar system. You can also check when it will be close to Mars or the Earth. Its closest approach to Mars in the near future will be on October 7th, 2020, when it drifts within 0.05AU of the planet. "I was just relieved to know that I wasn't doing anything critically wrong. Elon Musk is a visionary man, incredibly far forward, but there's a reality distortion field when it comes to him," Pearson said to a magazine. So if you are a keen enthusiast wanting to know where the Roadster is, Ben Pearson has got it accessible to you.