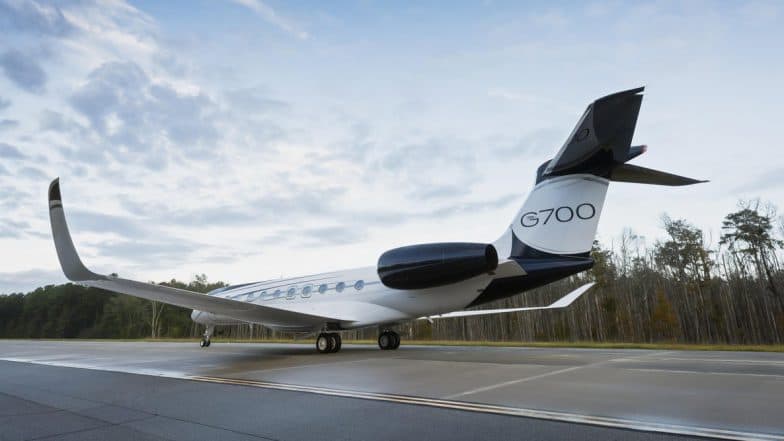 Las Vegas, October 23: Gulfstream unveiled the world's biggest private jet G700 on Monday. The business jet giant made an announcement on the eve of the National Business Aviation Association's (NBAA) annual corporate aircraft show in Las Vegas. Once G700 starts its operations, it will unseat Bombardier Inc.'s Global 7500 as the biggest private jet of the world. London-Bound Gulfstream Aerospace Flight Busts Tyre During Takeoff at Teterboro Airport, Diverted to Massachusetts.
Last year, Bombardier Inc.'s Global 7500 dethroned the Gulfstream G650 to claim the title. G700 is expected to start its operation from 2022. Gulfstream Aerospace, a unit of General Dynamics Corp (GD.N) told Reuters, "The new plane would be powered by Rolls-Royce Holdings PLC (RR.L) Pearl 700 engines and anticipates customer deliveries in 2022." Bombardier Sells Regional Jet Division to Mitsubishi for $550 Mn.
G700 will be capable of flying 7,500 nautical miles. It can attain a maximum speed of 0.925 Mach and has a long-range cruise of 0.85 Mach. The new plane will have a takeoff distance of 1.9 km. It can cruise up to an altitude of 15.54 km. Maximum takeoff weight of the plane will be 48,807 kg.
Gulfstream claimed the new aircraft as the tallest, widest and longest cabin in the industry. G700 will feature the safety of active control sidesticks. Intuitive touch-screen avionics and paired with phase-of-flight intelligence will reduce both pilot workload and aircraft start-up time. G700 will be priced at USD 75 million.