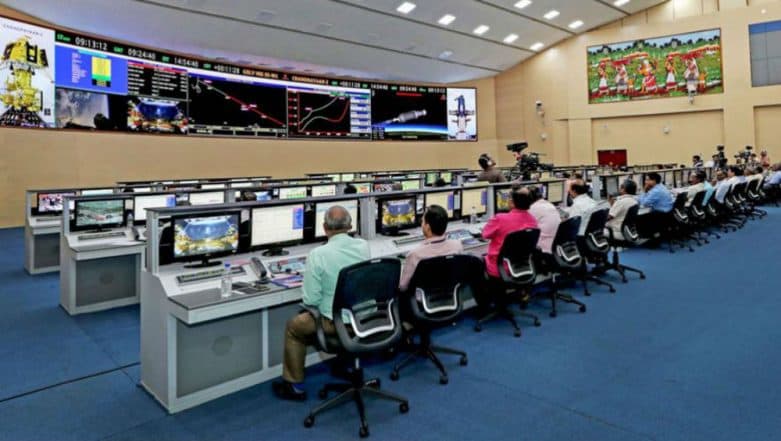 New Delhi, September 6: People across the nation have been awaiting the Chandrayaan-2 landing on the Moon's surface with bated breath. As Chandrayaan-2 lands near the Moon's south pole at 1:55 am on Saturday, the nation is all set to script history. The much-anticipated touchdown can be will be aired on Doordarshan and ISRO YouTube Channels. The live steaming of the historic event can be watched online on Doordarshan and ISRO YouTube Channels. Chandrayaan 2 Moon Landing: Vikram Lander to Touch Down on Moon's Surface Post Midnight; Here's What Will Happen After That.
Chandrayaan-2 lander, Vikram, will make a touchdown between two craters at the moon between 1:30 am and 2:30 am on Saturday. It's rover Pragyan, which translates to 'wisdom' in Sanskrit, will roll out of the lander-Vikram between 5:30 am to 6:30 am to carry out experiments on the moon's surface. Chandrayaan 2 Soft Landing on Moon: When And How to Watch Live Streaming on Nat Geo India, Starplus, Star Bharat & Hotstar. 
Watch Live Streaming Video of Chandrayaan 2 Moon Landing Here:
Watch Live-Streaming on ISRO's Social Media Channels:
The touchdown of the Vikram lander on the surface of the moon will also be live-streamed by ISRO. The space agency will live stream the Chandrayaan 2 landing on the lunar surface on its social media handles   Facebook  and   @isro  on Twitter.
The rover- Pragyan weights 27 kilograms, has 6-wheels and can travel up to 500 m (0.5 km) at a speed of 1 cm per second. It leverages solar energy for its functioning. Meanwhile, the Vikram lander weighs 1,471 kilograms and can communicate with Indian Deep Space Network at Byalalu near Bangaluru, as well as with the Orbiter and Pragyan rover. Once at the lunar surface, Vikram and Pragyan will be functioning for one lunar day or 14 earth days while the mission life of Chandrayaan-2's orbiter will be one year.