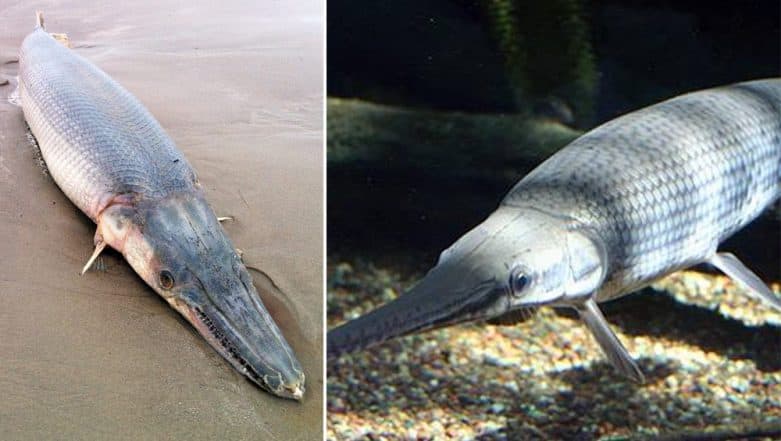 Pune, December 2: A fisherman from Kamshet near Pune got a deadly catch when he went fishing in the Pawna Dam near Lonavala. The local fisherman caught an alligator gar, which is a man-eater fish usually seen only in North America. This spotting has thus shocked even the irrigation department, along with the state fisheries department. A search will be conducted to find more about the source of this catch. Are These The Weirdest Sea Creatures Ever Seen? Russian Photographer Shares Underwater Pictures from Atlantic and They Are Creepy! 
The man-eating fish is a threat to the biodiversity and anyone who happens to consume these eggs can also be infected by its poison. According to the irrigation officials department, the alligator gar could have been a smuggled one by one of the private aquariums nearby. It must have been released into the water out of fear, uncaring of the after effects it would have. Fisherman Mahesh Taru had installed a fishing net on Wednesday and went to collect it on the next day.
A M Gadwal, sectional engineer of Pavana dam, was quoted to Pune Mirror, "We were stunned to see this species of fish for the very first time. We informed the fisheries department and were shocked when details emerged that it is a man-eater. It could have posed a major threat to lives of fishermen, local farmers and tourists. We also came to know that this fish's roots can be traced back over 40 million years and it is not a native of Indian rivers." He further informed that an enquiry will be conducted to trace where the fish came from. Headless Chicken Monster Filmed in Antartica Ocean for the First Time, Watch Video of the Weird-Looking Sea Cucumber. 
Know More About the Man-Eating Alligator Gar
Alligator gar is the largest species in the gar family and found in the freshwaters of North America.

The fossil records of these fishes show their existence going back to over a hundred million years ago.

Because of their resemblance to the American alligator, they were commonly named as alligator gar. They have a broad snout and sharp teeth.

These fishes are called the living fossils as they have retained most of the characteristics from the earliest ancestors.

Their digestive system is similar to that of sharks and can breathe both air and water.

The largest alligator gar ever caught was 8 feet long and weighed about 148 kgs.

These fish are also known as "trash fish" or "nuisance species" because they are so dangerous to other forms.