Raikoke Volcano which has been dormant since 1924 erupted last week creating a billow of smoke in the skies. The occurrence was so big that it was visible from the Space. And astronauts on board the International Space Station (ISS) captured some stunning images of the volcanic eruption in the North Pacific Ocean. One of the images were shot by members of Expedition 59 astronauts on the Kuril Islands in Russia's Sakhalin Oblas region. 40 Years of Icebergs Breaking Off in Antarctica Captured in a 50-Second Clip (Watch Video)
The volcano which has been dormant erupted for the first time in nearly 100 years sending a cloud of thick volcanic plumes for 8 to 10 miles. NASA in an official statement said that the clouds at the base in the photo are formed from water vapour. NASA's Terra and Suomi NPP satellites also saw the plume in space. Jupiter is Coming Closer to Earth! Stargazers Can See The Largest Planet and Its 4 Moons on All Nights in June.
Raikoke Volcanic Eruption Captured From Space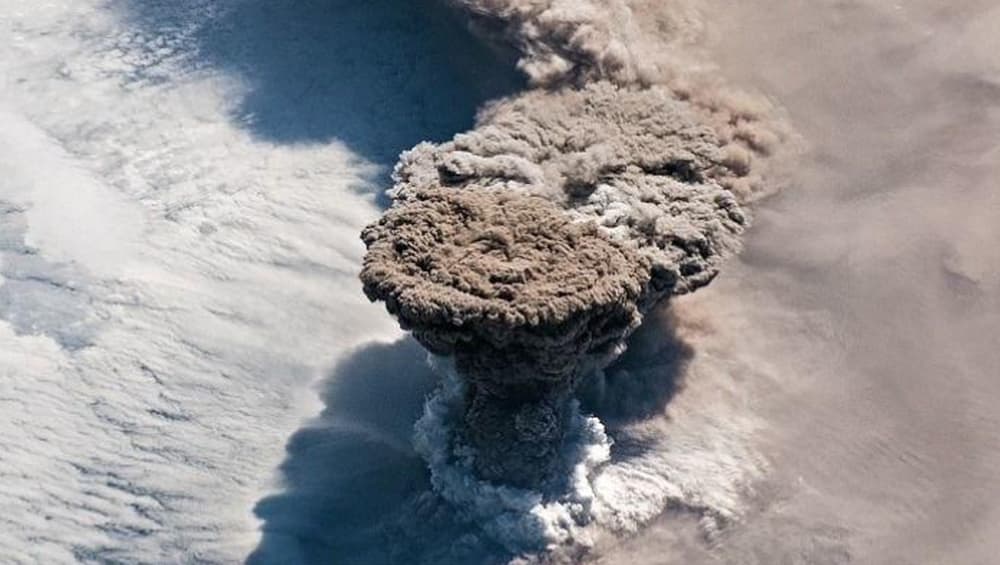 Raikoke has erupted twice in the past, once in 1778 and another in 1924. Satellites have been tracking the movements of volcanic gases and ash as it can pose a threat to aircraft, NASA said in a statement.
Simon Carn, a volcanologist at Michigan Tech was quoted as saying, "What a spectacular image. It reminds me of the classic Sarychev Peak astronaut photograph of an eruption in the Kuriles from about ten years ago. The ring of white puffy clouds at the base of the column might be a sign of ambient air being drawn into the column and the condensation of water vapour. Or it could be a rising plume from the interaction between magma and seawater because Raikoke is a small island and flows likely entered the water."