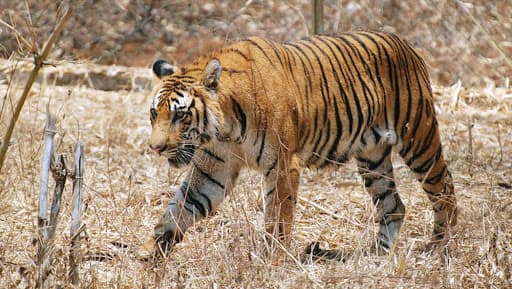 Climate change is one of the greatest threats for mankind and it is most likely to affect the Bengal tiger species soon, as reports predict that the latter might be wiped out from its largest habitat. Rising sea level and climate change have posed a question to the survival of cats family, who are among nearly 5,00,000 land species in danger, said United Nations' report on Monday.
With the depreciation in the natural area due to an increase in Sea level, the survival of these big cats in Sunderbans is becoming difficult. According to the official data, around 4,000 square miles of marshy land in Bangladesh and India hosts the world's largest mangrove forest and a rich ecosystem supporting several hundred animal species which also include the endangered Bengal tiger. Sikkim: Royal Bengal Tiger Caught on Camera for the First Time at Pangolakha Wildlife Sanctuary. 
Researchers from Australia and Bangladesh have reported in the journal Science of The Total Environment that 70 per cent of the land is just a few feet above sea level and grave changes are in store for the region. A slight change in the global temperature would warm the ice in the polar region, leading to a rise in sea level and pose a great threat to the survival of already endangered remaining Bengal tigers.
Developed by the Intergovernmental Panel on Climate Change, the paper relies on climate scenarios adds to existing studies that offered similarly grim predictions for wildlife in the Sundarbans. Researchers predict, "By 2070, there will be no suitable tiger habitats remaining in the Bangladesh Sundarbans."
Another research done by World Wide Fund for Nature in 2010 had predicted that a sea level rise of 11 inches could reduce the number of tigers in the Sundarbans by 96 per cent within a few decades. It is to be known that climate change had harmed almost half of the world's endangered mammals.
Apart from climate change, other threats like habitat loss, hunting and the illegal trade of animal parts have decimated the global population of tigers from around 1,00,000 to fewer than 4,000. With a lack of vegetation and decrease of food cycle in the Sunderban delta, confrontations may grow between humans and tigers in the coming times. Tigress Chases Jeep Carrying Tourists in Maharashtra's Tadoba Andhari Tiger Reserve, Watch Breathtaking Video.
Considering the decline in the population of tiger in India from estimated 1,706–1,909 individuals in 2010 to 2,226 in 2014, the numbers are bound to decrease if not taken proper initiatives. Also, as per estimate, around 440 tigers are in Bangladesh, 163–253 tigers in Nepal and 103 tigers in Bhutan.