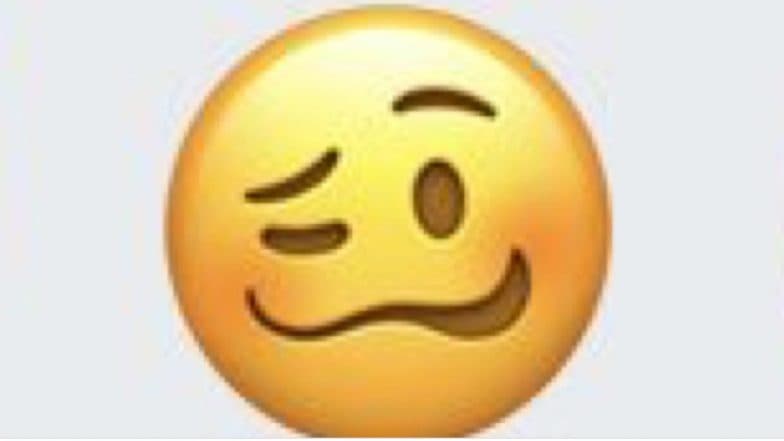 Emojis are saviours! All of us while receiving or sending a text message, prefer to use the picture characters to avoid possible misinterpretations. Quite often, the tech experts would unveil new emoticons to intend that tone, which words fail to do mostly. To keep up the creativity, Apple recently released about 158 new emojis as part of its latest iOS 12.1 update. People with red hair, a bald person, a miniature hippo, a series of new animals are some inclusions that iPhone users have noticed. Every emoji fairly self-explained its addition; except for one— 'Face with uneven eyes and wavy mouth' also now popular as 'woozy face'. Netizens are confused! WhatsApp 'Reply Privately' Feature Rolled Out To Beta Users: Here's How You Can Use New Feature on Messenger to Chat Privately. 
Emojipedia announced on its blog stating, "With the release of iOS 12.1, iPhone and iPad users have access to six new smileys, redheads, people with curly hair, a softball, skateboard, mango, bagel, and kangaroo emoji for the first time." As iPhone users updated their phone, they were only puzzled about the 'woozy face'. Its cheeks are rosy, the mouth is wiggly, and the eyes cannot decide if they are to remain open or closed. What is it? Your reaction to an awful pickup line? An upset stomach? Keep guessing! Google Employees Walk Out in Protest Against Laxity by Search Giant Towards Sexual Harassment Cases. 
"Can someone please explain this emoji to me," tweeted one person.
Can someone please explain this emoji to me. pic.twitter.com/NCec6abZuY

— ₯ (@007dpz) October 31, 2018
On its blog, Emojipedia explained it as a 'Drunk Face'. The description reads, "A face which may be showing signs of being tired and emotional, i.e. drunk." However, Twitter has some various suggestions!
Could be that love-struck face!
When you start to like a guy https://t.co/btiUCGiYwM

— Savyyleee✨ (@SavannahLD21) November 1, 2018
Someone guessed if its a stroke!
Stroke? https://t.co/OmnaDeoJJn

— Sean (@wolves_1990) November 1, 2018
One has to relate it to the President of the United States.
So about that new emoji... pic.twitter.com/6zhz76Vcg4

— Gnome of Steel (@yinzer58) November 1, 2018
Putting the possible interpretations aside, one thing is appearing sure that this emoji will be used the most; even in very concrete situations. If you haven't yet, get your iOS 12.1 updated and start conversating with the newly woozy face.