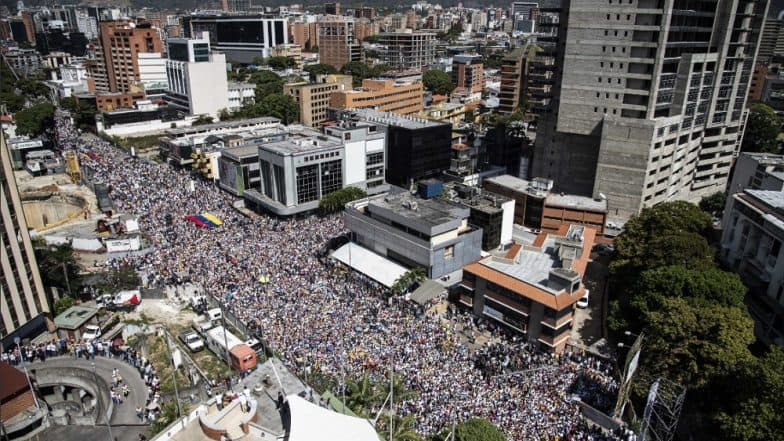 Toronto, February 3: Venezuela's state of crisis is being reflected on its streets as tens of thousands of protesters attended rival rallies – some in support of ruling president Nicolas Maduro and some in support of Opposition leader and self-proclaimed president Juan Guaido.
The streets of Caracas, the capital city of Venezuela were filled with people calling for Maduro to resign over his inability to manage the economic crisis gripping the country. But some turned out in Maduro's support as they believe that much of the crisis could be alleviated if the U.S. was not putting undue pressure on the country from abroad.
Juan Guaidó said the country's opposition movement would "carry on in the streets". "We are going to carry on in the streets until we achieve freedom and the end of the usurpation [of Maduro]," he told his supporters. While Maduro told his supporters he was the only president of Venezuela.
The street protests come a day ahead of the deadline given to Nicolas Maduro by  European countries like France and Germany to announce new presidential elections - otherwise they would recognise Juan Guaidó as president, following in the U.S.'s footsteps. The Trump Administration recognised Guaido as the president of Venezuela a fortnight ago after the opposition leader proclaimed himself president amid allegations that last year's presidential elections were rigged.
France said it will recognise Guaido as interim president if Maduro does not announce a presidential vote by Sunday night, France's European affairs minister said. "If (President) Maduro does not commit to organising presidential elections, then France will consider Juan Guaido as legitimate to organise them in his place and we will consider him as the interim president until legitimate elections in Venezuela (take place)," Nathalie Loiseau told LCI television on Sunday. She dismissed Maduro's proposal of an early parliamentary election as a "farce".
European and Latin American countries that form an "international contact group" hoping to end Venezuela's political crisis will hold their first meeting in Montevideo on Thursday, the joint hosts announced Sunday. "The IGC aims at contributing to create conditions for a political and peaceful process to emerge, enabling Venezuelans to determine their own future, through the holding of free, transparent and credible elections, in line with the country's Constitution," said the statement.
#Venezuela "We have decided the establishment of an international contact group" says @FedericaMog. The objective of this group will be to help achieve a peaceful & democratic solution through fresh credible elections. First ministerial meeting next week. pic.twitter.com/cy9ydY85An

— European External Action Service - EEAS 🇪🇺 (@eu_eeas) January 31, 2019
Along with common Venezuelans and countries allied with the U.S., Guaido also received support from a high-ranking Air Force general who announced his decision in a video message posted online. General Francisco Yanez, the airforce's head of strategic planning, called on other members of the military to join him in defecting. In response, the Air Force's high command accused him of treason.