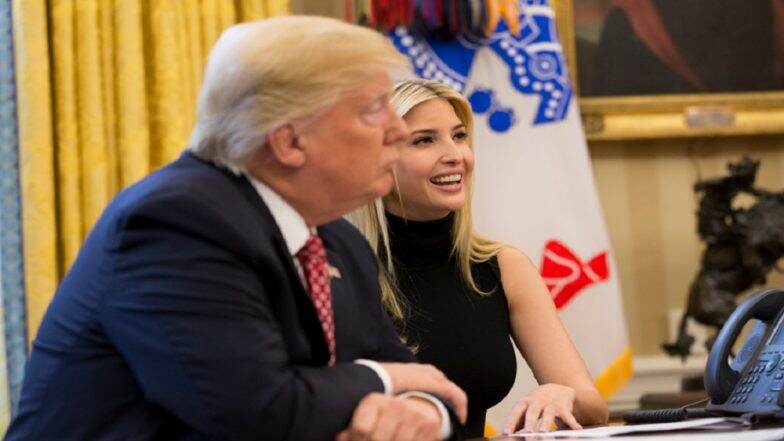 The world's two biggest economies are embroiled in a trade war that has impacted a range of people – those employed by multinational corporations to farmers in both countries. The trade war was initiated by US President Donald Trump over what he claimed were unfair trade practices being practiced by China that was harming American companies.
Talks to halt the trade war between the two countries have come to naught and Beijing has dragged the Trump Administration to the World Trade Organisation over the imposition of import tariffs on its products.
But in this negative atmosphere, China has given companies linked to US President Donald Trump and his daughter 18 new trademarks in the last two months. Sixteen of the new trademarks were granted to to Ivanka Trump Marks LLC, which cover Ivanka-branded fashion gear such as sunglasses, handbags, shoes, and jewelry. Two more trademarks were given to DTTM Operations LLC, based at Trump Tower on Fifth Avenue in New York, covering branded restaurant, bar, and hotel services. Including one for voting machines.
The trademarks will be finalised after 90 days if no one objects. The approvals came three months after Ivanka Trump announced she was dissolving her namesake brand to focus on her government work.
Looking at the current atmosphere between the two countries, the development is certainly strange indeed. This development certainly raises concerns about conflicts of interest in the White House on the eve of national elections.
Critics have been especially concerned that China, where the courts and bureaucracy are designed to reflect the will of the ruling Communist Party, could try to use the Trump family's valuable intellectual property for political leverage.
There has also been concern that the Trump family's global intellectual property portfolio lays the groundwork for the president and his daughter, who serves as a White House adviser, to profit from their global brands as soon as they leave office.
"Ivanka receives preliminary approval for these new Chinese trademarks while her father continues to wage a trade war with China. Since she has retained her foreign trademarks, the public will continue to have to ask whether President Trump has made foreign policy decisions in the interest of his and his family's businesses," wrote Citizens for Responsibility and Ethics in Washington, a government watchdog group that first published the news about Ivanka Trump brand's new Chinese trademarks.
China has said it handles all trademark applications equally under the law. (With PTI inputs)