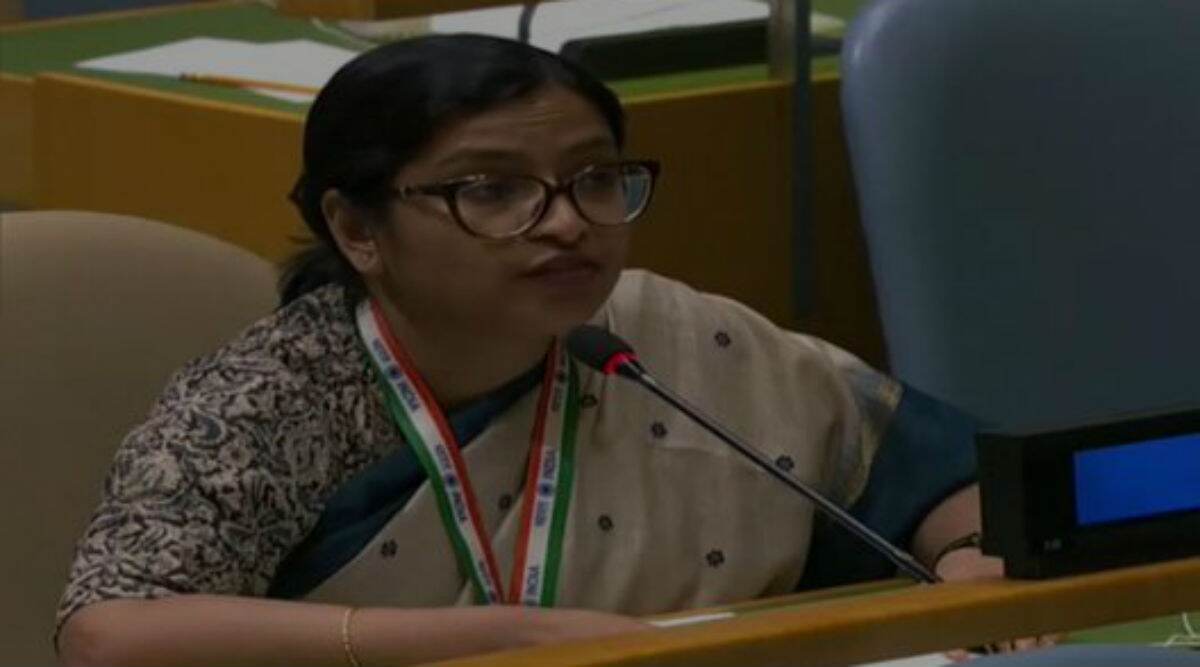 New York, September 28: Exercising the 'Right to Reply' option, India on Saturday countered Pakistan Prime Minister Imran Khan's speech delivered at the UN General Assembly (UNGA). Vidisha Maitra, First Secretary at India's Ministry of External Affairs (MEA), said that Imran Khan's speech was "reminiscent of the guns of Dara Adam Khel". Located in Pakistan's Khyber Pakhtunkhwa province, Dara Adam Khel is known for its markets packed with gunsmiths and weapons merchants. Imran Khan Goofs Up During UNGA Speech, Netizens Troll Pakistan PM on Twitter For 'President' Modi, 'Check on Google' Remarks and Exceeding Time Limit.
"Rarely has the General Assembly witnessed such misuse, rather abuse, of an opportunity to reflect. Words matter in diplomacy. Invocation of phrases such as 'pogrom', 'bloodbath', 'racial superiority', 'pick up the gun' and 'fight to the end' reflect a medieval mindset and not a 21st-century vision," Vidisha Maitra said. "For someone who was once a cricketer and believed in the gentleman's game, today's speech bordered on crudeness of the variety that is reminiscent of the guns of Darra Adam Khel," she added. Narendra Modi Speech at UNGA: Built 11 Crore Toilets in 5 Years, Committed to Movement Against Single Use Plastic, Says India's Prime Minister.
India said that Khan's threat of unleashing nuclear devastation "qualifies as brinkmanship, not statesmanship". Addressing the 74th session of the UNGA in New York on Friday, Khan held out the threat of a conventional war spinning out of control between the two nuclear-armed neighbours. Referring to Lashkar-e-Taiba founder Hafiz Saeed, India said that Pakistan is the only state that provides pension to UN-designated terrorist. Saeed was drawing a pension of Rs 45,700 from Lahore's University of Engineering and Technology.
India's Vidisha Maitra Speaking at UNGA:
#WATCH Vidisha Maitra, First Secretary MEA exercises India's right of reply to Pakistan PM Imran Khan's speech says, "Can Pakistan PM confirm the fact it is home to 130 UN designated terrorists and 25 terrorist entities listed by the UN, as of today?" pic.twitter.com/vGFQH1MIql

— ANI (@ANI) September 28, 2019
"Will Pakistan acknowledge that it is the only government in the world that provides pension to an individual listed by the UN in the Al-Qaeda and Daesh sanctions list?" Maitra asked. "Can Pakistan PM confirm that it is home to 130 UN-designated terrorists and 25 terrorist entities listed by the UN?" she added. Countering Khan's warning that there "will be a bloodbath" in Indian Jammu and Kashmir, India said that its citizens do not need anyone else to speak on their behalf.
"The mainstreaming of Jammu and Kashmir, as well as Ladakh, in India's thriving and vibrant democracy with a millennia-old heritage of diversity, pluralism and tolerance is well and truly underway. Irreversibly so," Maitra said. "Citizens of India do not need anyone else to speak on their behalf, least of all those who have built an industry of terrorism from the ideology of hate," she added.
"Pakistan's virulent reaction to the removal of an outdated and temporary provision that was hindering development and integration of the Indian state of Jammu and Kashmir stems from the fact that those who thrive on conflict never welcome the ray of peace," Maitra asserted.