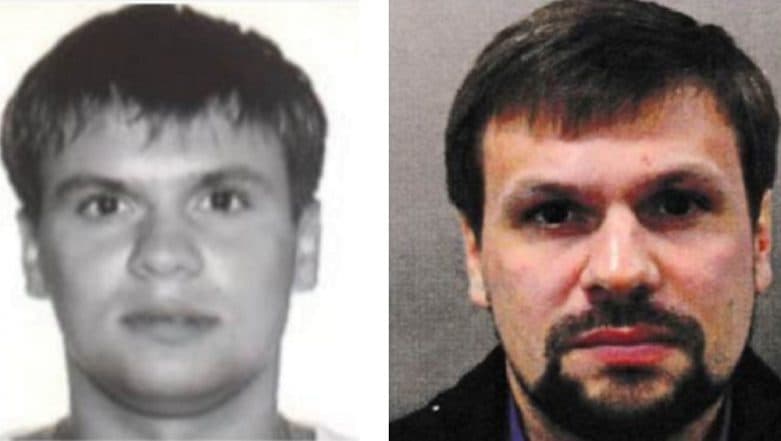 An investigative journalism website has uncovered the 'real identity' of one of the Russians accused of the Salisbury nerve agent poisoning, saying that he is infact a decorated Russian colonel.
The Bellingcat website says one of the men who has been identified as Ruslan Boshirov by Britain's Metropolitan Police for the poisoning of Sergei Skripal, his daughter and the death of another woman, is actually Russian Army Colonel Anatoliy Chepiga. Bellingcat also adds another detail about Chepiga, saying he was a highly decorated GRU officer bestowed with Russia's highest state award, Hero of the Russian Federation.
The website also says that as part of a two-part investigation, they have concluded that the two suspects – traveling internationally and appearing on Russian television under the aliases "Ruslan Boshirov" and "Alexander Petrov" – are in fact undercover officers of the Russian Military Intelligence, widely known as GRU. This has also been publicly claimed by British investigators as well as Prime Minister Theresa May.
Highlights of Chepiga's Life
Born on 5 April 1979, in the far-eastern Amur oblast, near the Russia-China border

Enrolled in military school at the age of 18 in the Far-Eastern Military Command Academy in Blagoveschensk

Anatoliy Chepiga graduated the academy with honors in 2001

Graduated the military academy with honors in 2001

Assigned to serve in the 14th Spetsnaz Brigade, one of the elite Spetsnaz units under Russia military intelligence agency GRU's command

Chepiga's unit played a key role in the second Chechen War, and was also observed near the Ukrainian border in late 2014
British officials have not commented on the news report but its publication co-incided with Theresa May's speech at the UN condemning Russia's actions.
Former Russian double agent Sergei Skripal and his daughter Yulia were poisoned by Novichok in March. The pair survived but Dawn Sturgess - a woman not connected to the original attack - died in July after being exposed to the same substance. The Russians allegedly brought the nerve agent in a perfume bottle and sprayed it on the door handle of the Skripal home.
The revelation by Bellingcat also shows Russian President Vladimir Putin in bad light as he had publicly refuted the British charge and said the accused duo were 'plain civilians'.