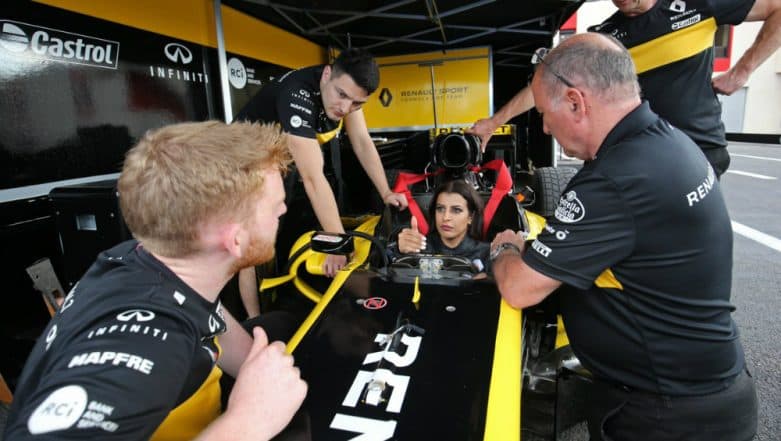 The kingdom of Saudi Arabia repealed the law against driving for women starting June 24. The historic moment is an immense reason for joy for the women in the country. After years of campaigning to get the right to drive, women will now be given out a license and can start hitting the roads today. In order to celebrate the move, Formula One rivals gave a Saudi woman a chance to drive one of the sports cars ahead of the French Grand Prix. Aseel Al-Hamad, the first female member of Saudi Arabian Motorsport Federation, got a chance to be behind the wheels of the winning car of 2012 Abu Dhabi Grand Prix. Saudi Arabia's Ban on Woman Driving Officially Comes to an End.
Aseel was a part of the Renault 'passion parade' held just before the first French Grand Prix that will take place in a decade. To be a part of this, Aseel, a keen driver and motor sport enthusiast took a training on June 5. Talking about the experience she was quoted to a news agency, "I have loved racing and motorsport from a very young age and to drive a Formula One car goes even beyond my dreams and what I thought was possible. "It is a genuine honour to drive in front of the crowds at the team's home race in France."
Take a look at Aseel Al-Hamad getting ready for her F1 ride:
Saudi Arabian Aseel Al-Hamad, the first female member of the Saudi Arabian Motorsport Federation, to drive the @PaulRicardTrack, in the 2012 @RenaultSportF1 car today ahead of the #FrenchGP.

👉 https://t.co/tzyEzSfs7I#RSspirit #RACEday #SheDrives pic.twitter.com/N6WhhUpAWs

— Renault Sport F1 (@RenaultSportF1) June 24, 2018
She also expressed a wish that women can seek inspiration and achieve their dreams if they have enough passion. Aseel has played an instrumental role in creating strategies for the education and training of women in motorsport in Saudi Arabia. This is indeed a big achievement and deserves all the respect. The move has been greatly welcomed by the women in the country and there are even special driving schools set up for them to train them well.