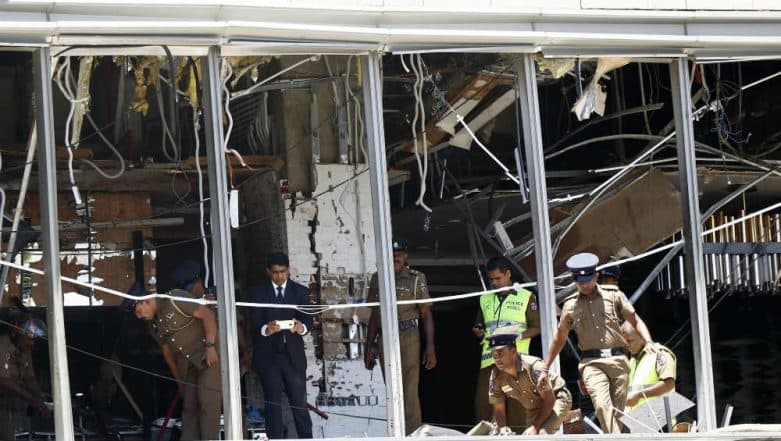 Colombo, April 22: A day after eight explosions shook Sri Lanka, the government on Monday ordered a new curfew in Colombo. According to the Sri Lankan government's information department, curfew will be imposed in Colombo from 8 pm tonight till 4 am tomorrow. The death toll climbed to 290 from a series of eight blasts that tore through churches and luxury hotels on Easter Sunday in Sri Lanka.
The government had imposed a country-wide curfew on Monday following explosions. The curfew, however, was withdrawn Monday morning. No group has yet claimed direct responsibility yet of the country's bloodiest attacks in a decade. Among dead, five were Indian nationals, India's Ministry of External Affairs confirmed on Monday. A total of 27 foreigners, including people from Turkey, the US, Britain, the Netherlands, Portugal and China died in explosions. Sri Lanka Bomb Blasts: MEA Reveals Names of Indian Nationals Killed in Suicide Bombings.
Suicide bombing in Sri Lanka:
Suicide bombers triggered as many as eight explosions targeting luxury hotels and Catholic churches in Colombo and other parts of the island nation. The first of the eight blasts took place in the morning in three luxury hotels in Colombo and in a church each in Colombo, Negombo, and in the Tamil-majority Batticaloa town. As authorities rushed for rescue, seven other explosions ripped through churches and luxury hotels in other parts.
There were fears the attacks could spark a renewal of communal violence. According to the news agency Reuters, the police late on Sunday reported a petrol bomb attack on a mosque in the northwest and arson attacks on two shops owned by Muslims in the west.