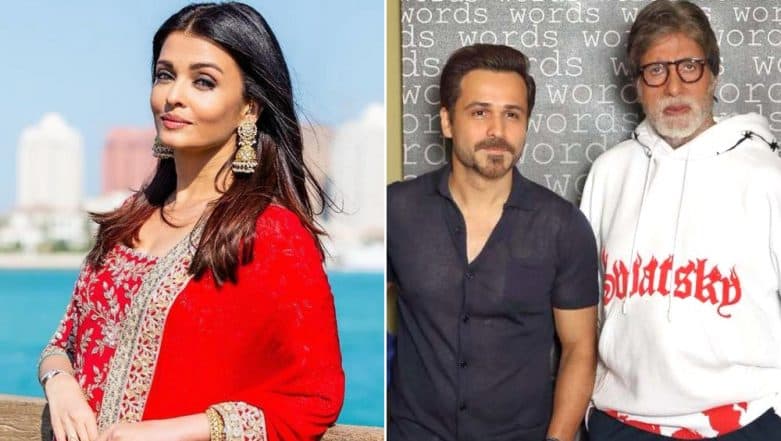 Karan  Johar's chat show, Koffee With Karan has brought out the mean side of celebs, many times. Sometimes, these comments made in jest turned out to be fatal for the professional relationships of the actors, on a permanent basis. One such instance was seen between Emraan Hashmi and Aishwarya Rai Bachchan. The former called her 'plastic' and hell broke loose. It is reported that Ash has been since then upset with Hashmi. The latest reports say that she is now also miffed with father-in-law, Amitabh Bachchan for working with him in their upcoming film 'Chehre'. Amitabh Bachchan's Look in Chehre Is Quite a Style Statement – See Pics.
As per the reports in TOI, the former Miss World is quite angry with Big B for agreeing to do a film with Emraan, despite knowing the KWK history. We don't know how much truth does the report hold but the Ash-Emraan animosity has been quite open in public.
Earlier, in an interview, when Aishwarya was asked about the meanest comment she heard, she mentioned how she was called 'fake and plastic.' When the Gangster actor was asked about the same, he said that he commented that in jest and he is a big fan of hers. He also said that he would apologize to her if he ever met her. In case you are not a KWK fan or missed this nasty comment made by Emraan once, check out the video here:
Watch Emraan Hashmi's 'Plastic comment' here: (Time stamp- 7.11)
Well, the episode is over now and we wonder how many more such rapid-fire generated issues are going to surface in the future. Recently, Priyanka Chopra and Kareena Kapoor Khan buried the hatchets after the infamous 'accent' comment on each other. So, maybe Ash and Emraan too might let go in the near future, that, if Big B plays the cupid!