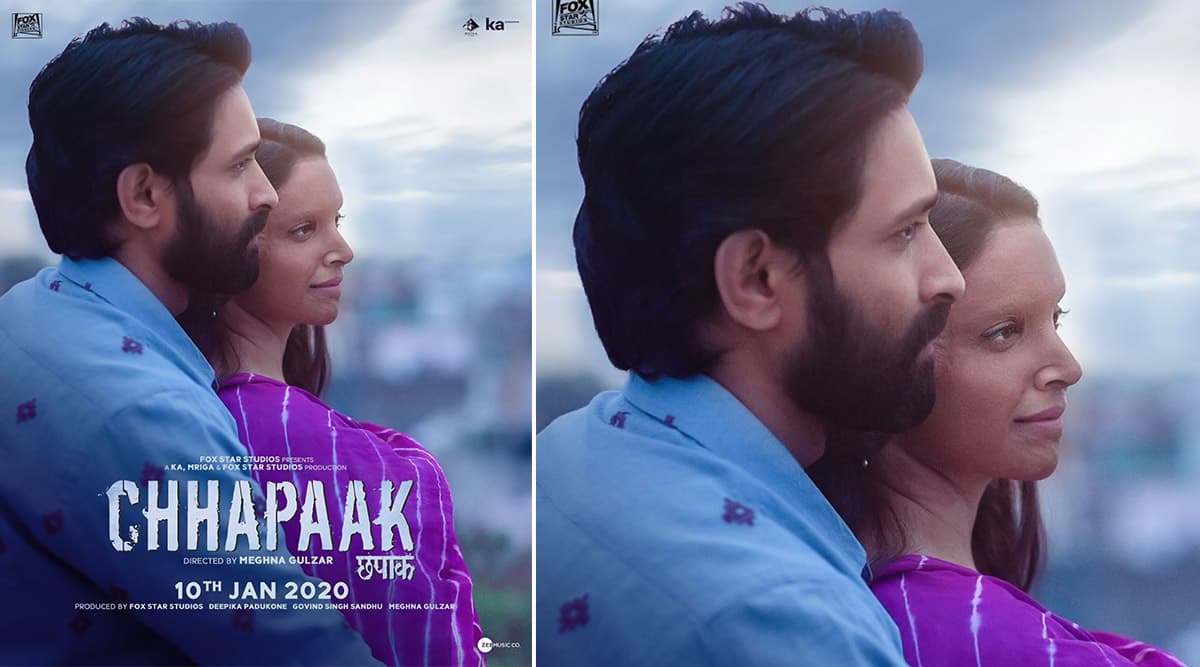 Ahead of the release of Chhapaak, which is happening tomorrow (January 10), the makers hosted a special screening for the team's family, friends and industry members as well. Starring Deepika Padukone and Vikrant Massey in the lead, this Meghna Gulzar directorial is based on the story real life acid attack survivor, Laxmi Agarwal. Deepika and Vikrant's commendable performances will leave the audience teary-eyed, said critics, who also watched the film in a special screening. Chhapaak Premiere: Deepika Padukone Looks All Glam in a Blue Saree; Ranveer Singh, Swara Bhasker, Rekha and Others Attend the Screening (See Pics).
Many Bollywood movie buffs were moved on seeing Deepika Padukone's transformation as Malti. When the trailer of the film was released, many stated how important it is to convey such a delicate yet a story on women who have become the victim of such heinous crimes. The critics state in their reviews that Chhapaak has jaw-dropping moments and it has a powerful story that is beautifully executed. Let's take a look at the reviews shared by critics on Chhapaak. Chhapaak Full Movie in HD Leaked on Telegram and Torrent for Free Download & Watch Online? Netizens Trend #ChappakOnTorrent Post Deepika Padukone's JNU Visit.
Times Of India - Deepika Padukone is the soul of the film, delivering a brilliant, immersive performance. In fact, there are many scenes where her act will move you to tears. Precisely why Malti's character is a winner because at no point does she succumb to self-pity. Both Vikrant Massey and Madhurjeet Sarghi pitch in very commendable performances. 'Chhapaak' is not a film that's lets you go easy, just as one begins to settle in to think Malti has managed to get better of her perpetrator, it jolts you with a few grim, uncomfortable reminders. 'Chhaapak' is a sensitive film with a delicate, yet powerful, handling of a heinous crime against women, and an important story that needs to be heard.
Huffington Post - The film is consistently well-performed - Vikrant Massey is reliably stellar - this is Deepika Padukone's show. The actor shows terrific control over her craft and disappears into the character. Chhapakk is a quietly powerful social commentary, a film that never allows you to be comfortable. Because the film knows that being comfortable is being complicit in violence.
DNA - The film has many instances that are gut-wrenching and you will also feel the pain and almost scream at the top of your voice. Chhapaak is not easy to watch and can shock you, make you cry and disturb you too. Though you feel that the film is marching towards a happy ending, no you will have a jaw-dropping moment in the climax. Deepika has taken a huge risk by producing the film and starring in it too. She is the soul of the film and its spine too.
Deccan Chronicle - Director Meghna Gulzar, who previously helmed 'Talvar' and 'Raazi', once again shows her sensitive hold over delicate subjects. Her direction consciously stays away from over sympathetic approach towards the acid-attack victims, instead it empathise with them in order to showcase their resilience and innate strength as a human being. The amount of subtlety with which conflicts and crises are portrayed is really impressive.
Watch The Trailer Of Chhapaak:
Well, this is what the critics had to say about Chhapaak. The film underwent numerous issues ahead of its release as Deepika Padukone joined a protest against the 2020 JNU Attack. #BoycottChhapaak and #BlockDeepika started trending on Twitter as soon as pics of her from the protest hit the internet, citing as a publicity stunt. But within no time there were many who extended their support to Deepika and the team of Chhapaak by using the hashtag #ISupportDeepika. Stay tuned for more updates!