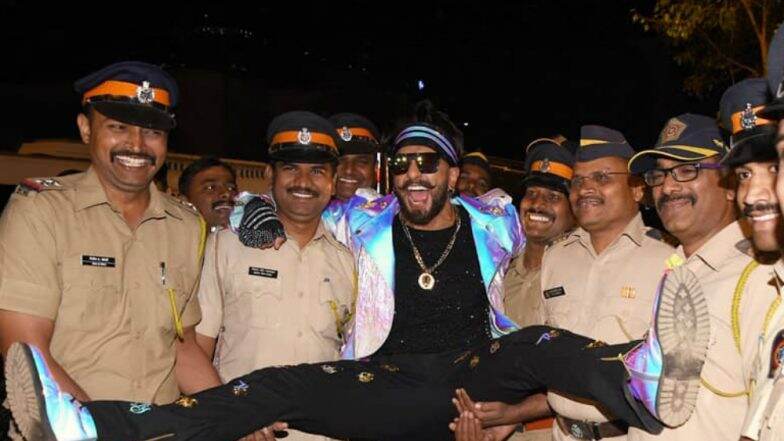 Ranveer Singh is all set for the release of his latest film Gully Boy which hits the screens on February 14. The film starring him and Alia Bhatt in lead roles has already been receiving positive reviews from celebs. The actor has gone all out to promote the Zoya Akhtar film and may have even gone a tad bit overboard with his crazy antics. Ranveer is known for being a livewire but is it time he tamed his energy a little?
This question would not have found any takers if not for Ranveer's latest 'crazy-antic-gone-bad-moments'. The actor during 2019's Lakme Fashion Week Spring/Resort collection event, threw himself at the crowd after performing a song from his film Gully Boy. Not having given a thought about his actions, Ranveer ended up hurting a few fans. But this is not the only 'going overboard' incident that we are referring to. During another promotional stint, he managed to get the audience rapping so loud that patients of JJ Hospital which was in close proximity of the venue were left highly disturbed. Is it too much to ask to be a little considerate whilst trying so hard to making an impact? Ranveer Singh Bomb Explodes Unannounced on Crowd, Invites Twitterati Rage
Here's a video of Ranveer's performance which disturbed patients at JJ Hospital:
#RanveerSingh really wanted to disturb the patients in the hospital 🙄. He is talented but over dramatic and senseless !

— 🆂🆄🅺🅴🆂🅷 🐦 (@OfficialSukesh) February 5, 2019
If Ranveer had been a newbie actor who's desperately trying to grab attention, his actions would not have been surprising but given the kind of success and fandom he has amassed, it now comes across as a mere marketing gimmick or simply people-pleasing behaviour. From his media interactions to his avant-garde style, he's literally shouting for attention from all corners and it has left his fans enraged so much so that even a Quora question about Ranveer's need to be noticed exists.
Check out the video of Ranveer Singh jumping in the crowd unannounced: 
WTF! Grow up #RanveerSingh and stop your childish antics. pic.twitter.com/jL9empwLZJ

— Shahrukh khan (@shahrukh7725) February 7, 2019
What's interesting is that Ranveer has addressed his behaviour being misunderstood as attention-seeking in an interview and said, "I do suffer from a beemari. I want to be liked by everyone. So I go out of my way to talk to people and be nice to them. If that is being misconstrued as desperation to be noticed, so be it. I'm not going to change because people are talking behind my back. Aren't all actors attention-seekers? Why should I be any different?" Well, kudos to Ranveer for accepting this! Yet, that does not take away the fact that being a public persona does come with some responsibility.
With the increasing talk on mental health and the need for acceptance of varied lifestyles without judgements, we support Ranveer presenting himself as his authentic self (minus the PR manufactured stuff) but his boisterous brazenness needs to be in control depending on the situation. There have been incidents when the actor has ended up attending events where he sidelined the hosts or even stole the bride's thunder when asked to perform at a wedding. During his Gunday days, there were even reports of his co-actors bearing the brunt of his over-the-top actions. Gully Boy Star Ranveer Singh OPENS UP About the Secret Behind His Bizarre Dressing Style.
One could say that luckily, Ranveer has not yet found himself in a position where his powerhouse persona has affected his career. Although it is hard to not to imagine senior actors like Akshay Kumar getting annoyed of Ranveer constantly trying to ape them even in good spirits. On another occasion when Ranveer sat down for a roundtable with his contemporaries for an interview, his constant jokey vibe and breaking the chain of some serious discussions over acting came across as 'a disruptive child in the classroom' scenario.
Is there a calming medicine to Ranveer Singh? Well, we certainly hope it is going to be the love of his life and now his wife, Deepika Padukone, who herself is known to be extremely subtle.  Till then, Ranveer Singh is that person, you love him or hate him, there's no way you can ignore him!