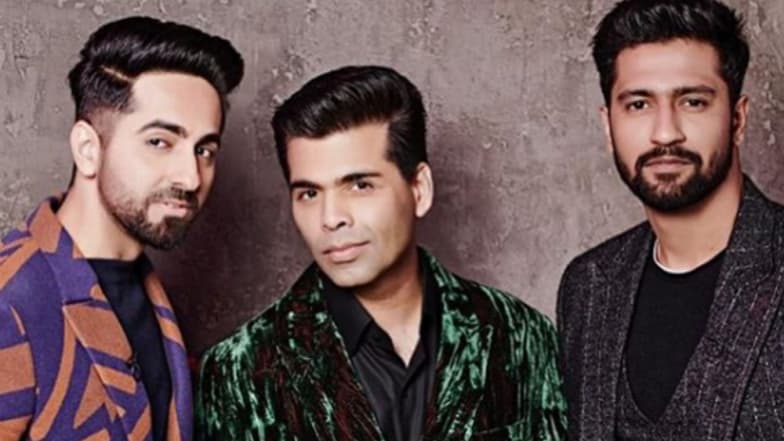 Koffee With Karan 6 is getting all kind of happy response from the filmy fans out there. After inviting the interesting pairs this year, host Karan Johar invited these two dashing duo of Bollywood 2018- actors Ayushmann Khurrana and Vicky Kaushal. The two stars took over the year like nobody else with their flawless performances in films like AndhaDhun, Badhaai Ho and Lust Stories, Raazi amongst others. While interacting with them, KJo accidentally revealed his REAL name and you will be surprised the to know same! Priyanka and Kareena Shoot for Koffee with Karan 6 and We'll Finally Know Where the Accent Came From – View Pics.
It all started when through a video call, Ayushmann's brother/actor Aparshakti Khurrana revealed that the actor's real name was earlier Nishant and not Ayushmann. However, Khurrana later clarified that his name was changed to Ayushmann right before admitting him in the school but is still called as 'Nishu' by his cousins.
It is then, when the filmmaker revealed that his name was 'Rahul Kumar Johar' for 12 days after he was born. He then added that his mother had a dream which made her change his name from Rahul to Karan soon. However, the director further admits that he is still 'Karan Kumar Johar', adding that he was not supposed to tell that to anybody! Both the handsome hunks were equally bewildered at this revelation and even mocked the filmmaker, calling him 'KKJo'! It was indeed quite a revelation and we wonder how the fans will take it. Is this why the Kuch Kuch Hota Hai maker likes his protagonists with the name 'Rahul'? The episode was full of gossips and revelations, so stay tuned with us to know what all happened in it!