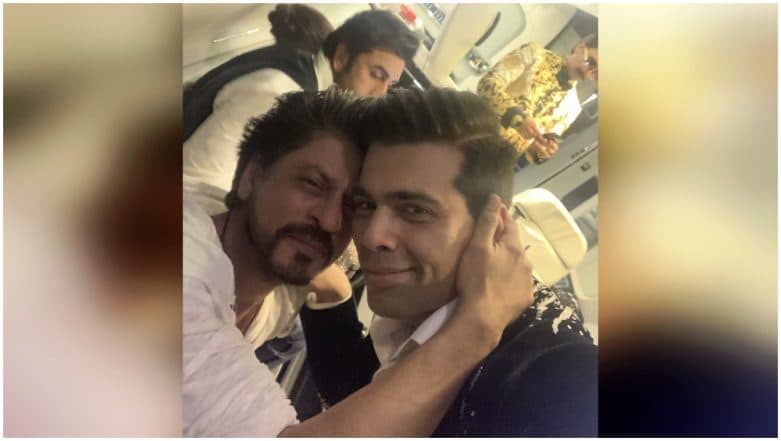 For some time, we have been hearing about this cold war going on between Shah Rukh Khan and Karan Johar. In the past, Karan Johar had maintained that SRK is his elder brother and that he won't make any film without him. Of course, the latter part got compromised over the years, but KJo maintains that they are still on friendly terms. However, recently an incident happened on Twitter that made Shah Rukh Khan fans see red when it comes to his best friend. #ShameOnKaranJohar Tops the Trends After Karan Johar LIKES an Offensive Tweet on Shah Rukh Khan.
Buoyed by the positive response his latest production Kesari has been getting, Karan Johar has been liking and retweeting all tweets that are in favourable for the film. In the process, he accidentally 'liked' a tweet posted by an Akshay Kumar fan that savagely insults Shah Rukh Khan and his last film, not to mention even the gay community. Karan Johar, who removed the 'like' after realising his mistake, later put out a tweet claiming that there were some technical problems. Karan Johar Blames 'Technical Problem' After Accidentally Liking Insulting Tweet About Shah Rukh Khan.
When SRK fans refused to believe him, King Khan himself got on to Twitter to clarify that it was a mistake. He tweeted, "I hate clarifications on SM. @karanjohar is technologically challenged but has other good qualities like his taste in clothes!?Just like Life, twitter doesn't come with instructions, so mistakes r natural....& also he has fat fingers. Go easy all, Make Lov not War...it's more fun".
In case you still believe that there is something wrong between Karan and SRK, perhaps the below picture that KJo posted with a cheeky caption may clear the doubts.
The LIKE that Is LOVE!!!!! pic.twitter.com/IbhTfBn3BE

— Karan Johar (@karanjohar) March 23, 2019
The above picture was taken in the green room of the 64th Filmfare Awards 2019, that happened on March 23. In the background, you can also see Ranbir Kapoor and Ranveer Singh.
Well, let's hope that this picture may make SRK fans let go of their hatred of Karan Johar. Like Shah Rukh Khan said, 'make love, not war'! Come on SRK and KJo, let's have a movie together now for old times' sake!