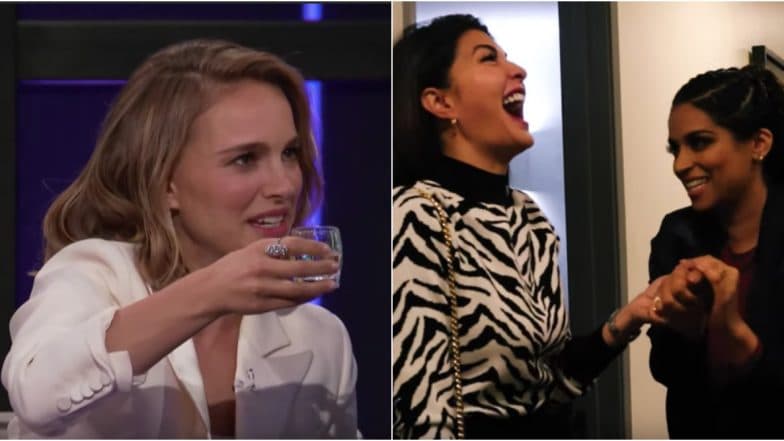 Lilly Singh is acing her job as the late-night show host and it is indeed a proud moment for us to finally have a female host for a late-night talk show slot that has been forever dominated by men. Singh is sassy and her show A Little Late With Lilly Singh is being loved by the audiences for exactly that. Recently, Singh had a special guest on the show, actress Natalie Portman who is currently busy with the promotions of her upcoming Lucy in the Sky. Portman will be seen essaying the role of an astronaut in the film.  Superwoman Lilly Singh Celebrates Her 'First Pride', YouTube's 'Bawse' Proudly Shares Her Pic on Instagram.
Lilly's chat show is more fun thanks to all its games. She even managed to get Natalie Portman to play shot caller with her on the recent episode. Portman was seen having a fun time as she took tequila shots during the game. Although things got even better during Singh's turn. She was asked to text a contact  saying, "If the cops ask I need you to say I was with you tonight." Interestingly, Singh had to text Bollywood actress Jacqueline Fernandez for that and what happened later is hilarious.
Check Out Lilly Singh and Natalie Portman's Game of Shots:
After Singh texted Jacqueline, the actress got worried because of Singh's text and came rushing to the sets of the show which we got to see in Singh's Vlog. Jacqueline got pranked and in the video, we see her telling Lilly how she got worried after Singh didn't text her back. Justin Trudeau Congratulates Lilly Singh After IISuperwomanII Becomes The First Queer Woman of Colour to Host a Late Night Talk Show.
These ladies sure know how to have fun. We can't wait to see Lilly play more such games and have a fun time with her celebrity guests on her show, A Little Latte With Lilly Singh.