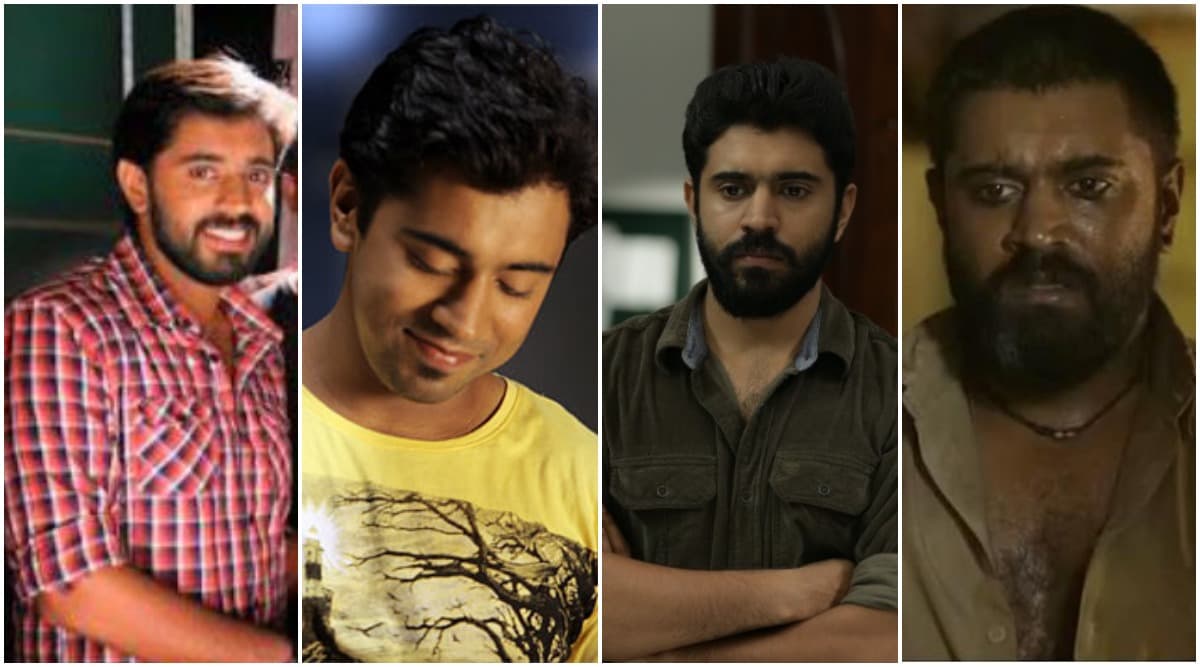 When I first saw the poster of Moothon and realised that Nivin Pauly was going to play the main lead in Geethu Mohandas's expectantly gritty film, I was sceptical. I didn't know it then if Nivin Pauly had it in him to pull off a gritty character, which was the kind of vibes that the poster was giving me. It is not that I don't love the actor; I am someone who looks forward to a Nivin Pauly film, as eagerly as his die-hard fan. I have enjoyed his performances in those breezy, light-hearted entertainers like Thattatinu Marayathu, Neram, Premam, Bangalore Days, 1983, Action Hero Biju, Njandukalude Naattil Oru Idavela etc. Moothon Teaser Review: Nivin Pauly Intrigues in a Spooky Avatar; Karan Johar, Suriya Sivakumar, Anurag Kashyap Share the Promo on Twitter – Watch Video.
If you look at the films that I have chosen in the above sentence, you will realise those are the movies where Nivin Pauly's comic brilliance shines the best. It is this humour quotient that made him the darling of the masses. The family audiences consistently loved him when he played those lazy bum, boy-next-door roles, with a twinkle of mischief in his eyes.
Which is kinda funny, for when Nivin Pauly began his career as an actor in Malayalam cinema, he has this angry young man image with him. Playing one of the main leads in Vineeth Sreenivasan's debut directorial, Malarvadi Arts Club, Nivin's character was the leader of the titular club, who had a serious demeanour and is often at the edge of blowing his steam. The funny portions were handled by Aju Varghese, Nivin's close friend and the movie's other breakout star. While Nivin has this charisma about him, there was a kind of stiffness in his performance that you associate with someone who is making his debut.
Between Malarvadi Arts Club and Thattatin Marayathu in 2012, Nivin did a couple of films as the lead, like Sevenes and The Metro, but they weren't enough to make him a delectable box office commodity.
Once again, it was Vineeth who came to his rescue with Thattatin Marayathu, a film that Nivin's fans should be really thankful. It gave Nivin the makeover that changed the way his career was heading to. Nivin was no longer the angry young man of his debut, he was this charming loverboy everyone can relate to.
From ditching his thick moustache and beard to adopting a lazy swagger with a newly discovered comic streak, Nivin won us over with his performance as Vinod. You could relate to your own crush when Nivin rambles about how the peculiar breeze found in Northern Kerala plays around with Ayesha's hair. You can't help but applaud when he cribs to his BFF Abdu (a scene-stealing Aju Varghese) about why Malayali guys even need 6-packs (after learning Ayesha's male buddy has some).
If Vineet's Thattatin Marayathu paved way to Nivin being a star, then it was director Alphonse Puthran's two films with the actor that cemented his status as both star and superstar. The bilingual Neram, that came out in 2013, also got Nivin noticed in Tamil industry. Premam, that came out in 2015 made him a rage in Kerala.
I remember a news article where the boys in a college came up dressed in a black shirt and mundu, which was the trademark attire of Nivin in the "Malar" segment of Premam, and they had to be sent back home. When people start imitating you as a form of idolisation, then you know you have arrived!
In between, Nivin also did films like 1983, Ohm Shanthi Oshaana, Bangalore Days, Vikramadithyan - all turning out to be box office hits. In 1983, Nivin's first night scene is undoubtedly one of the funniest scenes in Malayalam cinema.
Bangalore Days showed that he can also pull off a geeky character with ease, and Om Shanti Oshaana turned him into a heartthrob, by reversing the rules of romance; here, it is the girl who chases the boy and gets him in the end.
At some point, his detractors felt that he is repeating himself, with the recent Love Action Drama being a standout example for this. But I would like to compare Nivin's case with Ayushmann Khurrana in Bollywood here - if the formula is working for both, and they are churning out hilarious family entertainers that are making money, why not have that fun?
And it's not that Nivin has always been doing funny, light-hearted roles. He has done serious films, and that brings me back to the trepidation I mentioned in the first para about having Nivin in Moothon.
It isn't that Nivin couldn't pull off a serious role. He has done a good job in films like Shyamaprasad's Hey Jude, where he played an autistic character, and Sakhavu, that had him in a double role. But there have been occasions, when I could see the stiffness in Nivin's performance when he isn't in his comfort zone.
It was in the 2015 film, Ivide, again directed by Shyamaprasad, that I first noticed how uncomfortable Nivin is when he has taken on a role that isn't his usual brand. Playing a character that is shrewd and cunning with none of the likeable charm that was seen in his more popular films, Nivin felt like a fish out of water in this thriller. It also doesn't help that he was acting opposite Prithviraj Sukumar, who was in a scintillating form in Ivide. Interestingly, Ivide came out on the same day as Premam, and the latter obliterated it at the box office.
And this isn't just the case of one odd-man-out. In Action Hero Biju, Nivin shined in the lighter scenes and even in the emotional ones, but he was less convincing when he goes on finger-swaying angry rants. The actor was felt like a miscast in the actioner Mikhael, or the Tamil flick Richie, where he had to be gritty and real. Even in Kayamkulam Kochunni, Nivin's biggest release to date, the actor couldn't make it a fab one, letting Mohanlal's cameo steal the show, though his flexibility in the Kalaripayattu scenes is admirable.
But when I finally got to watch Moothon at Jio MAMI Festival 2019 and saw what Nivin did in the film, I was like - WOW! There are times in your experience as a movie buff when a subversive performance comes out, that makes you see the actor in a new light. I had it in the past with Shah Rukh Khan in Swades, Salman Khan in Phir Milenge, Alia Bhatt in Highway, Prithviraj Sukumaran in Kana Kandaen, Ranveer Singh in Lootera et al. With Nivin Pauly, it was Moothon. Moothon Movie Review: An Enigmatic Nivin Pauly Stuns You With a Career-Best Act in Geetu Mohandas' Haunting Sophomore Film.
Moothon is not just Nivin's career-best performance, but it is also his riskiest too. (Some MAJOR SPOILERS about Moothon ahead) It is not the kind of role we have seen a major star, at the height of his stardom, take on at this juncture of his career. It is not just the fact that he plays a homosexual in the film, it is how Nivin plays it.  Geetu Mohandas shows two personas of his character. The first time we meet him, he is Bhai, a goon that rules in Kamathipura, Mumbai, a rough, uncouth man who is perpetually addicted to drugs and sells kids and women for money. It is a role with dark grey shades and Nivin is almost unrecognisable in the character, looming terrifyingly large in every frame.
That said, it is the flashback portions set in the gorgeous islands of Lakshwadeep that you will most remember Moothon, and Nivin Pauly for. Here he is Akbar, a young man who is known for performing Kuthu Ratheeb in his village. The Kuthu Ratheeb portions, where Nivin slashes his body with knives as part of the praying rituals (in one scene, he even cuts his tongue) are difficult to watch. But Akbar's personality, that's the total opposite of Bhai, is someone we have seen in the past in his other films, the likeable, playful character. He also pulls off that difficult Lakshadweepi slang with ease.
And then, he gets close to the mute Ameer (an excellent Roshan Mathews). From hereon, we see a hitherto unseen and nuanced acting range from Nivin that stupefies you. We have seen him play romantic roles, but the kind of intimacy and femininity he brings to Akbar is unbelievable. Watch out for the scene where, having discovered the stirrings of first love, he gazes into a mirror and observes his own image lovingly. The gamut of emotions that flow on his face is stunning, to say the least. Later, when he goes to Ameer's house for a night of intimacy, the playful awkwardness that he brings in the scene reminded me of the time when he was fumbling to place that first kiss on Ayesha's forehead in Thattatin Marayathu.
I am not sure, how Nivin Pauly's fans would accept him in this role, or if Moothon will even work at the box office. But this is the kind of performance that deserved to be showered with praises and awards. A role where the actor goes out of his comfort zone and does a fantastic job without care for what conventions expect him to do. Along with Vijay Sethupathi, who was bloody awesome in Super Deluxe, I should see Nivin as the frontrunner for National Awards for Best Actor. Unless, we are still following the trend of awarding loud performances in nationalist films.