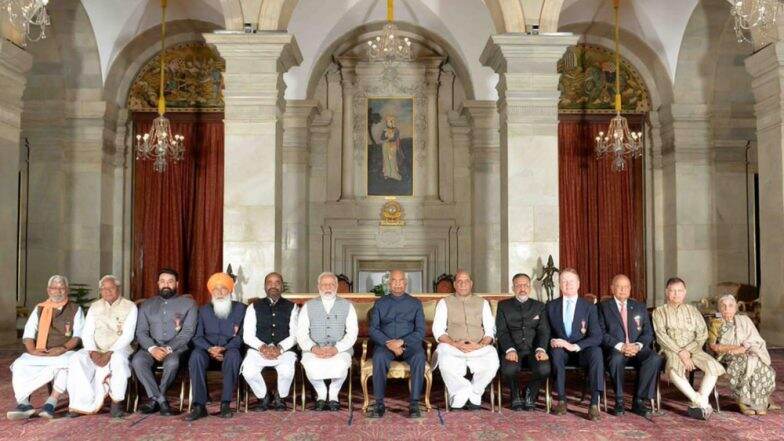 Fans of Mohanlal aka Lalettan are rejoicing on seeing their favourite superstar bagging the Padma Bhushan. Yesterday (March 11), the 2019 Padma Awards was held at the Rashtrapati Bhavan in New Delhi. In January, 112 names were announced for the prestigious awards out of which 56 recipients were awarded yesterday and Mohanlal was one among them. The second set of recipients will be conferred with the awards on March 16. As soon as Mohanlal was awarded with the Padma Bhushan, pictures of him with President Ram Nath Kovind took the internet by storm. Ever since then Lalettan fans have been pouring in congratulatory messages. Later, when the actor shared a picture of him with PM Narendra Modi and other fellow awardees of Padma Bhushan, it turned out to be treat for his fans. Padma Awards 2019: South Superstar Mohanlal Receives Padma Bhushan! Here's What the Actor Has to Say on Receiving India's Highest Civilian Award.
It has been almost four decades since Mohanlal has been entertaining the moviegoers with his impeccable performance. He has acted in more than 300 films, taken up various kinds of roles. On receiving the Padma Bhushan, fans lauded saying that he truly deserved this award. Lalettan is how fans love to call him and we are sure, all his followers back in God's own country (Kerala) and other parts of the nation would be rejoicing. Padma Awards 2019 Winners: Mohanlal, Prabhudheva, Shankar Mahadevan Conferred With Prestigious Honour (See Pics).
See the picture below which Mohanlal shared:
Unfeigned congratulations and wishes to the fellow awardees of #PadmaBhushan, on spheres different. @rashtrapatibhvn @narendramodi @PMOIndia @rajnathsingh pic.twitter.com/6huJAOV7rh

— Mohanlal (@Mohanlal) March 11, 2019
And here are some of the messages posted by Lalettan's fans:
Tweet #1
Best wishes for the Padmabhooshan Award congrats and best wishes sir in wishing to get more awards in future sir congrats god bless

— Amal nath (@Amalnath_) March 11, 2019
Tweet #2
Congrats man! I grew up watching you.

— Regista (@Regista39640995) March 11, 2019
Tweet #3
Congrats to one of the most talented actors beyond parlance. More awards to follow.

— vibgyorss (@vibgyor_PK) March 11, 2019
Tweet #4
Legendary mohanlal sir well deserved Padma bhushan😘😍💙❤️👏❤️

— Ananthu V (@AnanthuV19) March 11, 2019
Tweet #5
Great to see you there all because of your hatd work commitment.

Well done

— Divakaranmv (@Divakaranmv1) March 11, 2019
Tweet #6
Extremely proud moment Laletta😍♥️😘😘😘

— Aji Mathew (@ajip_mathew) March 11, 2019
#Tweet #7
Congratulations ever shining super ⭐️ Mohan Lal sir

— Betty (@TweetoBETTY) March 11, 2019
After receiving the Padma Bhushan, Mohanlal told ANI, "It's a great honour. It's a great achievement as an individual, as an actor. It's my 41st year in the film industry so I'm giving all the credit to my colleagues, my family and those who supported me in this beautiful journey." We once again congratulate the superstar of Mollywood for winning the Padma Bhushan!