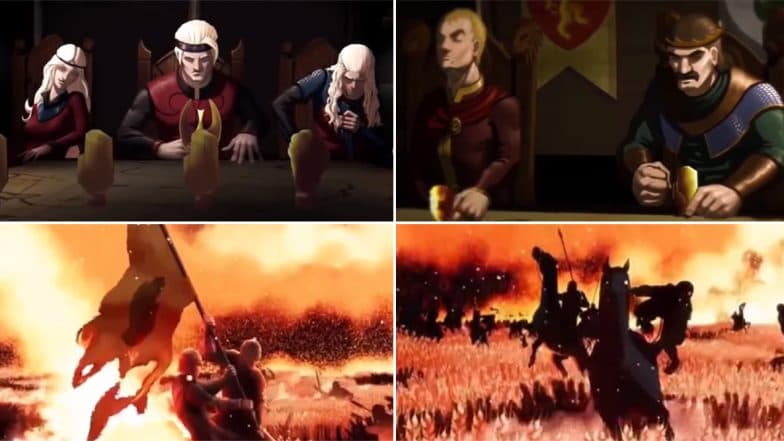 We recently reported that Games Of Thrones will get another prequel apart from Blood Moon which will be focusing on Targaryen history. According to reports, Game Of Thrones author George RR Martin confirmed that one of the prequels will be the history of Jon Snow and Daenerys Targaryen's ancestors. This news certainly had us only one question to ask, will there be more dragons? Well, apparently there will be. In one of his recent blog posts, George RR Martin confirmed that the series will be based on his book Fire & Blood which and also said that dragons will play a bigger role in the series. Game Of Thrones' Second Prequel May Be a Spin-Off Based on House Targaryen, Should We Expect More Dragons?
Hearing this, the excitement surrounding the Targaryen prequel has piqued. This prequel will show us Aegon's Conquest 300 years before the show. In a video that is now doing the rounds on social media, we see an interesting animated trailer featuring the story of Targaryens from Martin's Fire & Blood.
Check Out this Teaser on the Prequel:
The video seems to be an excerpt from the audio box of Fire and Blood. It explains us the story of the Aegon the conquerer. We have heard his name in the series before. What's amazing is that in the video, we also hear about Aegon's fetish for 'swords'. We all know what this fetish of his resulted in, the iconic iron throne.  Game Of Thrones Prequel Will Have the Stark Family, Direwolves and White Walkers Confirms Author George RR Martin.
After Game Of Thrones concluded in with its final season in May, fans were left highly disappointed. Although with the new reports about the prequels, it does look like fans of the franchise are soon getting back their interest in the series. After hearing this part of the audiobook, it does seem like the Targaryen prequel could be an interesting affair.